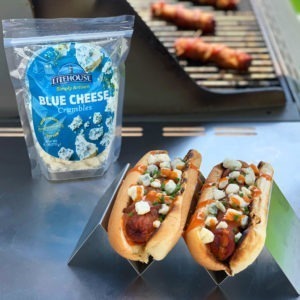 A few weeks back I used Litehouse Simply Artisan Gorgonzola Cheese Crumbles to make some pretty delicious Sirloin Steak and Gorgonzola Flatbreads.
I'm back this week with a new recipe featuring Litehouse Simply Artisan Blue Cheese Crumbles!
If you're like me you're probably planning to spend a lot of time around the grill this 4th of July, so why not make some Bacon Wrapped Buffalo Blue Cheese Dogs?
Bacon wrapped hot dogs? Delicious! … CONTINUE READING »