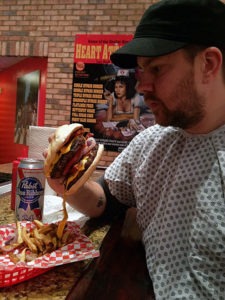 Hi, I'm Nick and I like food. When it comes to me and food bigger and crazier is usually better. Chicken wings breaded with waffles? Sure! A sandwich with 26 different toppings — one for each letter of the alphabet? Bring it on!
You won't find any other contributors here, just me, my camera and my ridiculous appetite. So, just sit back, relax and let the gluttony begin!
Since starting DudeFoods I've been featured in Maxim Magazine, appeared on Anderson Cooper's RidicuList, and mentioned on sites like Gizmodo (twice), New York Daily News, Business Insider, BuzzFeed, Fox News, Yahoo, America's Test Kitchen, CNN, the Cooking Channel, Groupon, Food Network, Gawker (twice), msn.com, the James Beard Foundation, GQ, Boing Boing, Mashable, Bon Appétit Magazine, Consumerist.com (twice), Thrillist, Guyism.com, Laughing Squid and Foodbeast. Even Pee-wee Herman is a fan!
---
Want to work with me? Click here to download my media kit and then shoot me an email at [email protected]!
---
"One of our favorite renegade food bloggers." – Foodbeast.com
"The god of bacon" – BuzzFeed
"The ultimate fast-food genius." – Business Insider
"Nick of DudeFoods may not be a trained chef, but he's mastered the craft." – Neatorama
"DudeFoods is turning food into an art and taking you along for the ride." – Social Media Delivered
"The Michelangelo of munchies." – Ted Perry, WITI-TV FOX 6 News
"A one-man homage to salty sat-fat combos." – The Independent
"Nick at DudeFoods is know for his, ahem, experimental approach to food." – ShortList Magazine
"As a species, we can go one of two ways. Nick from DudeFoods is showing us one of them, and it probably won't end very well." – The Daily Banter