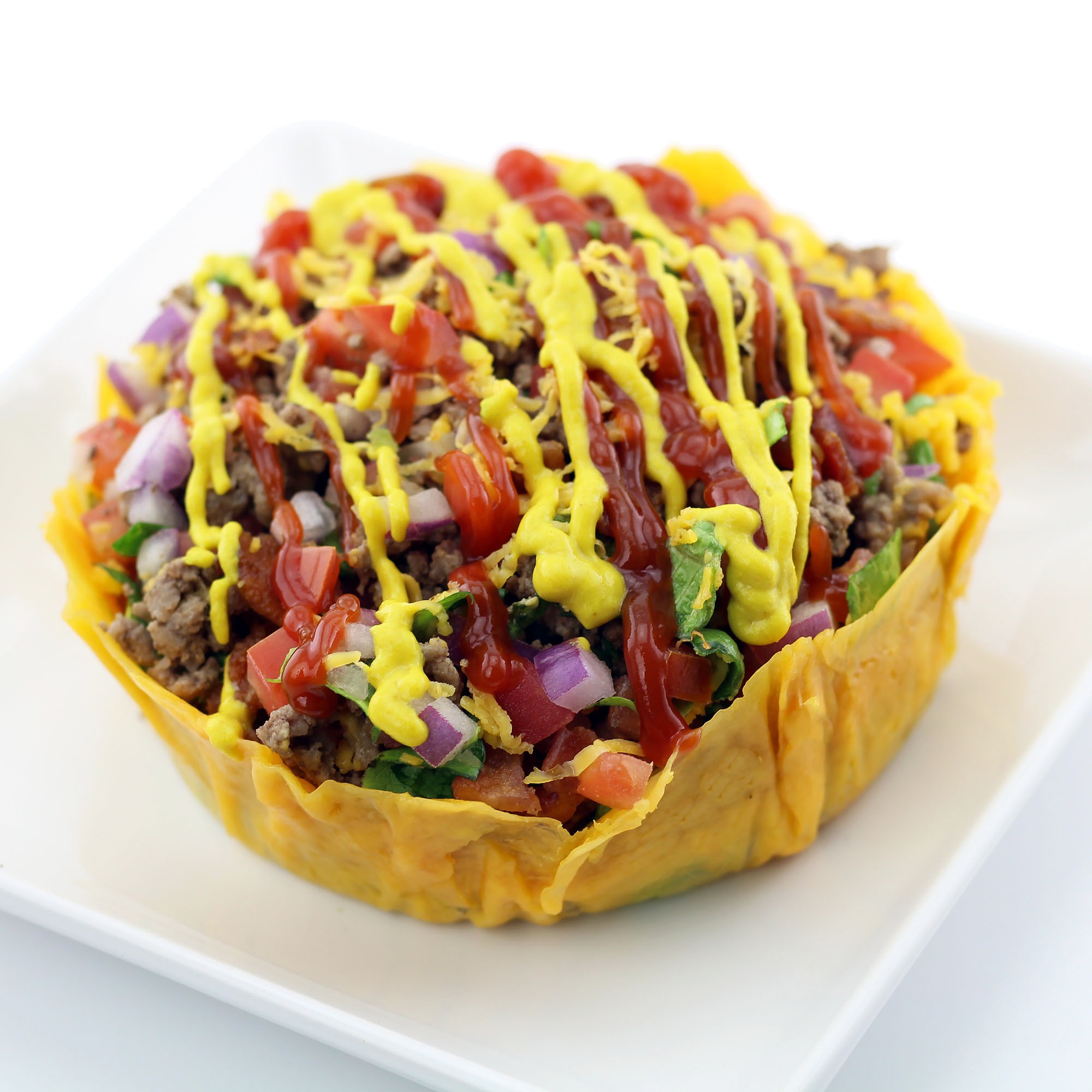 This post is part of a series I'm working on for Black Creek Cheese. We formed a partnership out of a love for big flavor and bold cheeses.
Father's Day is this weekend and I think we should give dad the day off by cooking for him instead and the best part is, with this recipe for Bacon Cheeseburger Bowls you don't even have to fire up the grill to do it! And, if you really want to impress him you can even serve them in Cheddar cheese bowls made from Black Creek Sharp Cheddar Cheese, that's been aged for nine months!
Have you ever tried those baked cheese crisps that you can buy at the grocery store now? These Cheddar bowls are basically a giant version of one of those. They're crispy, they're cheesy and after trying them you're probably going to want to eat most of your food out of them from now on.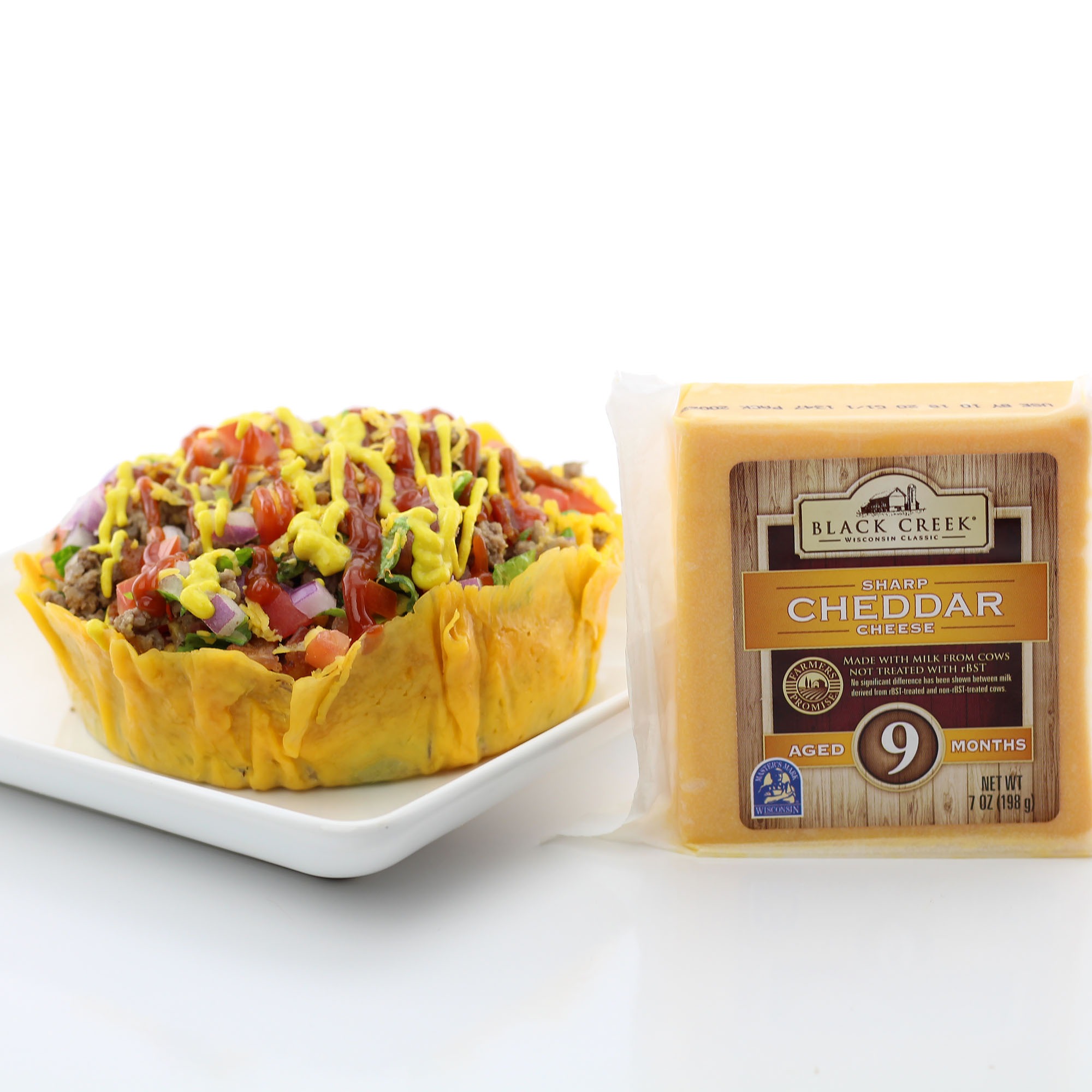 Eating these bacon cheeseburgers out of a bowl instead of on a bun actually makes them keto as well, so if you're looking for a tasty way to lose some weight then look no further!
I've made these Bacon Cheeseburger Bowls before with giant circular pieces of cheese, but if you aren't able to find those or just want to use your favorite cheese that's only sold in block form — like Black Creek — here's how to make it happen!
I started off by slicing one-ounce squares of Black Creek Cheddar. The cheese is sold in seven ounce blocks, so slicing three blocks this way left me with enough Cheddar slices to make four bowls plus five ounces of cheese left over to shred and add to the bowls with the rest of my toppings.
I then took the cheese slices — four at a time — and used them to form a larger cheese square that I topped with an upside-down bowl and traced around with a knife to create a circle of cheese.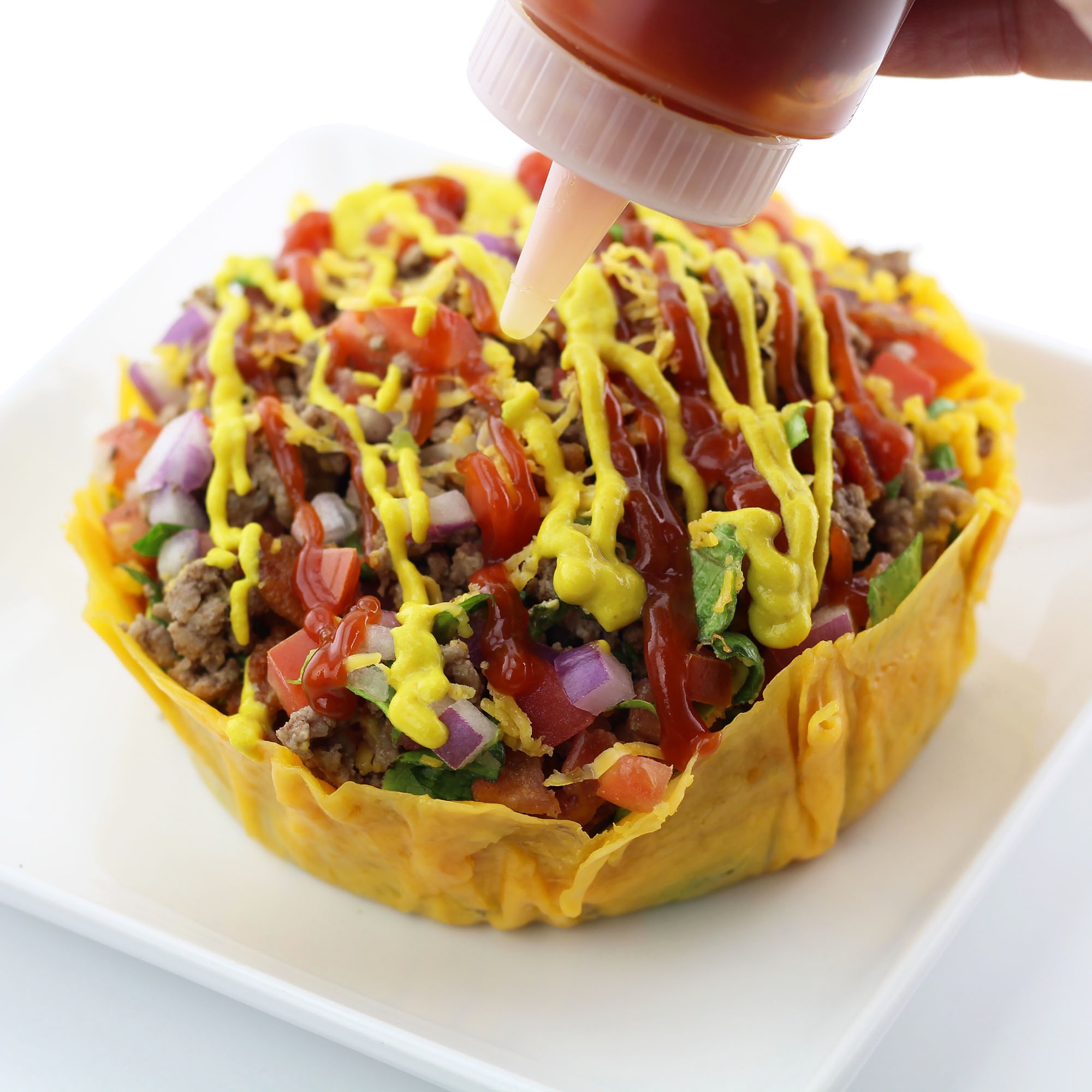 You don't necessarily need to cut the cheese into a circle though. I did it for purely aesthetic reasons since the finished cheese bowls look a little weird otherwise, but if you're making these for dad you want them to look as good as possible, right? If you don't have a cheese slicer or a decent knife to cut your cheese with, you could also try forming a circle with shredded cheese.
The final step in creating the Cheddar cheese bowls is to take your cheese circles one by one and microwave them for a minute on top of a piece of parchment paper. Then, as soon as you take them out of the microwave just flip them over an upside-down glass bowl and form them around the bowl.
If you're having trouble with your cheese sticking to the glass as it cools try coating the bowls in cooking spray prior to forming the cheese around them. When you're ready to remove the cheese bowl from the glass bowl just twist it slowly and pull it off. The cheese bowls can stay refrigerated until you're ready to fill them.
Once your bowls are finished all you need to do is brown some ground beef in a pan and then combine it with your favorite burger toppings. I mixed mine with bacon, lettuce, tomato, red onion and shredded Black Creek Sharp Cheddar and then drizzled ketchup and mustard over the top of everything. Each Cheddar bowl holds about a half pound of ground beef plus toppings.
So, give dad the day off this Sunday, let him relax and make him some Bacon Cheeseburger Bowls. Trust me, he'll love them!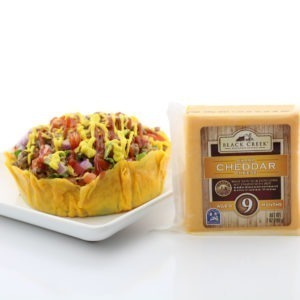 Bacon Cheeseburger Bowl Recipe
Nick @ DudeFoods.com
These Bacon Cheeseburger Bowls are perfect if you're sticking to a keto or low carb diet. Plus, what better way to eat them than out of bowls made from Cheddar cheese!
Ingredients
21

ounces

Black Creek Sharp Cheddar

aged 9 months

2

pounds

ground beef

1

cup

tomato

diced

1

cup

red onion

diced

1

cup

lettuce

chopped

5

slices

bacon

fried and diced
Instructions
Slice Black Creek Shark Cheddar into 16 one ounce square slices and shred the remaining cheese.

To create the Cheddar cheese bowls take 4 slices of cheese at a time and place them on a cutting board to create a large square.

Place an upside down bowl over the square of cheese and trace around it with a knife to create a large circle of cheese.

Transfer the cheese to a piece of parchment paper and microwave for 1 minute.

Flip the cheese over an upside down bowl immediately after removing it from the microwave, form it around the bowl, remove the parchment paper and let it cool in the refrigerator until you're ready to fill the bowl. When you're ready to fill it just twist it slowly to remove it from the glass bowl that you formed it around.

Repeat 3 more times to create 3 more Cheddar cheese bowls.

Brown the ground beef in a pan and drain the fat.

Add ground beef, tomato, onion, lettuce, bacon and shredded Cheddar to a bowl and shake to combine.

Transfer bacon cheeseburger mixture to Cheddar cheese bowl and top with ketchup and mustard.