Every single time I cook pulled pork in my slow cooker I tend to make way more than I really need and do you know what? I'm totally fine with that because that means I can use the leftovers to make things like these Pulled Pork Crunch Wraps!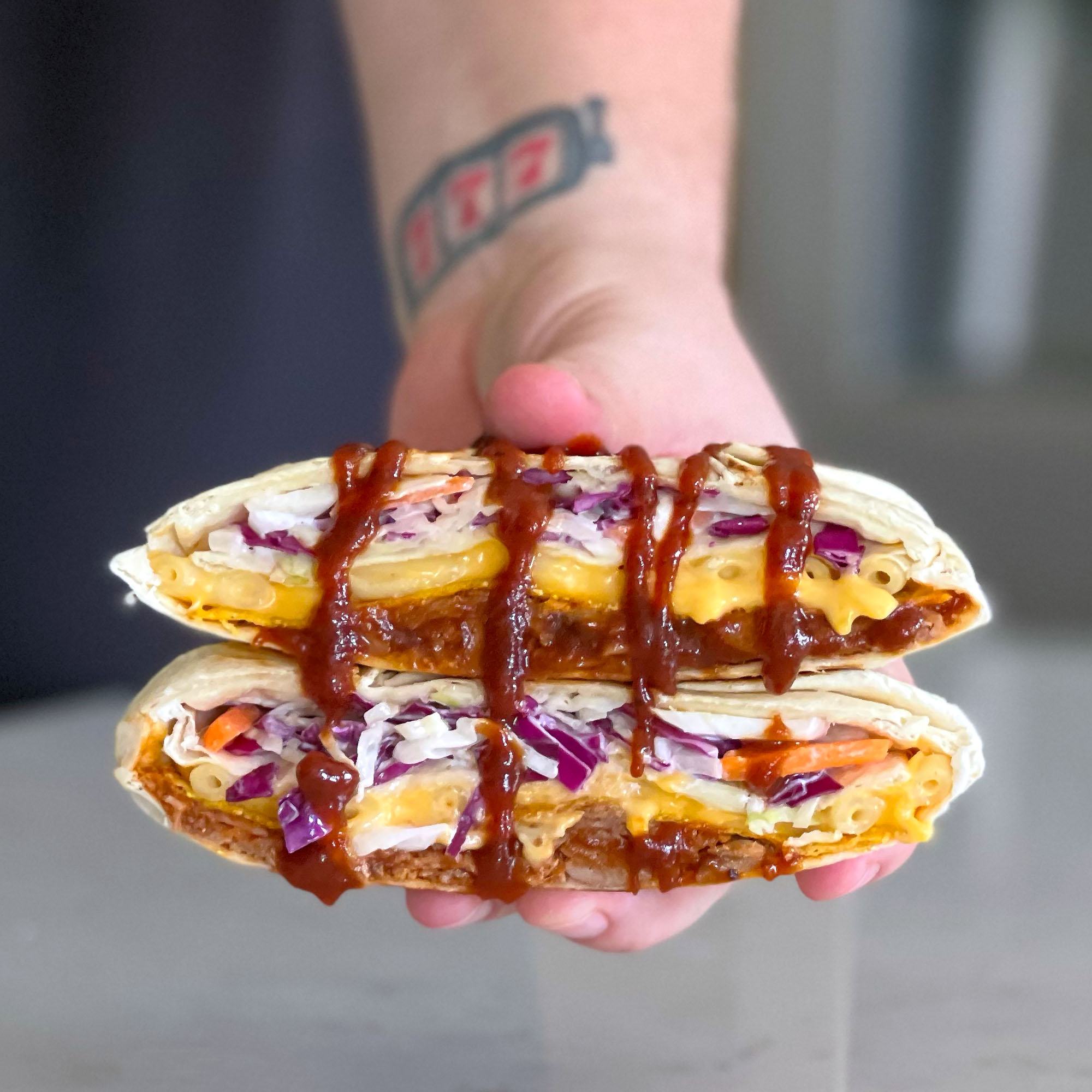 For the fourth year in a row now I'm working with the Wisconsin Pork Producers Association to create unique pork-based recipes. In case you've missed any of my previous posts you can click here to check out the different dishes I've come up with so far.
Now, after over three years of pork recipes you'd think I'd be running out of ideas right? Nope! With how versatile pork is I can't imagine that ever happening!
The great thing about these Pulled Pork Crunch Wraps is that you don't even really have to follow a specific recipe. Along with pulled pork I packed mine with macaroni & cheese and coleslaw since those are my two favorite sides to pair with pulled pork, but you could easily swap one or both of those out for corn, pasta salad or anything else you prefer. You don't even have to make three layer crunch wraps like I did either. Pulled pork with just macaroni & cheese or just coleslaw would have been great as well!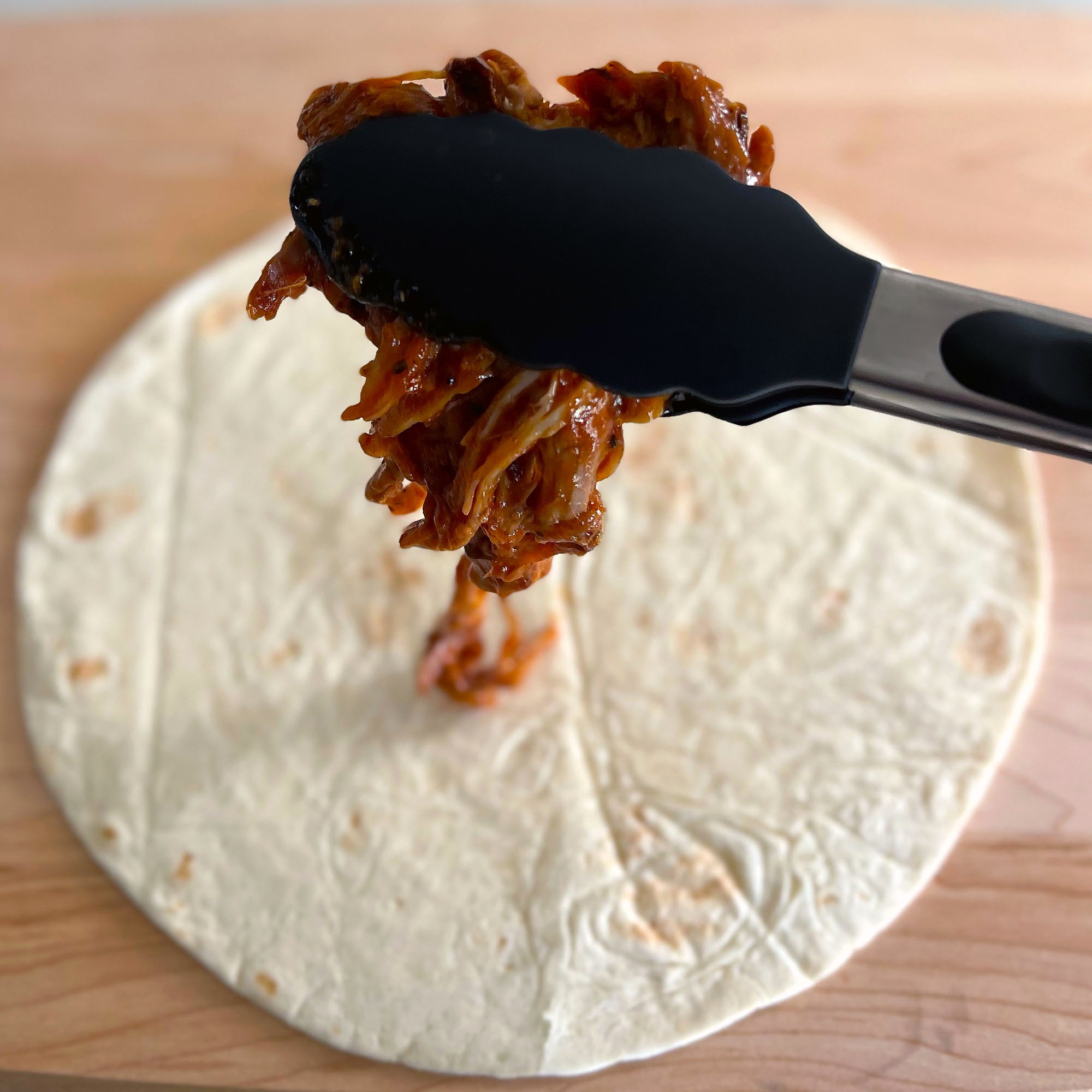 Assembling the Pulled Pork Crunch Wraps is about as easy as can be. Along with your filling all you need for each one is one large tortilla, one tostada — which is where the crunch part of the crunch wrap comes in — and then one small tortilla for each extra layer that you add. The larger tortillas that I used were 10″ each in diameter and for the smaller tortillas I used street taco tortillas, which worked out perfectly since those were the exact same size as the tostada shells.
Folding the crunch wraps can be a bit tricky the first couple times you try it, but just watch the video on this page and you'll get the hang of it in no time. After that all it takes is a couple minutes per side in a skillet over medium heat and your Pulled Pork Crunch Wraps will be ready to eat!
Plus, aside from tasting great pork is also a good source of protein and also provides several important vitamins and minerals. A 3-ounce serving of pork is an "excellent" source of thiamin, selenium, protein, niacin, vitamin B6 and phosphorus, and a "good" source of riboflavin, zinc and potassium. In addition to that, pork also has plenty of lean options. In fact, today's pork has about 16% less fat and 27% less saturated fat as compared to 30 years ago.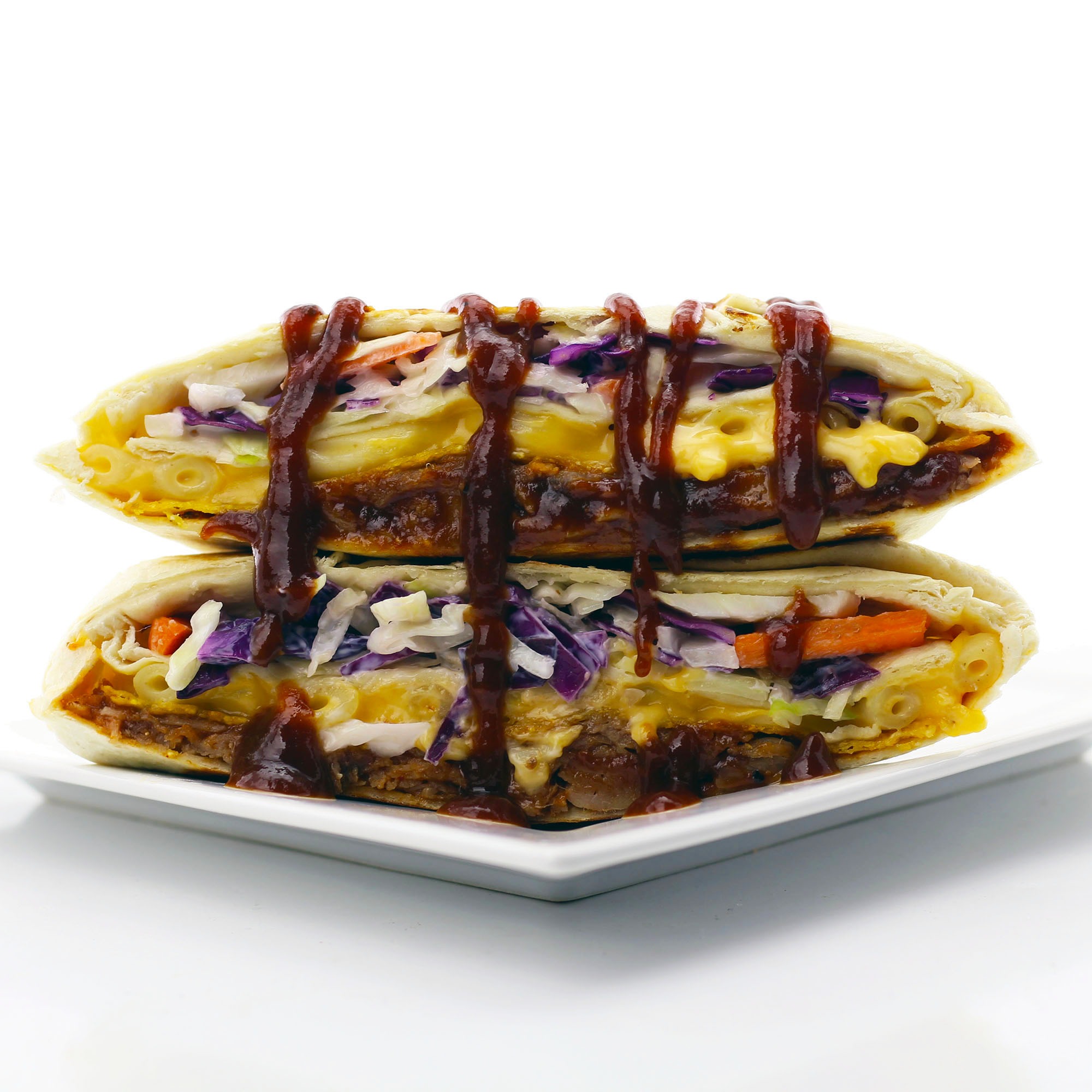 If you have pulled pork and tortillas but crunch wraps aren't quite your thing you could always make some Pulled Pork Taquitos. Or, if you're in more of a sandwich mood these Cornbread Waffle Pulled Pork Sandwiches are pretty delicious…. Do you see what I mean about pulled pork being versatile? The possibilities are endless!
If you'd like to learn more about pig farming or find the answers to pretty much any pork-related question you could ever possibly have head on over to PorkCares.org.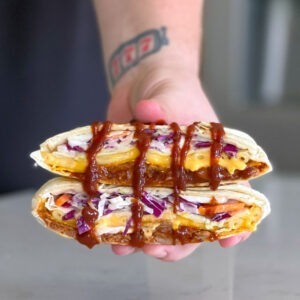 Pulled Pork Crunch Wrap Recipe
If you've got leftover pulled pork these Pulled Pork Crunch Wraps that are packed with pulled pork, macaroni and cheese and coleslaw are a great way to use it!
Ingredients
1

pound

pulled pork

1

pound

macaroni and cheese

2

cups

coleslaw

4

large tortillas

4

tostadas

8

small tortillas
Instructions
Take one of the large tortillas, place 4 ounces of pulled pork in the middle of it and top with a tostada.

Top the tostada with 4 ounces of macaroni and cheese and place one of the small tortillas on top of it.

Place 1/2 cup of coleslaw on top of the small tortilla and place a second small tortilla on top of the coleslaw.

Fold the crunch wrap by taking one edge of the bottom tortilla and folding it up, over and towards the center of the top smaller tortilla. Continue working your way around the tortilla folding all the edges up as you go. Repeat for remaining crunch wraps.

Add 1 tablespoon of oil to a skillet and heat over medium heat. Place each crunch wrap seam-side down and cook for 2 minutes or until golden brown. Flip the crunch wrap and cook for another 2 minutes or until golden brown.