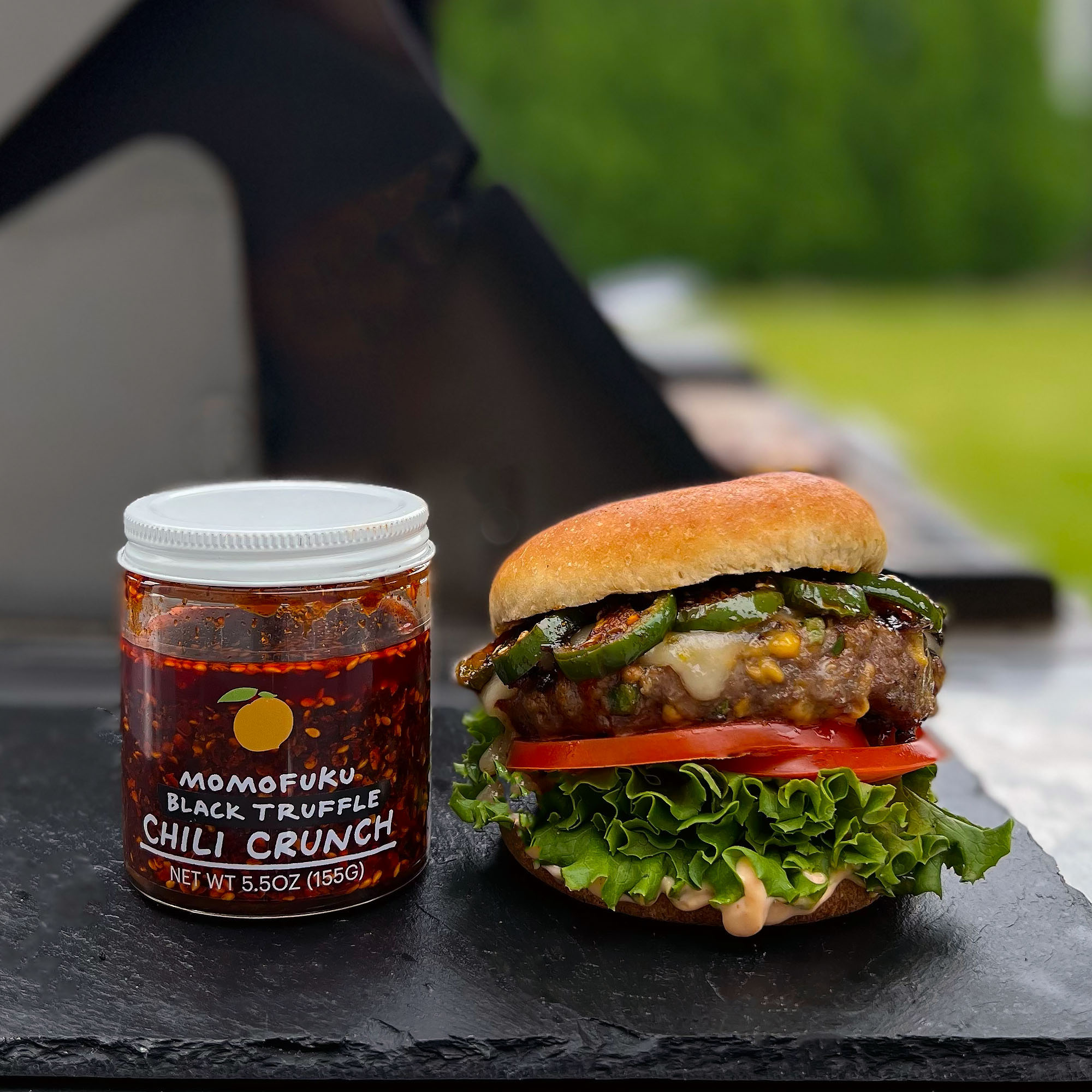 The awesome folks over at Momofuku were nice enough to send me a giant care package recently filled with their Soy & Scallion Noodles, Tingly Chili Noodles, Spicy Soy Noodles, some Seasoned Salts and a couple jars of their Chili Crunch. As expected, everything was delicious — and their Savory Seasoned Salt will probably be my new go to burger seasoning until it's gone, which at the pace I'm using it will be very soon — but my absolute favorite thing they sent me was their Black Truffle Chili Crunch.
I've tried plenty of other black truffle flavored sauces and food items in the past and haven't always been the biggest fan of them because so many of them are made with fake truffle flavoring that doesn't give you that true truffle taste and they just end up tasting chemically — that's totally a word right? — instead. Momofuku's Black Truffle Chili Crunch on the other hand is packed with actual black truffles and trust me, you can taste the difference.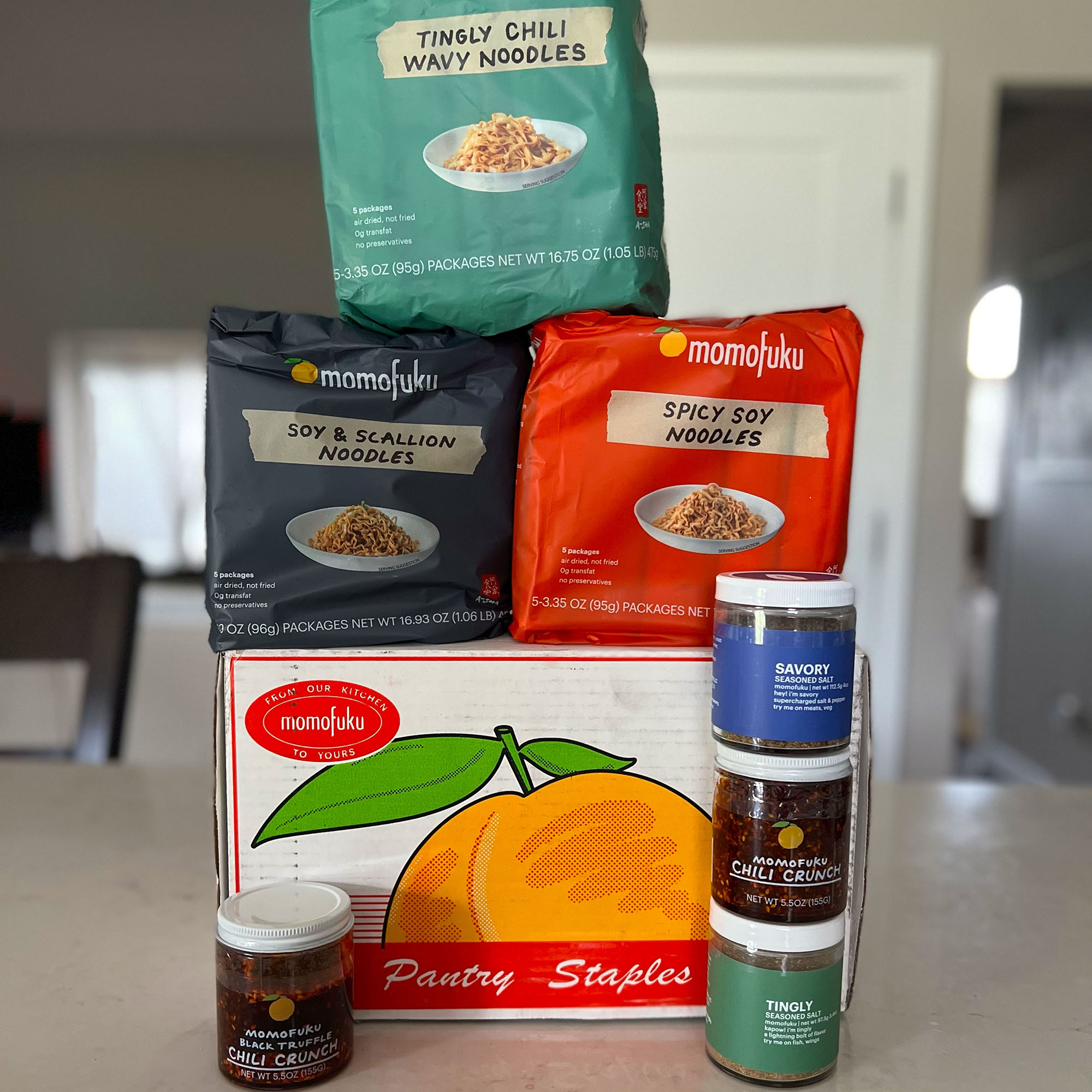 On the Momofuku website they have a recipe for a burger that's topped with onions that are cooked in their Black Truffle Chili Crunch that looked absolutely delicious, so I decided I needed to make a Chili Crunch Burger as well… with a few minor changes. I began by mixing some ground beef with diced jalapeños and small cubes of Cheddar cheese as well as some Momofuku Savory Seasoned Salt and Black Truffle Chili Crunch, formed my burger patties and threw them on the grill. Then I sliced a couple more jalapeños into 1/4″ thick slices and tossed them in a skillet over medium heat with a tablespoon of olive oil, tossed and cooked them until they were tender and stirred in a tablespoon of Black Truffle Chili Crunch.
When everything was done I spread some sriracha mayo on the bottom of a burger bun, added some lettuce and tomato, a jalapeño Cheddar burger patty — that I ended up topping with a slice of Pepper Jack cheese — and my sautéed Black Truffle Chili Crunch jalapeño slices and bit into what was the best tasting burger I've had in as long as I can remember. I also made a completely separate Jalapeño Cheddar Burger that was brushed with Black Truffle Chili Crunch during the final minute on the grill and that one was pretty damn good as well, so if you want that extra black truffle flavor punch you could always go that route.
If you'd like to try any of these Momofuku products for yourself you can use the code DUDEFOODS10 over at this link to save 10% off your order through the end of this month. I don't get anything if you use the code and I'm fully aware that there are only six days left for you to use it, but that's totally on me for being lazy and waiting a full month to actually write something about Momofuku after they sent me everything. Sorry!
Black Truffle Chili Crunch Jalapeño Cheddar Burgers Recipe
This recipe for Jalapeño Cheddar Burgers uses Momofuku's Black Truffle Chili Crunch to take them to the next level!
Ingredients
1

pound

ground beef

5

jalapeños

3

hamburger buns

3

ounces

Cheddar cheese

cubed into small pieces

3

slices

Pepper Jack cheese

or other preferred cheese

2

tablespoons

Momofuku Black Truffle Chili Crunch

1

tablespoon

Momofuku Savory Seasoned Salt

lettuce, tomato or any other burger toppings you enjoy
Instructions
Dice three jalapeños and combine with cubed Cheddar cheese, ground beef 1 tablespoon of Black Truffle Chili Crunch and Momofuku Savory Seasoned Salt to form three 1/3 pound burger patties.

Slice the remaining two jalapeños into 1/4" thick slices.

Add 1 tablespoon of olive oil to a skillet over medium heat, add sliced jalapeños and toss for 1 minute. Reduce heat to low and cook for 5 more minutes or until the jalapeños are tender. Stir in 1 tablespoon of Momofuku Black Truffle Chili Crunch.

Grill burger patties for 5 minutes per side over medium heat or until they reach your desired level of doneness. Top your burger with a slice of Pepper Jack or your preferred cheese during the last minute on the grill.


Assemble your burgers by taking one bottom bun, adding any preferred toppings (I went with Sriracha mayo, lettuce and tomato) and then adding a burger patty, sautéed jalapeños and finally a top bun.