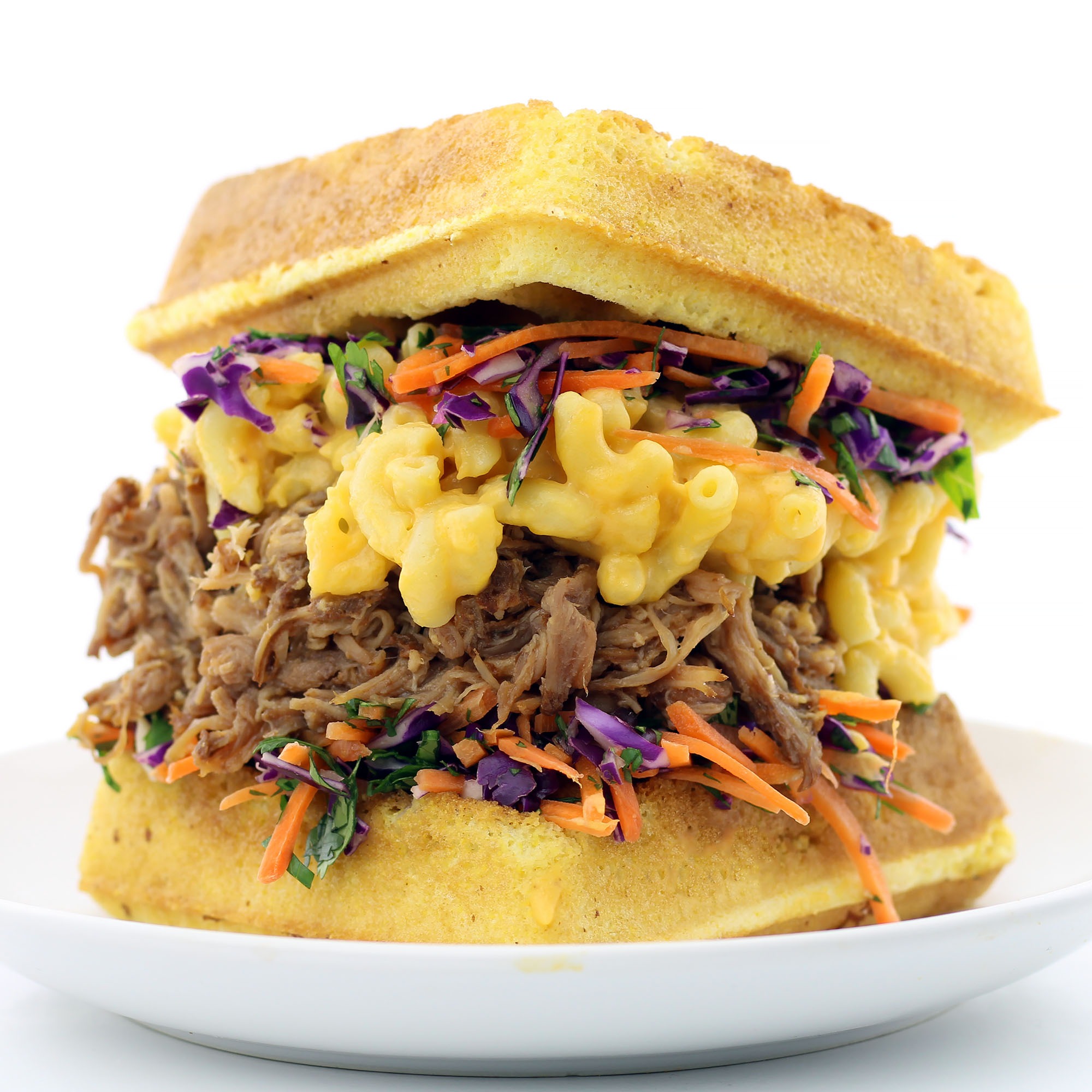 Last year I worked with the Wisconsin Pork Producers Association to create a couple pork-based recipes and I'm psyched to report that I'll be working with them once again this year!
For my first recipe I breaded slices of pork tenderloin, deep fried them and topped them with bacon country gravy to create Pork Tenderloin Sliders. For recipe number two I once again sliced up a pork tenderloin — but sliced it lengthwise — and then coated those strips in beer batter and deep fried them to make Pork Tenderloin Fries that I dipped in Sriracha mayonnaise.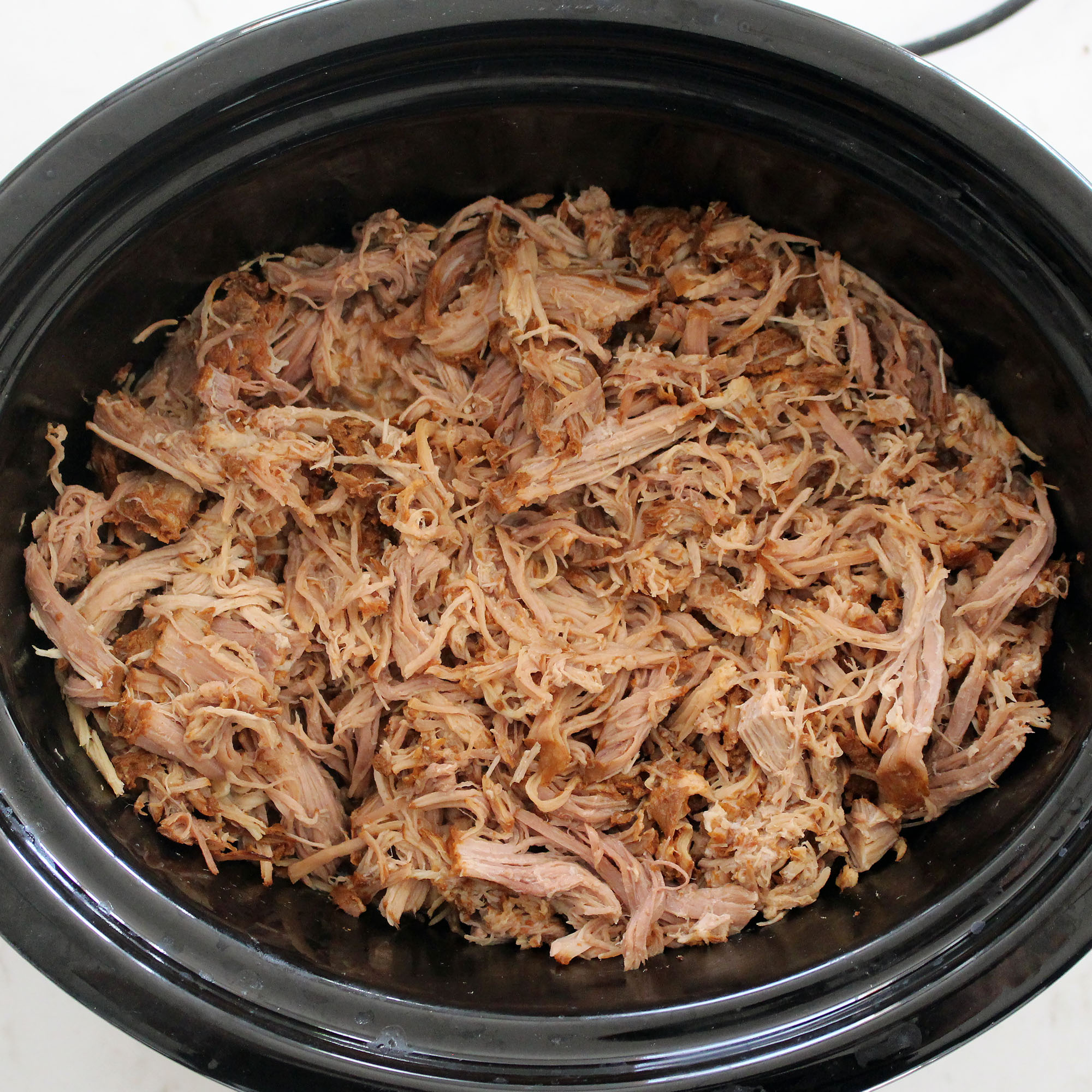 For my first pork recipe of 2020 I circled back to the sandwich idea, although these Cornbread Waffle Pulled Pork Sandwiches are quite a bit larger than the sliders I made last year. They're so big in fact that I definitely wouldn't judge you if in lieu of picking them up you used a knife and fork to eat them instead.
My original plan with these sandwiches was to make macaroni and cheese waffles to use as the bun, but since cornbread pairs so well with pulled pork I decided on cornbread waffles instead. I still packed plenty of macaroni and cheese — as well as homemade red cabbage coleslaw — in with the pulled pork between the two waffles though.
Cornbread waffles, macaroni and cheese and coleslaw aside though the real star of this sandwich Is the slow cooker pulled pork. Not only is it extremely easy to prepare, but pork is also a great source of key nutrients, vitamins and minerals.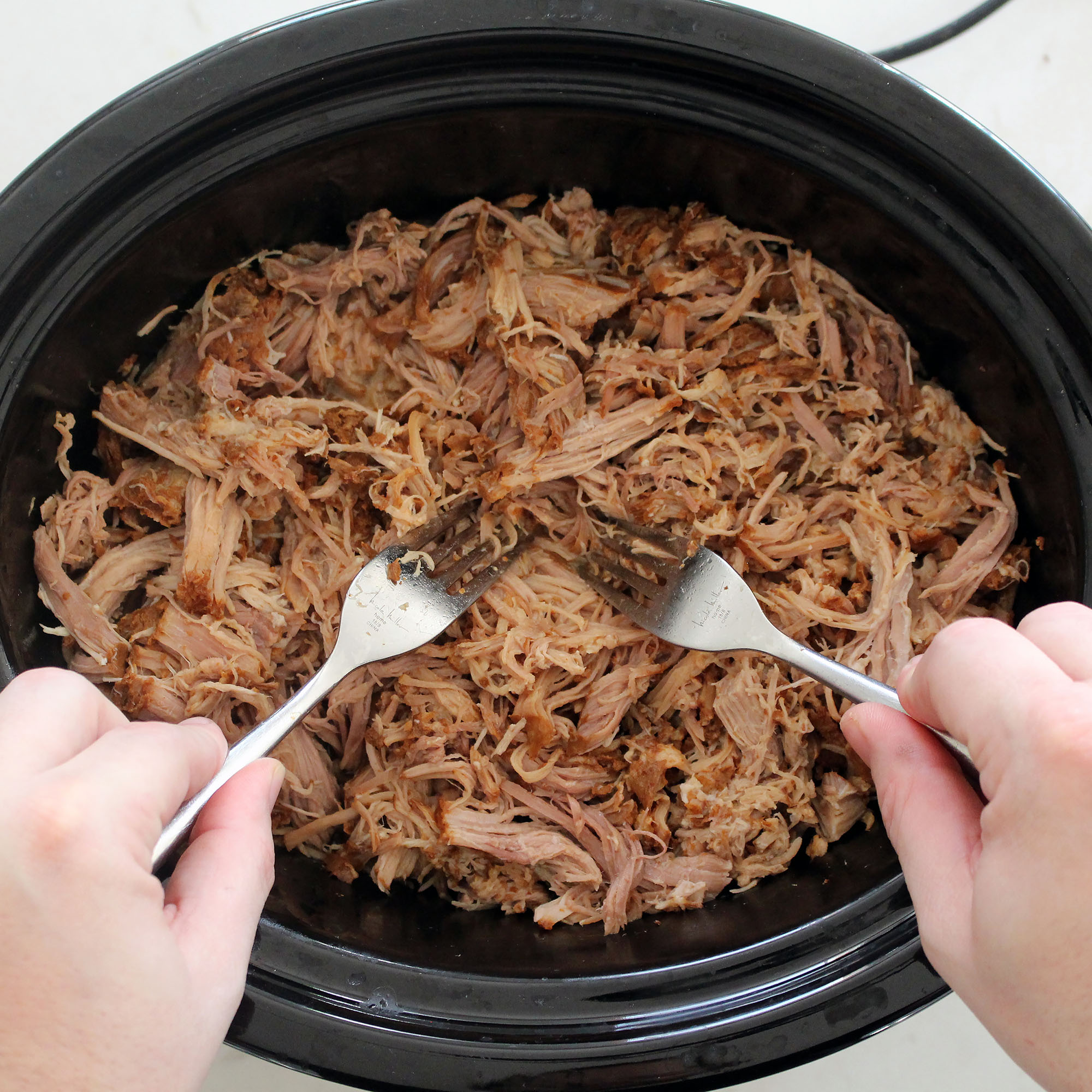 A 3-ounce serving of pork is an excellent thiamin, selenium, protein, niacin, vitamin B6 and phosphorus, and a good source of riboflavin, zinc and potassium. If you'd like to learn more about the nutritional benefits of eating pork you can check out Pork.org.
And of course, great pork comes from great farmers. Over the past 50 years the way farmers raise pigs has changed as advancements in farming methods, technology and economics have significantly transformed farming.
One thing remains constant for farmers though and that's their mission to produce safe, nutritious food in a responsible manner. The livelihood of farms after all is tied to the land and to the health of animals in a farmer's care. Farmers realize that raising healthy pigs by using good farming practices results in safe, high-quality pork products. If you'd like to learn more about pig farming head on over to PorkCares.org.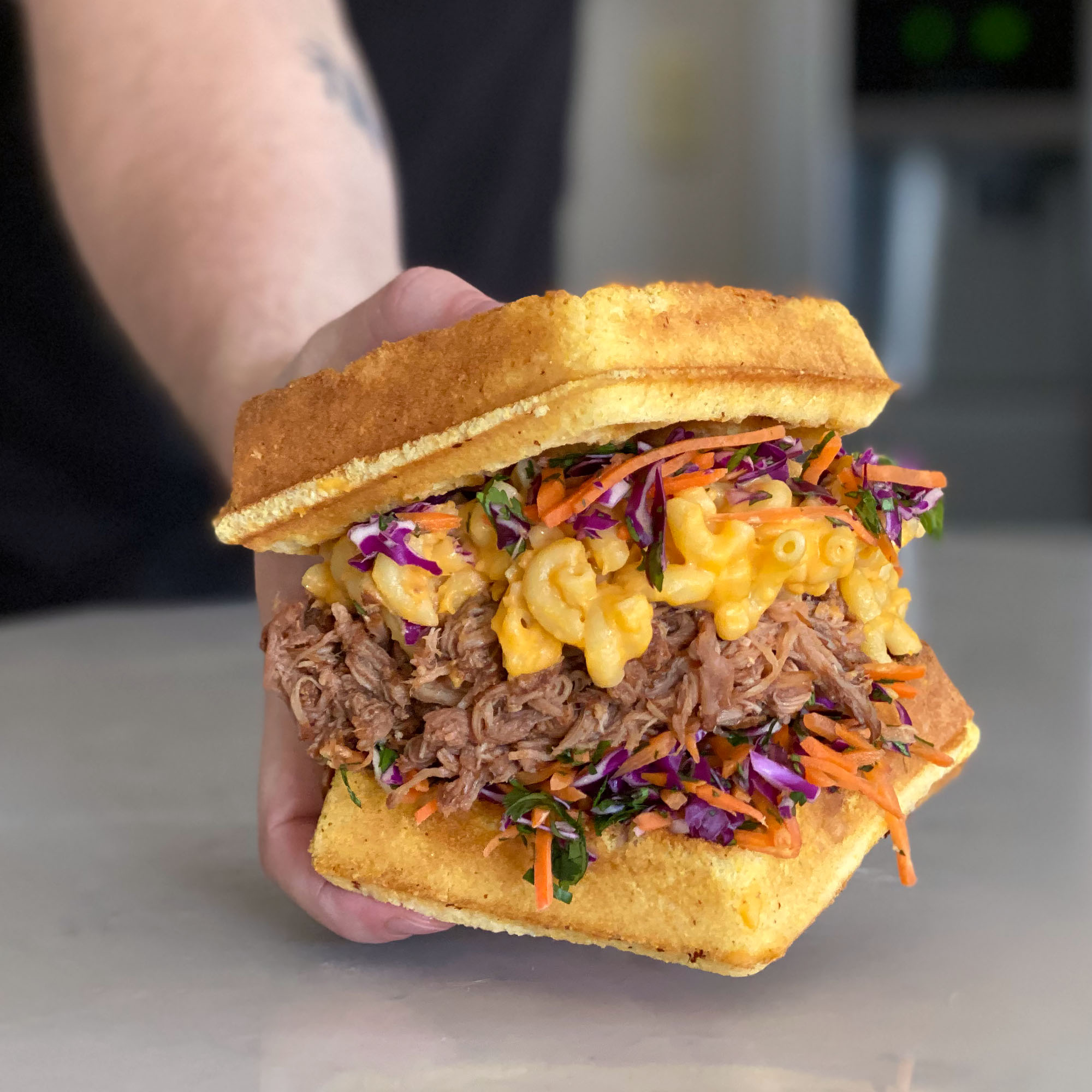 Cornbread Waffle Pulled Pork Sandwich Recipe
Pulled pork, homemade macaroni and cheese and red cabbage coleslaw come together in the recipe for this gigantic sandwich that also has cornbread waffle buns.
Ingredients
Pulled Pork
1

pork shoulder

approximately 3 lbs.

1

cup

BBQ sauce

1/3

cup

BBQ seasoning
Cornbread Waffles
4

cups

cornmeal

3

cups

flour

1 1/3

cups

sugar

6

teaspoons

baking powder

1

teaspoon

salt

8

eggs

4

cups

milk

1 1/3

cups

vegetable oil
Coleslaw
1/4

cup

orange juice

1/8

cup

lime juice

1

tablespoon

brown sugar

1/2

teaspoon

salt

1

carrot

grated

1/2

red cabbage

chopped

1/4

cup

cilantro

chopped
Macaroni and Cheese
8

ounces

pasta

3

cups (12 ounces)

Cheddar cheese

shredded

1 1/2

cups

milk

2

tablespoons

butter

1 1/2

tablespoons

flour
Instructions
Pulled Pork
Season the entire pork shoulder with your choice of seasoning and place into slow cooker.

Top with 1 cup BBQ sauce and cook on low for 8 hours or high for 4 hours or until pork shoulder can easily be shredded with a fork.

Shred pork shoulder with a fork and stir to coat with sauce.
Cornbread Waffles
In a bowl combine 4 cups cornmeal, 3 cups flour, 1 1/3 cups sugar, 1 teaspoon salt and 6 teaspoons baking powder. Stir in 8 eggs, 4 cups milk and 1 1/3 cups vegetable oil.

Pour cornbread mixture into waffle iron and bake for 5 minutes or until waffles are golden brown and a toothpick inserted into them comes out clean.
Coleslaw
In a bowl whisk together 1/4 cup orange juice, 1/8 cup lime juice, 1 tablespoon brown sugar and 1/2 teaspoon salt.

Add cabbage, carrots and cilantro and toss to combine.
Macaroni and Cheese
Cook pasta according to the directions on the package.

In a separate pot, melt 2 tablespoons butter over medium heat and stir in 1 1/2 tablespoons flour. Add 1 1/2 cups milk and reduce heat to low. Stir in 3 cups shredded Cheddar cheese slowly until melted and pour over cooked pasta.
Sandwich Assembly
Assemble your Cornbread Waffle Pulled Pork Sandwiches by topping a waffle with pulled pork, macaroni and cheese, coleslaw and finally a second waffle. Repeat with the remaining waffles.