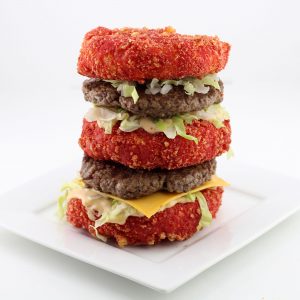 I call this the Big Mac & Cheese. It's basically a Big Mac, but instead of regular boring sesame seed buns I used deep fried macaroni and cheese buns. Oh, and I also breaded those macaroni and cheese buns in Flamin' Hot Cheetos!
The only other real difference between my Big Mac & Cheese and a regular Big Mac — aside from the fact that I used 1/3 pound burger patties instead of the traditional 1.6 ounce Big Mac patties — was that I left out the pickles from the Big Mac & Cheese.
Why skip the pickles? Because I can't stand them. When I was a kid my older sister used to eat jars of pickles, chug the pickle juice that was leftover and then burp in my face. Seriously… Haven't eaten a single pickle since….
I also need to take a second to thank Gourmia for hooking me up with a brand new deep fryer! Not only was my old deep fryer completely covered in caked on grease and grime from years of excessive use, but it was also fairly small, so it's nice to have a way bigger fryer to work with.
To create the "buns" for the Big Mac & Cheese I packed three mini springform pans
with macaroni and cheese and then threw them in my refrigerator for a couple hours until I was able to remove the macaroni and cheese discs without them falling apart.
If you're in a hurry you could probably accomplish the same thing in an hour or less by using your freezer instead. After that I just coated them in flour, dipped them in an egg wash, covered them in crushed up Flamin' Hot Cheetos and deep fried them.
Once I had my Flamin' Hot Cheetos macaroni and cheese buns all that was left to do was cook a couple burger patties and assemble my Big Mac & Cheese!
As far as Big Mac Sauce goes there are tons of copycat recipes online to make your own. Luckily for me I've gotten to the point in my mildly successful blogging career where I no longer have to do such laborious tasks and McDonald's recently hooked me up with a free bottle so I just used that.
Otherwise, if you're Canadian you can also apparently buy bottles of Big Mac Sauce at the grocery store, which is completely amazing and it's completely insane to me that they don't do the same here in the United States.
Also, this reminds me, I'm almost out of Big Mac Sauce! Hey McDonald's, can I get another bottle? If not it looks like I'm headed to eBay to get completely price gauged by one of the many sellers from Canada who are currently buying them and marking them up 400% for resale.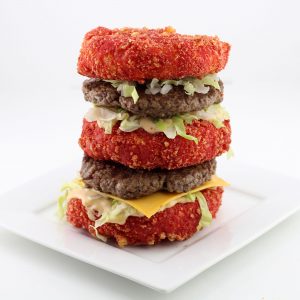 The Big Mac & Cheese Recipe
Nick @ DudeFoods.com
The Big Mac & Cheese is just like a Big Mac except that it swaps out sesame seed buns for deep fried macaroni and cheese buns that are breaded in Flamin' Hot Cheetos!
Ingredients
2

quarts

oil

for frying

1

bag (8 1/2 ounces)

Flamin' Hot Cheetos

8

ounces

pasta

2

tablespoons

butter

3

eggs

2

cups plus 1 1/2 tablespoons

flour

2

cups

milk

3

cups (12 ounces)

Cheddar cheese

shredded

2/3

pound

ground beef

1

slice

American cheese

lettuce

shredded

onion

diced

Big Mac Sauce
Instructions
Cook pasta according to the directions on the package.

In a saucepan, melt butter over medium heat and stir in 1 1/2 tablespoons flour flour. Add 1 1/2 cups milk and reduce heat to low. Stir in cheese slowly until melted and pour over cooked pasta.

Transfer macaroni and cheese to mini springform pans and chill in a refrigerator for 2 hours or freeze for 1 hour or until macaroni and cheese discs can be removed from the springform pans without falling apart.

Heat oil in deep fryer or heavy skillet to 375°F.

Set up a dredging station with three bowls — flour in the first one, 3 beaten eggs and 1/2 cup milk in the second one and crushed Flamin' Hot Cheetos in the third one.

Coat each macaroni and cheese disc in flour, submerge in egg wash and cover in crushed Flamin' Hot Cheetos. Repeat this step a second time if necessary.

Fry macaroni and cheese discs for 5 minutes or until cooked through and then cool on paper towels.

Separate ground beef into two equal sized portions, season with salt and pepper and grill until they reach your desired level of doneness.

Assemble your Big Mac & Cheese by taking one macaroni and cheese bun and topping it with Big Mac Sauce, shredded lettuce, diced onion, a slice of American cheese and one of your burger patties and then repeat the same process finishing off the burger with the third and final macaroni and cheese bun.