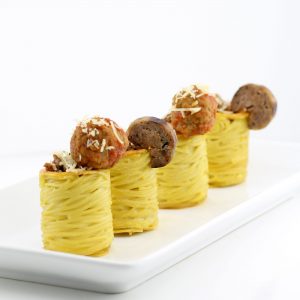 Do you guys ever watch the show Shark Tank? On it, it seems like almost every entrepreneur who is pitching an idea to the sharks talks about their "aha moment." The moment when they exclaimed to themselves "There's gotta be a better way!" Well, that's exactly how I came up with the idea for these Spaghetti Noodle Shot Glasses!
I was sitting on my couch binge-watching Netflix and eating spaghetti and meatballs one day when my dog Holden decided that he wanted some as well so he walked up to me, nudged my plate with his head and knocked my dinner all over the place.
He was happy because he got to eat all the food off the floor, but I was annoyed because now I had nothing to eat and there was spaghetti sauce all over the rug in my living room. There's gotta be a better way!
So, I once again turned to my silicone shot glass mold — the same one I've previously used to make things like Pancake Shot Glasses and Cornbread Shot Glasses — and this time I packed it with spaghetti noodles, which I then baked in the oven to create Spaghetti Noodle Shot Glasses.
Once they were finished I filled them with meat sauce, sprinkled freshly grated Parmesan cheese — shout-out once again to Sartori for constantly hooking me up with shipments of their amazing cheese — and then garnished the shot glasses with mini meatballs and slices of cheesy Italian sausage.
Suddenly I had an almost completely spill proof way to eat spaghetti! I mean, I guess my Spaghetti Noodle Shot Glasses could still be knocked onto the floor, but they're definitely way easier to eat when you can just keep a plate of them off to the side and then grab them one at a time to eat. Or you could just make a Spaghetti and Meatball Cone….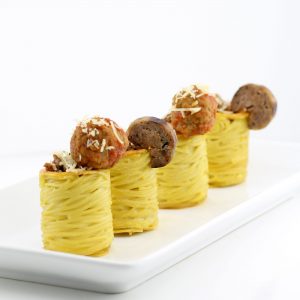 Spaghetti Noodle Shot Glasses Recipe
Nick @ DudeFoods.com
Are you in the mood for spaghetti and meatballs but not hungry enough to eat a giant bowl full? Then make these Spaghetti Noodle Shot Glasses!
Ingredients
4

ounces

spaghetti noodles

2

eggs

1/2

pound

ground beef

1

jar

spaghetti sauce

Parmesan cheese

Your choice of garnishes

I used mini meatballs and sliced Italian sausage
Instructions
Cook spaghetti noodles according to the directions on the package, drain and let cool.

Beat two eggs and mix them in with your spaghetti noodles (this will help the noodles stick together even better).

Spray the shot glass mold with non-stick cooking spray, fill with spaghetti noodles and bake at 350° for 25 minutes.

Brown the ground beef in a pan and combine with pasta sauce.

Pop the Spaghetti Shot Glasses out of the mold, fill with meat sauce, top with Parmesan cheese and add your choice or garnishes.