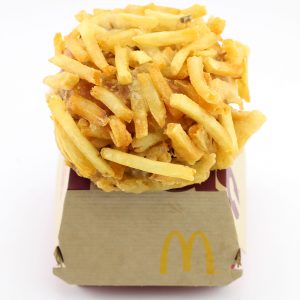 Ever since PeepMyEats first deep fried a Big Mac back in 2015 I've wanted to give it a try.
Well, almost three years later I finally did it! Doing the exact same thing is just straight up boring though so I decided to put my own little spin on it by breading the entire thing in McDonald's French fries!
The whole "coat an item you're deep frying in fries" idea actually came from a random story I found a few years ago about how French fry coated corn dogs were popular in Korea.
Since I'd also been meaning to do something similar I figured that combining it with the Deep Fried Big Mac would be perfect, and that's how the Deep Fried French Fry Breaded Big Mac that you see before you came to be!
To create this amazing monstrosity I simply took a Big Mac, poured beer batter over it, stuck diced McDonald's fries to it and dropped the whole thing in my deep fryer for a few minutes. For easy transfer into the deep fryer I put the Big Mac on top of a giant spoon that has a bunch of holes in it. I have zero idea if there's any specific name for this type of spoon and even less of an idea what you're actually supposed to use it for.
I obtained mine as part of a stainless steel kitchen utensil set that my wife and I received as a gift when we got married. In fact, in the seven years we've owned this spoon I think that this is probably the first time I've ever even used it.
The one issue I came across when I attempted this — my first try was a total failure by the way — is that if you leave the battered and fry coated Big Mac sitting on the spoon for too long before dropping it in the oil it's just going to stick to the spoon and completely come apart, so if you try this at home just make sure you get it into that 375° oil immediately!
It probably would have been way easier to just pour batter over the Big Mac, stick a bunch of fries to it, wrap plastic wrap around the whole thing and put it in the freezer for ten minutes to make the fries stick a little better, but of course I didn't think of that until after my second attempt.
Using a spatula instead of the goofy spoon with all the holes in it probably would have helped too, since I could have just slid the Big Mac right off the spatula and into the deep fryer. Either way though, it still turned out way better than I expected!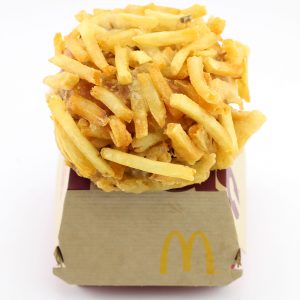 The Deep Fried French Fry Breaded Big Mac Recipe
Nick @ DudeFoods.com
Inspired by the French fry coated corn dogs that are popular in Korea here's my recipe for a McDonald's Big Mac that's breaded in fries and deep fried!
Ingredients
2

quarts

oil

for frying

1

McDonald's Big Mac

2

orders

McDonald's fries

size medium

1

cup

flour

1

cup

light beer

Big Mac Sauce
Instructions
Heat oil in deep fryer or heavy skillet to 375°F.

Dice French fries until the pieces are about an inch long each.

Combine flour and lite beer and whisk until smooth.

Place the Big Mac on a large spoon or spatula and on a plate or in a bowl and pour beer batter over it until it's covered completely.

Coat the batter covered Big Mac in diced McDonald's fries and immediately transfer to your deep fryer or heavy skillet.

Fry for 3 minutes or until golden brown.

Drain on paper towels, top with Big Mac Sauce and enjoy!