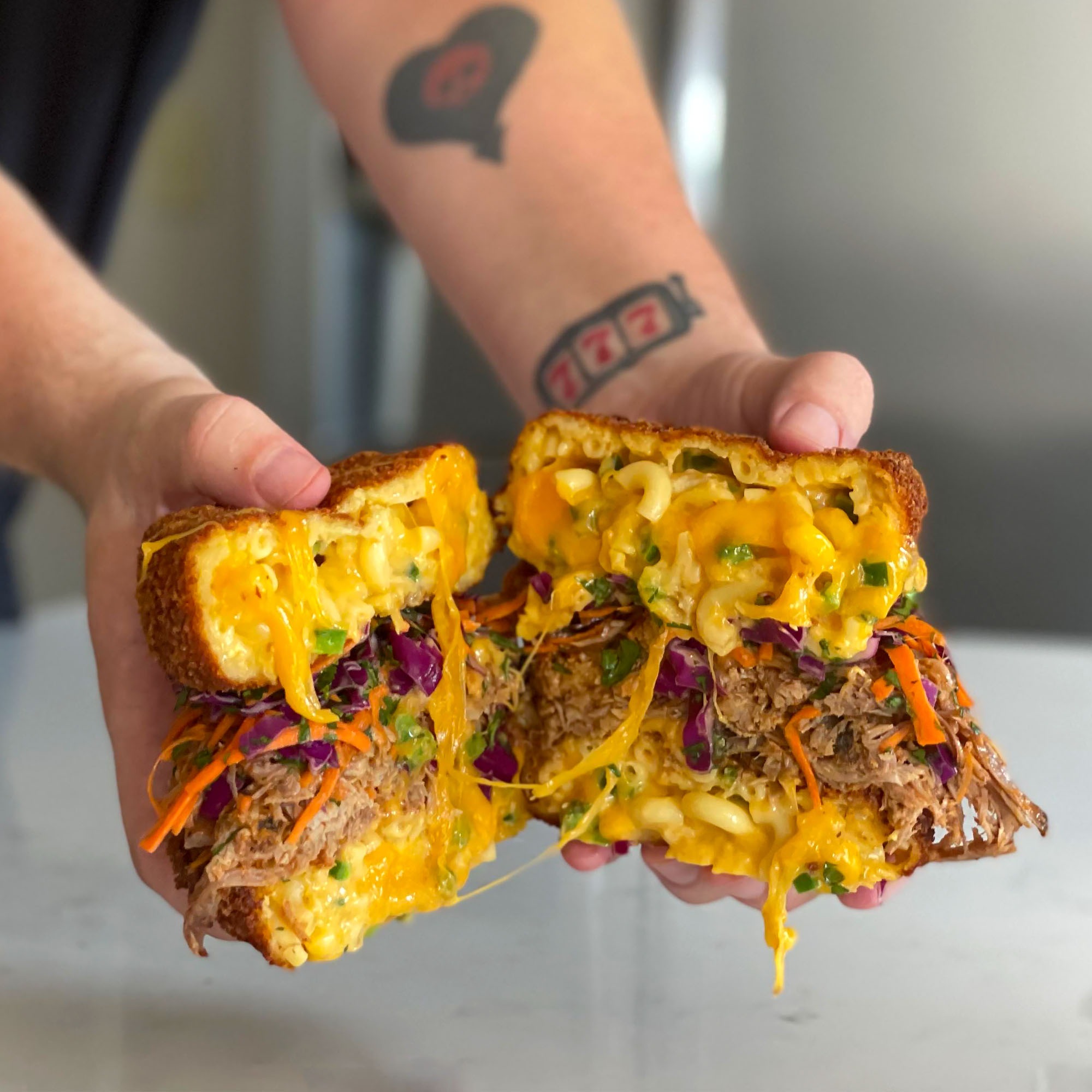 It's no secret that pulled pork is amazing, but it's even better when it's combined with homemade coleslaw and served in sandwich form between two deep fried macaroni and cheese buns!
El Yucateco recently asked me to create a recipe using one of their hot sauces. There was one small problem though…. They sent me all seven of their different sauce varieties and since they were all so good not only could I not decide on a recipe, but I couldn't even decide which hot sauce I wanted to use. Eventually I chose two of my favorites and used them both to make one completely over-the-top sandwich!
If you've never had the pleasure of trying El Yucateco Hot Sauce you should probably make it a point to check them out. They have a sauce for pretty much anyone. Their mildest offering is their Jalapeño Hot Sauce, which clocks in at a Scoville Range — which measures the heat level in chili peppers — of between 1,500 and 1,900. The most flavorful? Their Kutbil-Ik XXXtra Hot Habanero Sauce, which measures between 10,000 and 12,500 Scoville Heat Units. And then of course there are plenty of sauces between those two ranges as well.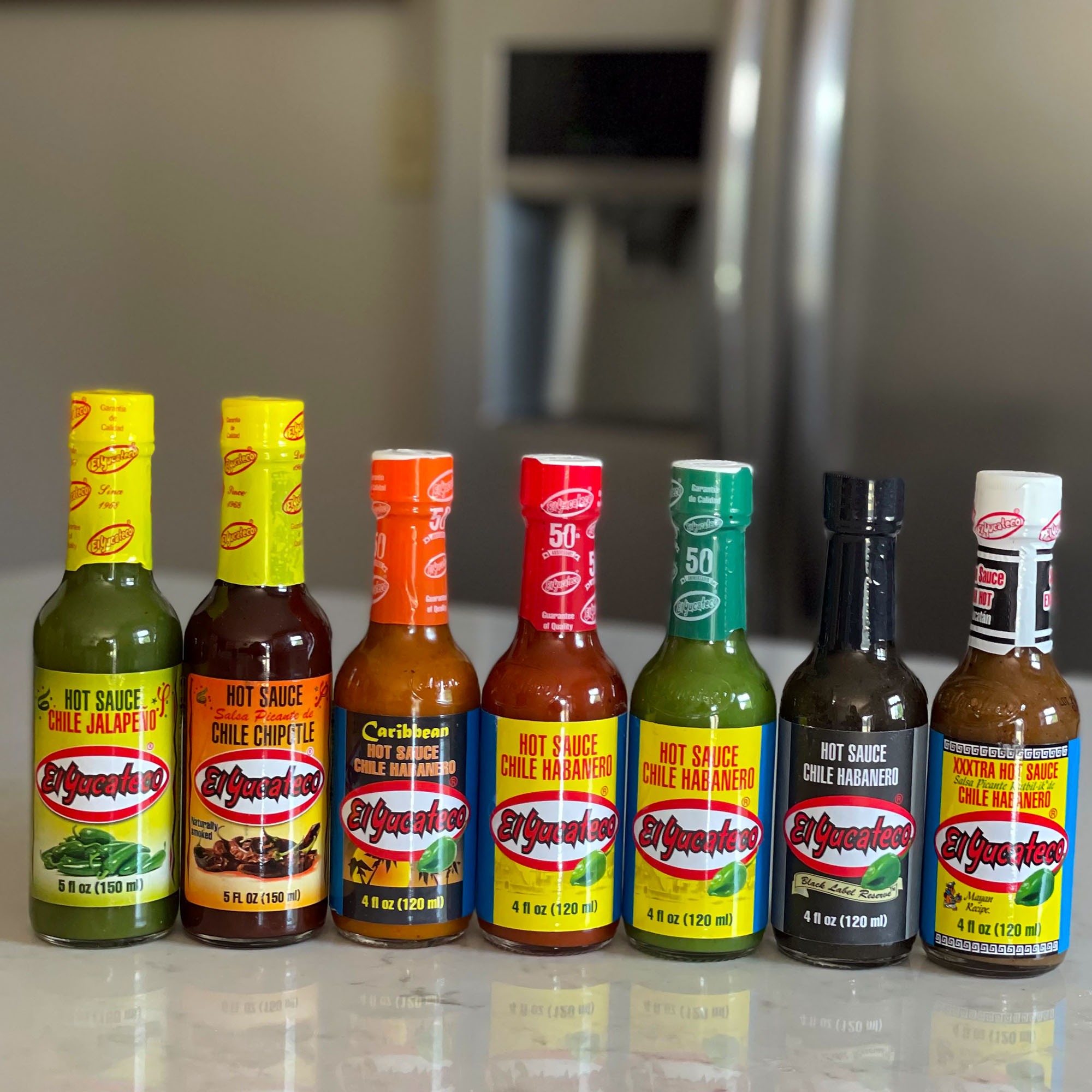 In fact, you can actually get a totally free bottle of El Yucateco Hot Sauce just by clicking this link! Act fast though because the number of free bottles are limited!
For the pulled pork sauce I used El Yucateco Chipotle Hot Sauce along with ketchup, apple cider vinegar, yellow mustard, garlic powder, mustard powder and some salt and pepper. The ingredients gave the pulled pork a sweet, smoky flavor with a bit of a kick. If you'd like it a little spicier though then El Yucateco's Black Label Reserve Habanero Hot Sauce would be a great substitution for the Chipotle Hot Sauce.
When it came to the mac & cheese I kept things nice and simple by melting some butter in a pan and adding flour to create a roux. After that all it took was some milk and shredded Cheddar cheese. To kick the flavor up a bit I finished things off with a couple diced jalapeños and a few tablespoons of El Yucateco Jalapeño Hot Sauce. Similar to the pulled pork sauce though, if you'd like a bit more kick you could use El Yucateco's Green Habanero Hot Sauce instead.
I used mini springform pans to shape my macaroni and cheese buns, but if you don't have any of those you can just form the mac & cheese into discs with your hands and freeze them between two pieces of wax paper. The springform pans make it much easier though. Then, after freezing them for about an hour you can pop them out, coat them in flour, dip them in an egg wash, cover them with panko breadcrumbs and deep fry them to complete the process.
To finish the sandwiches off I made a homemade red cabbage coleslaw to top them with. It's a little tart with a bit of sweetness courtesy of some brown sugar, but it pairs really well with the kick that you get from pulled pork and jalapeño mac & cheese. If you've got a specific coleslaw recipe that you prefer then by all means use that one instead, but if you'd like to try mine the recipe is below.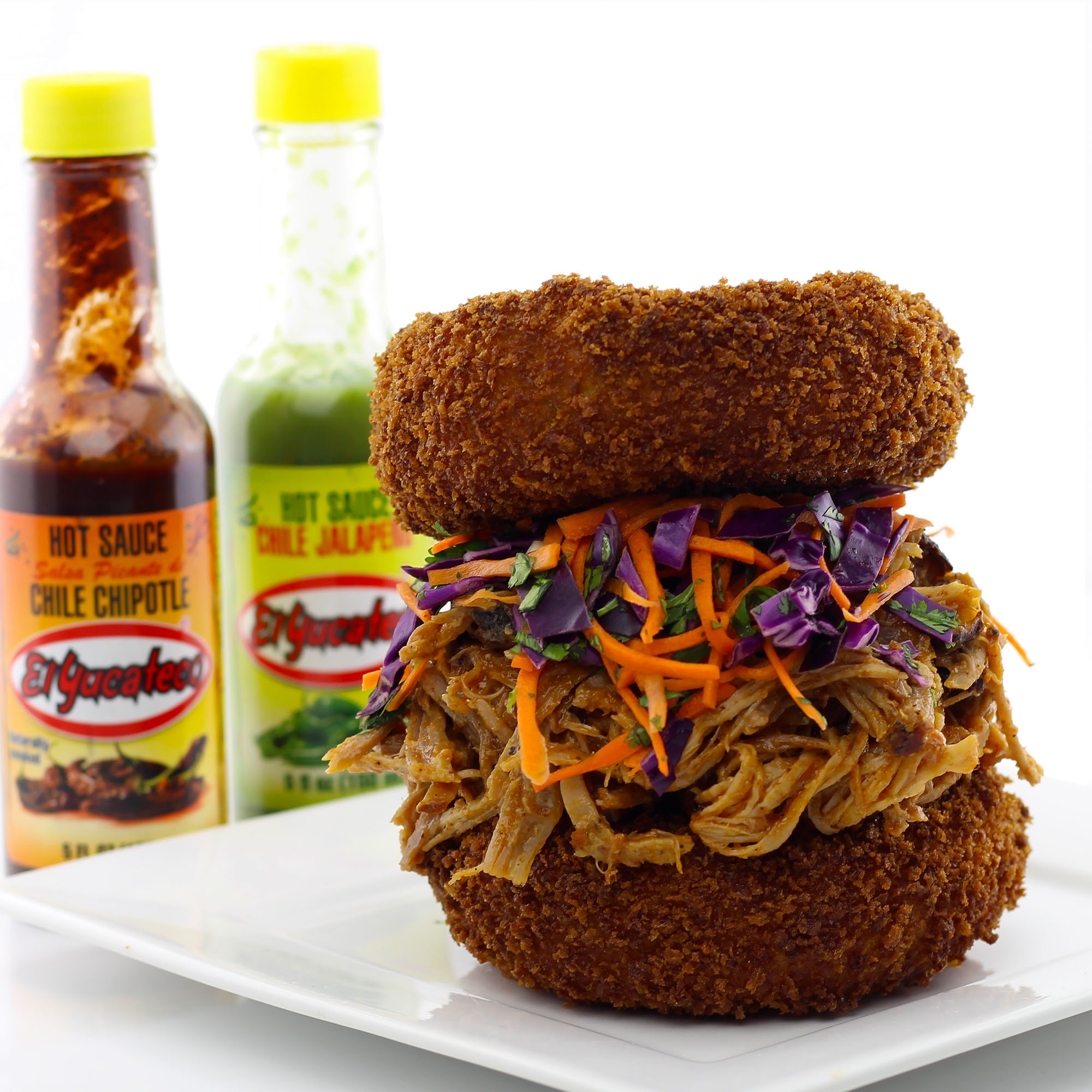 You can make the sauce for the pulled pork and the coleslaw while the mac & cheese discs are in the freezer or you could even make and bread the macaroni and cheese buns a day or two in advance and just freeze them until you're ready to deep fry them. The sauce and coleslaw can be made in advance and refrigerated as well just to keep things nice and easy for when you actually make the sandwiches.
I added a half pound of pulled pork to each sandwich and made macaroni and cheese buns that were pretty thick, but you can obviously size the recipe down a bit. Or, just use the same measurements I did and make four sandwiches instead of two and they'd still be plenty big!
I also realize that this sandwich is a little extreme for most people, so if you only want to make the sauce to put on some pulled pork that's totally cool. Only feel like making the jalapeño mac & cheese? That's totally fine too. Or, you could make both the pulled pork and the mac & cheese and then just pile the pulled pork on top of the mac & cheese!
In the meantime, don't forget to click this link and get your free bottle of El Yucateco Hot Sauce!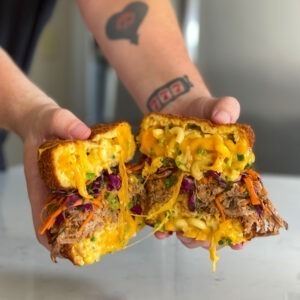 The Pulled Pork Sandwich With a Deep Fried Macaroni and Cheese Bun Recipe
Pulled pork with a sweet and spicy sauce, red cabbage coleslaw and a deep fried jalapeño macaroni and cheese bun! It doesn't get my better than this!
Ingredients
Pulled Pork
1

pound

pulled pork

cooked and shredded

1

cup

ketchup

2

tablespoons

El Yucateco Chipotle Hot Sauce

2

tablespoons

apple cider vinegar

1

tablespoon

yellow mustard

1

teaspoon

garlic powder

1

teaspoon

mustard powder

salt and pepper

to taste
Coleslaw
1

cup

red cabbage

chopped

1

carrot

grated

1/4

cup

cilantro

chopped

1/4

cup

orange juice

1/8

cup

lime juice

1

tablespoon

brown sugar

1/2

teaspoon

salt
Jalapeño Macaroni and Cheese
8

ounces

pasta

3

cups (12 ounces)

Cheddar cheese

shredded

2

jalapeños

deseeded and diced

1 1/2

cups

milk

3

tablespoons

El Yucateco Jalapeño Hot Sauce

2

tablespoons

butter

1 1/2

tablespoons

flour
Deep Fried Macaroni and Cheese Buns
4

frozen

macaroni and cheese discs

see previous step

2

quarts

oil

for frying

4

eggs

4

cups

panko breadcrumbs

2

cups

flour

1/3

cup

milk
Instructions
Pulled Pork
Combine ketchup, El Yucateco Chipotle Hot Sauce, apple cider vinegar, yellow mustard, garlic powder, mustard powder and salt and pepper in a saucepan over medium heat and bring to a simmer.

Stir frequently for 5 – 10 minutes or until sauce thickens.

Toss your pulled pork in the sauce.
Coleslaw
In a bowl whisk together orange juice, lime juice, brown sugar and salt.

Add cabbage, carrots and cilantro and toss to combine.
Jalapeño Macaroni and Cheese
Cook pasta according to the directions on the package.

In a separate pot, melt butter over medium heat and stir in flour. Add milk and reduce heat to low. Stir in shredded Cheddar cheese slowly until melted.

Add El Yucateco Jalapeño Hot Sauce and diced jalapeños, pour over cooked pasta and stir to combine.

Transfer macaroni and cheese to mini springform pans and freeze for 1 hour or until macaroni and cheese discs can be removed from the springform pans without falling apart.
Deep Fried Macaroni and Cheese Buns
Heat oil in deep fryer or heavy skillet to 375°F.

Set up a dredging station with three bowls — flour in the first one, beaten eggs and milk in the second one and panko breadcrumbs in the third one.

Coat each macaroni and cheese disc in flour, submerge in egg wash and cover in panko breadcrumbs. Repeat this step a second time if necessary.

Fry macaroni and cheese discs for 5 minutes or until golden brown and cooked through and then cool on paper towels.
Pulled Pork Sandwiches
Assemble the sandwiches by topping a deep fried macaroni and cheese bun with pulled pork, coleslaw and finally another bun on top.