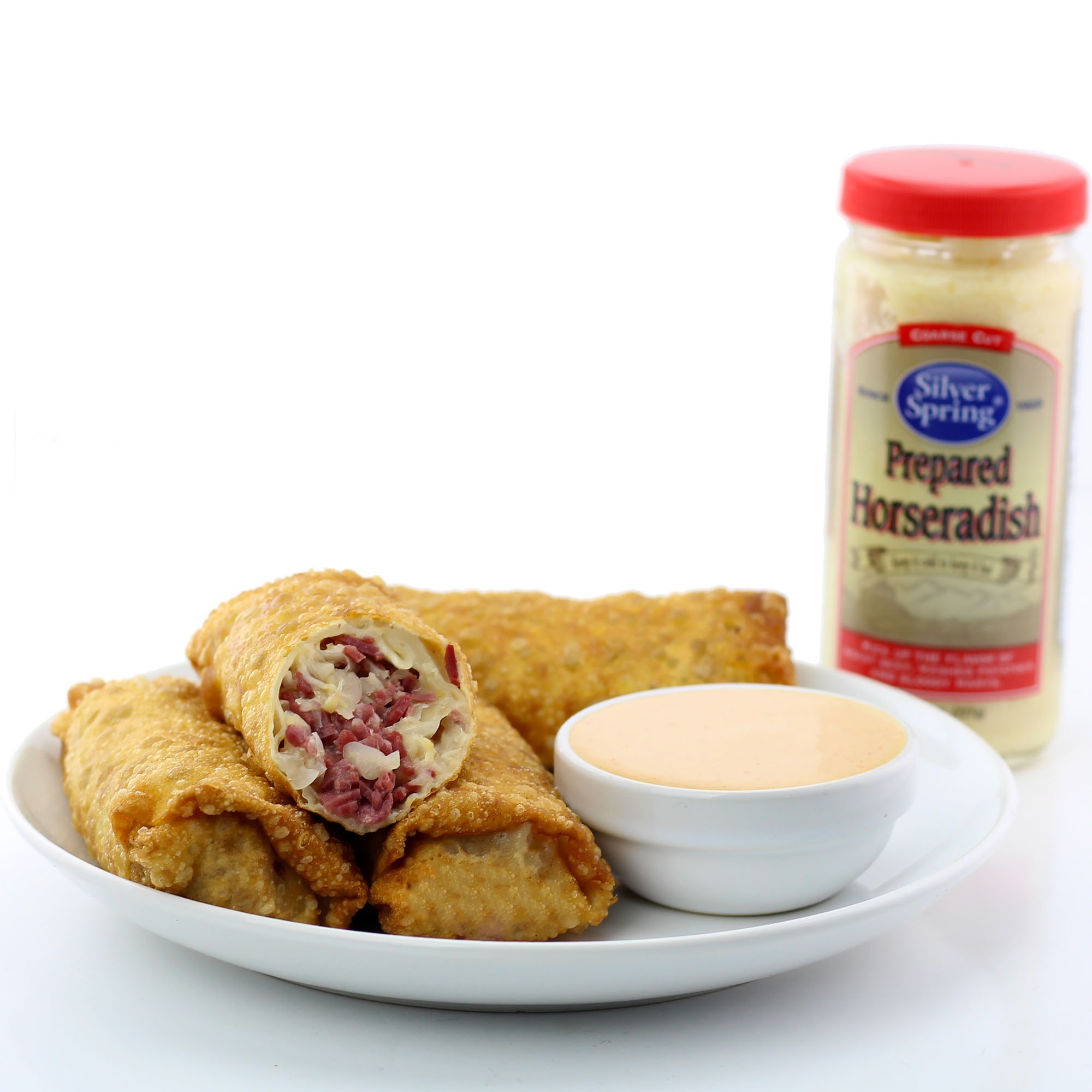 Until Silver Spring Foods reached out to me asking if I could create a recipe for them for National Horseradish Month I had no idea that the world's largest grower and processor of horseradish was located right here in my home state of Wisconsin.
When I think of horseradish the first thing that always comes to mind is Reuben sandwiches made with homemade Russian dressing, so I immediately gravitated to doing some sort of take on a Reuben. I finally settled on Reuben Egg Rolls.
A lot of people that I know only eat Reuben Rolls on or around St. Patrick's Day, but I am not one of those people…. For me they're definitely a year round appetizer, or in this case when I'm working on a blog recipe and eat all 12 of them, an entire meal. The only actual downfall to Reuben Rolls for me is when people dip them in Thousand Island dressing rather than Russian dressing.
Normally when making homemade Russian dressing I combine Mayo, ketchup, horseradish, hot sauce, Worcester sauce and smoked paprika. I find that the bit of a kick that the Russian dressing has pairs so much better with the corned beef, Swiss cheese and sauerkraut in a Reuben than the slightly sweeter Thousand Island does.
What I like about Silver Spring Foods is that they've developed a Zing Index to identify the different levels of Zing in each of their products. The index ranges from Z1 (the least amount of heat) to Z5 (the most amount of heat). It's because of this Zing Index that I discovered that their Prepared Horseradish — which has a Zing Factor of three — is the perfect amount of heat for me when used to make homemade Russian dressing.
Plus, the different Zing Factors allow the hot sauce to be left out of the dressing recipe entirely since you can just swap out the different varieties of horseradish from Silver Spring Foods depending on the amount of Zing you want the dressing to have.
Do you like a lot of kick? If that's the case then their Extra Hot Horseradish — with its Zing Factor of five — is probably for you. Looking for the minimal amount of heat? Give their Cranberry Horseradish — which has a Zing Factor of one — a try! Also available are a Beet Horseradish with a Zing Factor of two and a new Non-GMO Horseradish with a Zing Factor of four. There's basically a horseradish type for everyone!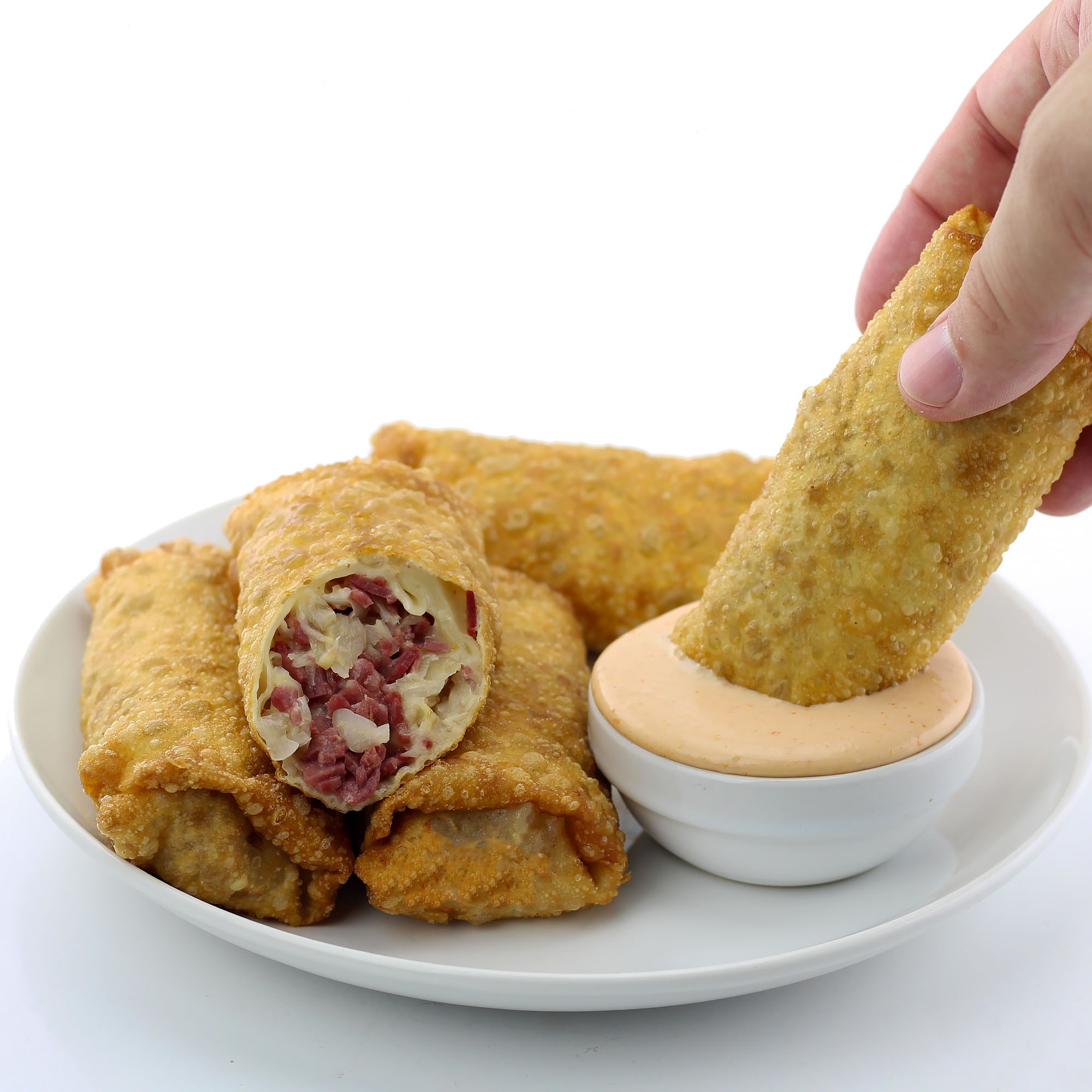 Once you figure out what Zing Factor you prefer and whip up your homemade Russian dressing the remainder of this recipe is a breeze! All you need to do is dice up some corned beef, shred some Swiss cheese, mix it with some sauerkraut, roll the mixture up into egg roll wrappers and deep fry them for three minutes or until golden brown!
Trust me, they'll be the best Reuben Egg Rolls you've ever had. Just make sure that you pick up some Silver Spring Foods horseradish and make your own dressing to dip them in! In fact, you can save 25% off your SilverSpringFoods.com order right now by using the promo code DUDEFOODS25 at checkout!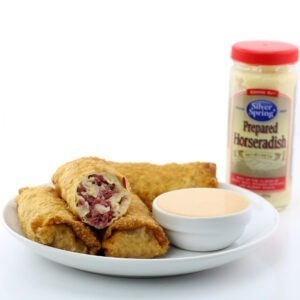 Reuben Egg Rolls
Nick @ DudeFoods.com
You don't have to wait until St. Patrick's Day to enjoy these homemade Reuben Egg Rolls! They're delicious all year round!
Ingredients
Russian Dressing
1

cup

mayonnaise

1/4

cup

ketchup

2

tablespoons

Silver Spring Foods Horseradish

1

teaspoon

Worcestershire sauce

1/4

teaspoon

smoked paprika
Reuben Egg Rolls
2

quarts

oil

for frying

1

pound

corned beef

diced

8

ounces

Swiss cheese

shredded

1

can (14.5 ounces)

sauerkraut

drained

12

egg roll wrappers
Instructions
Russian Dressing
Mix all ingredients together in a small bowl until combined.
Reuben Egg Rolls
Heat oil in deep fryer or heavy skillet to 375°F.

Combine corned beef, Swiss cheese and sauerkraut in a bowl and mix until combined.

Lay out an egg roll wrapper with one of the edges pointing toward you.

Spoon approximately 1/4 cup of corned beef, Swiss cheese and sauerkraut mixture into the center of the egg roll wrapper and using your fingers wet all four edges. This will help the egg roll stay together after you roll it.

Next, take the corner that's pointing toward you and fold it up over the filling, fold the left and right ends in and roll the egg roll up. Repeat for the remaining egg rolls.

Fry egg rolls in batches for 3 minutes or until golden brown.

Drain on paper towels and serve with Russian Dressing for dipping purposes.