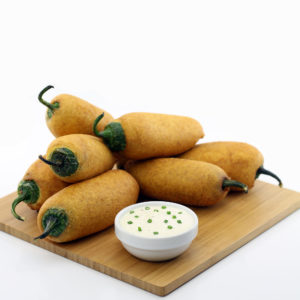 Sure, jalapeño poppers are great on their own, but have you ever dipped them in corn dog batter and then deep fried them until golden brown? I hadn't until this past weekend, but after Prairie Farms asked me to create a recipe using their cream cheese I figured that now was as good a time as any to give it a shot!
I've previously breaded jalapeño poppers in things like Flamin' Hot Cheetos and potato chips, but I think that this is my favorite jalapeño popper recipe to date. I don't know, maybe that has to do with the fact that corn dogs and jalapeño poppers are two of my favorite appetizers and yes, I did just admit that I consider corn dogs an appetizer….
When most people make jalapeño poppers they just slice the jalapeños in half and then fill them so they're left with what look like little jalapeño boats. What I prefer to do is to slice them down the middle and then down the sides so I can spread the jalapeños open, pack them with filling and then close them back up. This type of cut also works especially well when making these Jalapeño Popper Corn Dogs because it leaves you with a perfectly rounded surface for the corn dog batter to coat nice and evenly.
Do you know what's just as good as Jalapeño Popper Corn Dogs? Free stuff! And if you like free stuff you're in luck because now through January 31st Prairie Farms is giving away 100 prizes a day over on their Gameday MOOvement page so check it out, enter the contest and pledge your support for the awesome dairy farmers that make all the great products that allow us to make awesome food like this. Plus, one lucky winner will receive $100 in free dairy products as well as a $100 Visa gift card!
If you'd like to try Prairie Farms for yourself you can also find coupons for some of their most popular products by going to PrairieFarms.com/coupons.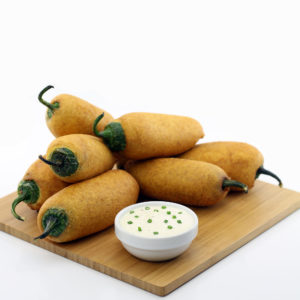 Jalapeño Popper Corn Dogs Recipe
Nick @ DudeFoods.com
These Jalapeño Poppers are dipped in corn dog batter and deep fried until golden brown to create a sweet breading that pairs well with the spiciness of the jalapeños.
Ingredients
2

quarts

oil

for frying

8

jalapeños

8

ounces

Prairie Farms cream cheese

4

ounces

Cheddar cheese

shredded

1

cup

yellow cornmeal

1

cup

flour

1/4

teaspoon

salt

1/8

teaspoon

black pepper

1/4

cup

sugar

4

teaspoons

baking powder

1

egg

1

cup

milk

Ranch or your preferred dipping sauce
Instructions
Heat oil in deep fryer or heavy skillet to 375°F.

Slice the jalapeños down the middle and then down the sides so they can be spread open to fill.

In a bowl combine cream cheese and Cheddar cheese.

Fill jalapeños with the cheese mixture and set aside.

In a bowl, combine cornmeal, flour, sugar, salt, pepper and baking powder. Stir in egg and milk.

Transfer corn dog batter to a glass and dip the jalapeño poppers one by one into the batter.

Fry Jalapeño Popper Corn Dogs for 2 minutes or until golden brown.

Drain on paper towels and serve with ranch or your preferred dipping sauce.