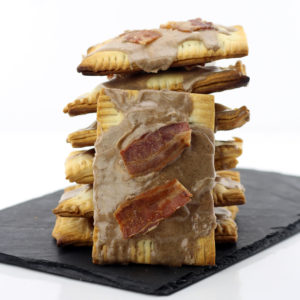 So this mom blogger Everything Erica that I follow on Instagram keeps making homemade Pop-Tarts in her air fryer that are apparently healthy — or at least healthier than regular Pop-Tarts — because she uses Greek yogurt as one of the ingredients in the dough.
Now I can't speak much on the health part of it since I clearly know absolutely zero about eating healthy, but I do know that they always look pretty damn good. Plus, ever since my wife got me an air fryer for Christmas I'm always looking for new things I can make with it, so I figured I'd give the homemade Pop-Tarts a try!
I think Erica filled her Pop-Tarts with some sort of low sugar strawberry preserves, but strawberry preserves obviously aren't going to fly around these parts so I decided to pack mine with peanut butter, bacon and banana slices. Sort of an Elvis style Pop-Tart if you will….
Since my filling wasn't exactly healthy and the maple bacon glaze and additional bacon that I decided to top them with wasn't either I decided to just skip making my own dough with Greek yogurt and use pre-made pie crusts instead. Much easier…. Oh, and since I have no patience at all and I'd only be able to fit two or three Pop-Tarts in my air fryer at a time I skipped that part too and just baked them in the oven instead. At least I didn't deep fry them though right?
So in the end I guess these are really nothing at all like Erica's Pop-Tarts and I'm not any closer to eating any better or fitting into my old size medium t-shirts that have been packed away in tubs in my basement for the past ten years hoping that at some point I'd be able to fit into them again, but at least they were really, really good!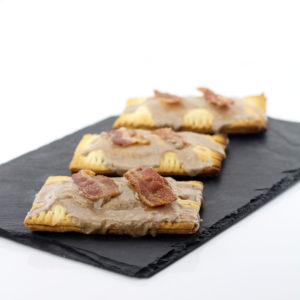 Homemade Peanut Butter, Bacon and Banana Pop-Tarts
Nick @ DudeFoods.com
If Elvis were still alive he'd definitely love these homemade Pop-Tarts that are filled with peanut butter and banana and topped with slices of bacon!
Ingredients
2

pre-made pie crusts

6

slices

bacon

1

banana

1

cup

peanut butter

1 1/2

cups

powdered sugar

2

tablespoons

milk

2

teaspoons

maple syrup

1

teaspoon

cinnamon

1/2

teaspoon

maple extract
Instructions
Cook bacon according to the directions on the package.

Roll out pie crusts and cut off the tops, bottoms and sides leaving two large rectangles. Cut each rectangle into four smaller rectangles.

Create more rectangles with the leftover dough by combining it, rolling it out and cutting it into rectangles.

Dice four slices of bacon and save the remaining two to top the Pop-Tarts with.

Slice your banana into 1/4″ slices.

One by one top the pieces of dough with peanut butter, diced bacon and banana slices and top with a second piece of dough.

Use a fork to crimp all four edges together and repeat with the remaining dough.

Line a baking sheet with parchment paper and bake Pop-Tarts at 425°F for 10 minutes or until golden brown.

In a bowl combine powdered sugar, milk, maple syrup, cinnamon and maple extract and whisk together to create your maple glaze.

Spoon glaze over your Pop-Tarts and top with pieces of bacon.