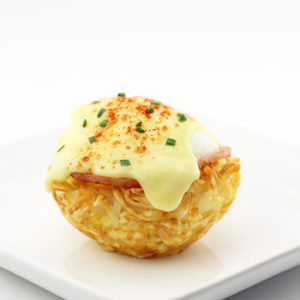 What do you do when you want Eggs Benedict but you don't have any English muffins on hand? You pack some hash browns in a Bake-a-Bowl Pan
, throw it in the oven and bake yourself some edible hash brown bowls!
These bowls would actually be pretty great packed with almost any type of breakfast dish, but I just couldn't pass up the opportunity to use them for Eggs Benedict. Plus, with the poached eggs in them they look like little bird nests, which is kind of awesome.
I used my Anova Precision Cooker to make my poached eggs which honestly, if you're making more than a couple poached eggs at a time is such a ridiculously easy way to make them that I'm surprised any time people still make them the traditional way. I'm not saying that you specifically have to use an Anova like me, but any brand of immersion circulator is going to make things way easier for you. ChefSteps even has a recipe where you can poach your eggs and cook the hollandaise together at once, which I still need to try at some point.
The one thing I got wrong with this Bird's Nest Benedct — which is what I'm totally calling this from now on — was that by placing the piece of Canadian bacon flat on top of the hash brown bowl and the poached egg on top of that I was left with an empty hash brown bowl. It definitely looked cool, but it probably would have worked out better had I just diced the Canadian bacon and put it in the bowl. Or, I could have added a second poached egg directly to the hash brown bowl, topped it with a slice of Canadian bacon and then added a second poached egg on top of it. Yeah, I think I'll definitely go with the two poached eggs next time….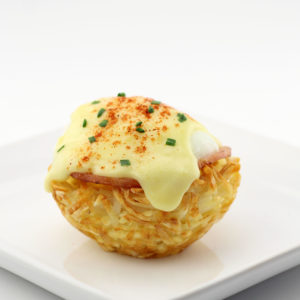 The Bird's Nest Benedict Recipe
Nick @ DudeFoods.com
Eggs Benedict is pretty great on its own, but it's even better when you're eating it out of edible hash brown bowls!
Ingredients
1

package (20 ounces)

hash browns

thawed

6

eggs

3

egg yolks

6

slices

Canadian bacon

8

tablespoons

butter

melted

1

tablespoon

milk

1

tablespoon

lemon juice
Instructions
Pack hash browns into Bake-a-Bowl Pan and bake at 350° for 30 minutes or until hash brown bowls are golden brown.

I used my Anova Precision Cooker to make my poached eggs. If you'd like to go the immersion circulator route as well set your immersion circulator to 167° and when it comes to temperature carefully place 6 eggs into the water bath.

Cook for 13 minutes and transfer to a bowl of ice water.

If you want to make your poached eggs the old-fashioned way Heat 2 inches of water in a pan and add 1 teaspoon salt and 2 teaspoons white vinegar. Crack your eggs into small bowls, slowly pour your eggs into the water, cover the pan, turn off heat, let sit for 5 minutes and then remove poached eggs with a slotted spoon.

For the hollandaise whisk 3 egg yolks and combine with milk and lemon juice in a pan over medium heat slowly adding 8 tablespoons of melted butter. Whisk until thickened.

Crack each egg shell over a slotted spoon, which will drain off any loose egg white leaving you with perfectly poached eggs.

Top each hash brown bowl with a slice of Canadian bacon, a poached egg and hollandaise sauce.