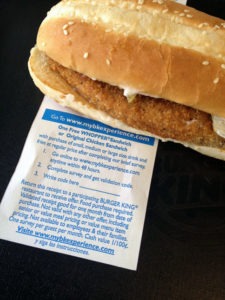 If you've ever eaten at Burger King I'm sure that you've noticed the offer on the back of your receipt where in exchange for going online and taking a survey about your experience the restaurant gives you a free Whopper or Original Chicken Sandwich on your next visit. What I'm going to show you is how you can get the free sandwich without even taking the survey at all.
Alright, so the Whoppers and chicken sandwiches aren't technically "free" since you still need to buy a small, medium or largre order of fries and a drink to get them, but "How to Get Free Whoppers and Original Chicken Sandwiches From Burger King Without Taking the Survey on the Back of Your Receipt" was just WAY too long of a title for a blog post. Plus, if you're planning on buying a Whopper or an Original Chicken Sandwich anyway this deal makes them much cheaper than just purchasing either of them as part of a combo meal. Alright, on to the free sandwiches!
The way that Burger King's survey works is that after completing it you're given a code to write on the back of your receipt, which you then turn in for your free sandwich on your next visit. The code is always a combination of two letters followed by a random string of five numbers. The two letters are exactly the same for every single customer who takes the survey in a given month and the five numbers are always completely random. When you turn in your receipt for a free sandwich all the Burger King employees do is check to make sure that the first two letters match what Burger King tells them are the two correct letters for everyone who took the survey that month.
What's even better is that although the letter codes vary from month to month they never change from year to year. What's better than that is that I just happen to know the letter codes that Burger King uses for every single month. The codes are as follows:
January – BB
February – LS
March – JH
April – PL
May – BK
June – WH
July – FF
August – BF
September – CF
October – CK
November – CB
December – VM
Alright, so let's say that during the month of August you eat at Burger King and save your receipt so you can complete the survey and get a free sandwich on your next visit. Your code would be BF followed by five random numbers, so BF92458 would work as would BF23514 or any other combination of BF followed by any five random numbers. Stopped in during the month of November? No problem, just use CB and any five numbers you want instead of BF. Pretty easy huh?