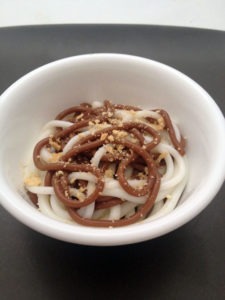 I've mentioned a few times now how until the end of the year I'm part of the Verizon Wireless Savvy Gourmets program, and in turn I was given some money, a Motorola Droid Xyboard and and six months of free, unlimited data service.
As part of the program they occasionally email me and the other bloggers involved with ideas that they think would be interesting for us to write about. The most recent email they sent us suggested that we blog about our favorite summer food or drink and try to make it as creative as possible.
One thing I absolutely love doing on a nice summer night is sitting around a fire with a few friends and making s'mores. S'mores have already been done plenty of times though. In the past I've even written about a few of my own different s'mores variations like Peeps s'mores, deep fried s'mores, s'mores made with Oreo cookies instead of graham crackers (which I like to call s'moreos) and even a s'mores quesadilla. This new s'mores creation however is by far my most original.
Lately I've been reading a ton about molecular gastronomy, which is the study of the chemical and physical processes that occur in cooking. The phrase is also often used to describe a style of cooking in which chefs make use of things like equipment that might be more tailored to what you'd find in a science lab, along with food grade chemicals, to re-imagine how food is prepared and served.
One of these chemicals is agar powder, which is derived from algae and can be used to turn liquids into gels. It's also what I used to make this dish. The brown "noodles" you see in the picture are really strings of Hershey's chocolate. The white ones? Marshmallow. Topping off the s'mores spaghetti? Crushed up graham crackers.
I made the chocolate noodles by boiling 3/4 of a cup of water and then mixing in two grams of agar powder. I then melted one and a half cups of Hershey's chocolate and mixed it in with the agar solution along with 1/3 of a cup of chocolate milk to keep it from getting too thick. For the marshmallow noodles I followed the exact same recipe, but swapped out the chocolate milk for regular milk.
The noodles are then created by using a plastic syringe to inject the two separate mixtures into plastic tubing, which is then placed in ice water to allow the spaghetti to set. After a few minutes I took the plastic tubes out of the water and used the syringe to inject air into them thus pushing the noodles out the other end.
The great thing about agar powder is that it's completely tasteless, so when biting into the noodles all you taste is chocolate and marshmallow. The cooking process however was a complete pain until I finally got the ingredient measurements exactly right. I actually ended up adding in the milk because the first time I tried making this the chocolate and marshmallow mixtures weren't thin enough and ended up clogging the plastic tubing. Once the spaghetti was finally done though it was easily one of the coolest, and best tasting, desserts I've ever eaten. I'm not just saying that because I'm the one that made it either!
When it came time to write this blog post I did that right from my Xyboard as well with the free WordPress app. Oh yeah, and did I mention that I did all of this while sitting in my back yard drinking a beer and surfing the internet on Verizon's lightning fast 4G LTE network? Man, this blog post is starting to sound like the Verizon PR department wrote it for me…. Anyway, I've got a few more crazy recipe ideas similar to this one that I plan to test out over the next few weeks so if you think this s'mores spaghetti is nuts you haven't seen anything yet!
| | |
| --- | --- |
| | Disclosure: I am participating in the Verizon Wireless Midwest Savvy Gourmets program and have been provided with a wireless device and six months of service in exchange for my honest opinions about the product. |