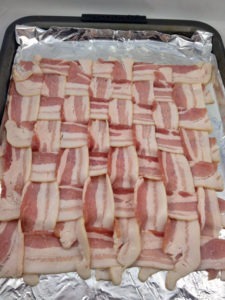 Ever since I made my mac and cheese pie that had a crust made completely out of bacon I've been telling myself that I need to incorporate the bacon weave into another dish. Well, I finally did it with this pizza! Yep, I didn't use a single ounce of dough for the crust in this pizza. What I did use however was an entire pound of delicious applewood-smoked bacon!
I started off by weaving my bacon together and cooking it in the oven at 400°. After ten minutes I took it out and topped it with pizza sauce, mozzarella cheese, green onions, Italian sausage and pepperoni before putting it back in the oven for another ten minutes to complete the cooking process.
Seriously, if you think bacon is good as a pizza topping then you need to try a pizza where the entire crust is made out of bacon. It's unbelievable how amazing it tastes! Imagine a world where you could go to your favorite pizza place, order a pie and instead of having to choose between only thick and thin crust you'd have bacon crust as an option as well. Oh what a glorious world that would be!