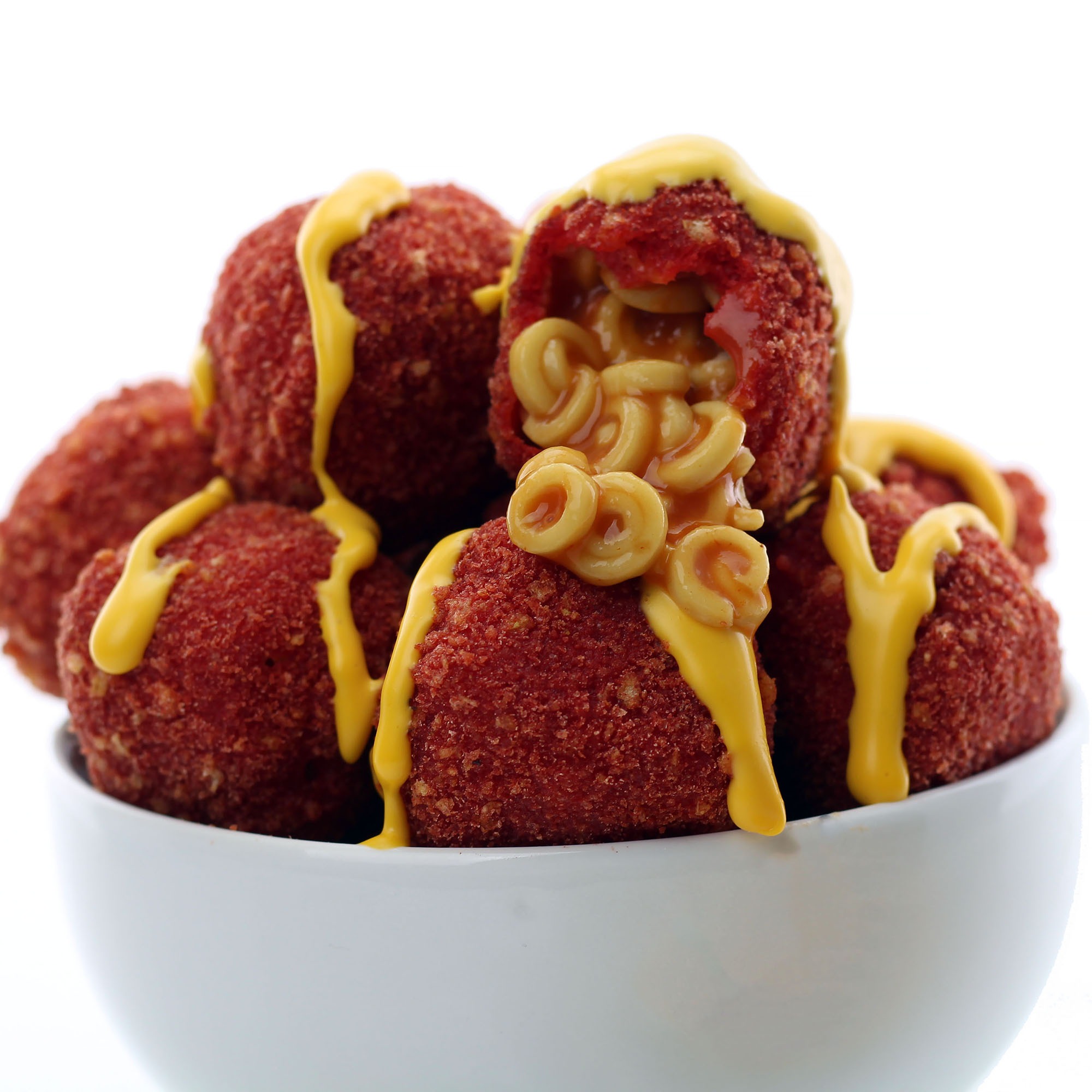 Back in November I was on the FoodCrush Podcast talking about how this here blog got started, how reality cooking shows are fake, how BuzzFeed Tasty likes to steal ideas from food bloggers and a whole slew of other fun stuff. If you want to listen to the episode you can check it out here.
As Lori and Matt — the co-hosts of FoodCrush — were talking to me Matt suggested that I try deep frying SpaghettiOs. Seeing as how I'm always down to throw something new in my deep fryer I told him that I'd get right on it.
Well, being the slacker that I am I finally got around to it three months later! On the plus side, I'm happy to report that the wait for these was more than worth it because they ended up tasting great!
To create my masterpiece I took a can of SpaghettiOs, emptied them into an ice cube tray, froze them, breaded them and dropped them in my deep fryer. A silicone ice cube tray works best for this since it makes it super easy to pop the SpaghettiOs cubes out after they freeze.
I've had the one I used in the video below for years now and don't even remember where I got it, but this ice cube tray
from Amazon looks pretty similar to the one I used.
Originally I was just going to use regular bread crumbs to coat these, but as I've learned from things like Flamin' Hot Cheetos Breaded Chicken Nuggets, Flamin' Hot Cheetos Breaded Jalapeño Popper Bites, Flamin' Hot Cheetos Breaded Cheese Bun Sliders, Flamin' Hot Cheetos Breaded Deep Fried Ice Cream and all the other ridiculous Flamin' Hot Cheetos creations I've come up with over the years there's really nothing that works better as a breading than Flamin' Hot Cheetos.
So Matt, thanks for the amazing idea and I promise that the next time you give me one as good as this one I won't take three goddamn months to make it happen.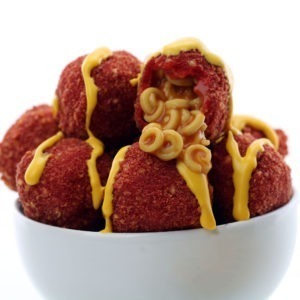 Deep Fried SpaghettiOs Recipe
Nick @ DudeFoods.com
You'll never look at SpaghettiOs the same again after trying this deep fried version of them that's breaded in Flamin' Hot Cheetos!
Ingredients
1

can (22.4 ounces)

SpaghettiOs

2

quarts

oil

for frying

1

bag (8 1/2 ounces)

Flamin' Hot Cheetos

crushed

3

eggs

2

cups

flour

1/3

cup

milk

nacho cheese or your preferred dipping sauce
Instructions
Pour SpaghettiOs into an ice cube tray — a silicone ice cube tray will work best — and freeze for two hours or until frozen through.

Remove the ice cube tray from your freezer and pop out the frozen SpaghettiOs cubes.

Set up a dredging station with three bowls — flour in the first one, eggs and milk in the second one and crushed Flamin' Hot Cheetos in the third one.

Coat each SpaghettiOs cube in flour, submerge in egg wash and cover in crushed Flamin' Hot Cheetos. Repeat this step a second time if necessary and freeze for at least another 30 minutes.

Heat oil in deep fryer or heavy skillet to 375°F and fry Flamin' Hot Cheetos breaded SpaghettiOs cubes for 4 minutes or until no longer frozen.

Drain on paper towels and serve with nacho cheese or your preferred dipping sauce.