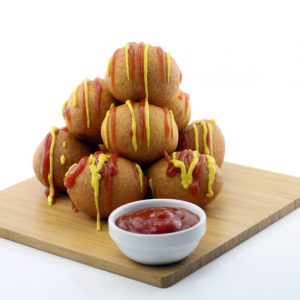 As much as I'd love to take credit for this idea it actually came from Wes, who is my co-host on the Dude Foods Podcast.
We were talking about the Mini Meatball Corn Dogs I made and how I can't imagine that anything dipped in corn dog batter and deep fried could ever be bad when he suggested giving it a try with hard boiled eggs.
Actually, his idea was to dip every single part of a traditional breakfast — eggs, bacon, sausage, etc. — into corn dog batter and deep fry it and although I still think it's an amazing idea it would more than likely make for a pretty boring photo that most of you would probably scroll right past if you saw it here on the blog.
Normally when I make corn dogs I dip them in batter and just drop them into my deep fryer and they turn out perfect. With these hard boiled eggs though I'm not sure if it's because eggs are a little smoother than hot dogs are or just because of their shape, but dropping them straight into the oil — no matter how slowly — caused some of the batter to slide off the egg. Holding onto the stick the entire time each hard boiled egg was in the deep fryer solved this problem though, and after that every single one of the Corn Dog Breaded Hard Boiled Eggs I made turned out absolutely perfect!
In a way I guess these are fairly similar to Scotch Eggs — minus the sausage wrapped around the hard boiled eggs of course, so I think that the next time I make these I'll have to include that as well. I'll tell you what though, corn dog batter sure beats the hell out of regular bread crumbs tastewise when it comes to breading these things!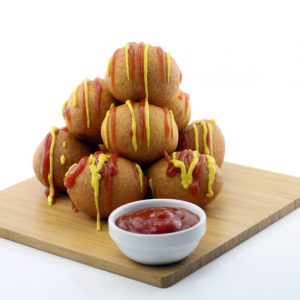 Corn Dog Breaded Hard Boiled Eggs Recipe
Nick @ DudeFoods.com
This recipe combines hard boiled eggs with a sweet, crispy corn dog breading!
Ingredients
2

quarts

oil

for frying

9

eggs

1

cup

cornmeal

1

cup

flour

1/4

cup

sugar

1/4

teaspoon

salt

1/8

teaspoon

pepper

4

teaspoons

baking powder

1

cup

milk

Corn dog sticks

or chopsticks if you can't find corn dog sticks

Ketchup, mustard or your preferred dipping sauce
Instructions
Add 12 cups of water to a large pot and bring to a boil over high heat. Add 8 eggs to the water and boil for 12 minutes.

Transfer hard boiled eggs to a bowl of ice water and let sit for 15 minutes before peeling.

Heat oil in deep fryer or heavy skillet to 375°F.

In a bowl, combine cornmeal, flour, sugar, salt, pepper and baking powder. Stir in the remaining egg and the milk.

One by one place the hard boiled eggs on a corn dog stick or chopstick and drop them into the oil.

Fry hard boiled eggs for 2 minutes or until golden brown.

Drain on paper towels and serve with ketchup, mustard or your preferred dipping sauce.