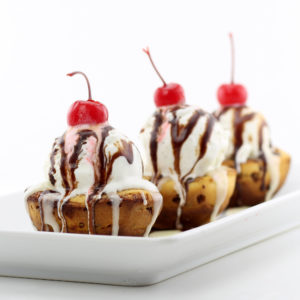 My entire life I've never been a huge fan of sweets, but there's one dessert that I'll almost never pass up — the cinnamon rolls from Cinnabon.
When I was a kid I'd convince my mom to buy one for me every single time we were at the mall. I'd even get her to add an extra thing of frosting for each cinnamon roll, which thinking back on it now I'm amazed that in my entire life I've only had two cavities considering what an insane amount of sugar that is.
Who knows though, if Cinnabon sold their dough and frosting in grocery stores back then like they do now so you can just make your own at home in the oven I might not have liked them as much.
It's sort of like how Sonic ran TV commercials for years in my hometown of Milwaukee before they ever opened a single location in the area. When they finally opened I ate there four times the first week, but after the first couple months I never went back again. It turns out I really only liked Sonic when I didn't have easy access to their food. Apparently I wasn't the only one that felt that way either because most of their Milwaukee locations eventually ended up closing.
Anyway, I finally tried making my own Cinnabon cinnamon rolls at home and although they're nowhere near as good as the ones at the mall food court they do have one distinct advantage in that combined with a Bake-a-Bowl Pan you can make ice cream sundaes and eat them out of cinnamon roll bowls!
All you need to do if you want to enjoy this delicious dessert is pop the cinnamon rolls out of the can, put one in each of the cavities in the Bake-a-Bowl Pan and then bake them according to the directions on the packaging. After that just scoop some ice cream into your cinnamon roll bowls, add your favorite toppings and increase your risk of cavities exponentially!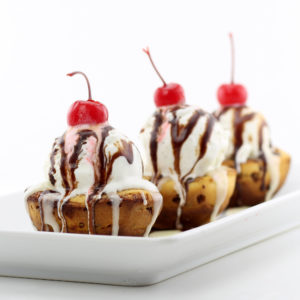 Cinnamon Roll Bowl Ice Cream Sundae Recipe
Nick @ DudeFoods.com
Why eat your ice cream sundaes out of a regular bowl when you could eat them out of a cinnamon roll bowl?!
Ingredients
1

can

cinnamon rolls

6

scoops

ice cream

Your choice of toppings
Instructions
Place one cinnamon roll in each Bake-a-Bowl cavity and add the top piece.

Bake according to the directions on the packaging for the cinnamon rolls.

Remove Bake-a-Bowl Pan from the oven, drizzle frosting over each cinnamon roll bowl, add a scoop of ice cream to each bowl and top with your choice of toppings.