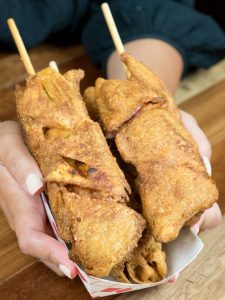 Back in the 90's Totino's made a product called Stuffed Nachos. I have no idea how I never ate them because as a kid back in those days I basically lived off of their Pizza Rolls, but luckily for me — or anyone else who missed them the first time around — they're back!
So what are Stuffed Nachos you ask? Well, they're pretty much exactly what they sound like — tortilla pockets stuffed with different ingredients. They come in two flavors — Queso and Supreme — with the Queso Stuffed Nachos packed with cheese, onions and red bell peppers and the Supreme Stuffed Nachos filled with taco seasoned chicken and beef, red bell peppers and jalapeños.
Even though Totino's Stuffed Nachos are damn tasty on their own they asked me to come up with a simple, yet creative recipe using them, and the first thing that popped into my head was a Totino's Stuffed Nachos Breaded Corn Dog — similar to the Tater Tot Breaded Corn Dog I made last year.
Not being familiar with Stuffed Nachos though I had no clue they were actually as large as they are, so it actually surprised me that this idea even worked at all. This is where I should probably give credit to the awesome folks over at Foodbeast — who were the ones that actually made the corn dogs, filmed the video and took the photos — for taking my crazy idea and actually making it work!
If you want to try making some Totino's Stuffed Nachos Breaded Corn Dogs the recipe is below, but even if you don't you should probably make a beeline towards your nearest grocery store and pick up a package — or two, or three or four — anyway!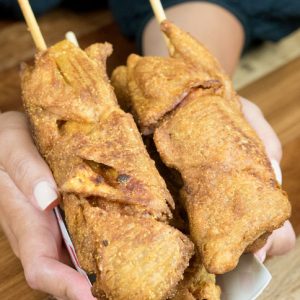 Totino's Stuffed Nachos Breaded Corn Dogs Recipe
Nick @ DudeFoods.com
This recipe takes corn dogs to the next level by breading them in Totino's Stuffed Nachos!
Ingredients
1

package

Totino's Stuffed Nachos

2

quarts

oil

for frying

2

hot dogs

2

corn dog sticks

or chopsticks if you can't find corn dog sticks

2

cups

yellow cornmeal

2

cups

all-purpose flour

2

eggs

2

cups

milk

1/2

cup

sugar

8

teaspoons

baking powder

1/4

teaspoon

salt

1/4

teaspoon

black pepper
Instructions
Cook Totino's Stuffed Nachos according to directions on package.

Heat oil in a deep fryer or heavy skillet to 375°.

Combine cornmeal, flour, eggs, milk, sugar, baking powder, salt and pepper in a bowl and pour batter into a tall glass.

Insert wooden skewers into hot dogs and one at a time dip them in the batter, roll them in Totino's Stuffed Nachos and fry in oil for three minutes or until golden brown.