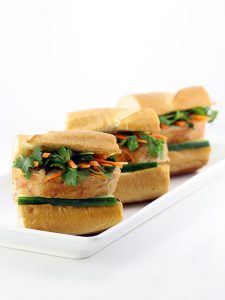 Yesterday I made an Applewood Smoked Bacon Pork Loin Filet With Bacon Chimichurri Sauce — using some of Smithfield's delicious Marinated Fresh Pork — and mentioned that I'd be sharing another recipe today that you could make if you had any leftovers.
Full disclosure: I knew that I had to do a followup post, which is pretty much the only reason I had any of the Smithfield pork loin left at all. That stuff is good!
One of my favorite sandwiches in the entire world is the banh mi. The thing I really love about the Vietnamese sandwich is the sheer number of varieties it's available in — everything from chicken to steak to pork.
There's even a place near my house that offers tofu and sardine versions of the sandwich. Spoiler alert: the tofu banh mi is surprisingly good. The one topped with sardines? not so much….
Although pork banh mi sandwiches are generally made with thinly sliced meat I opted to use the thicker Smithfield pork loin medallions that were left from the night before and they ended up tasting great! It's also fairly common to add jalapeño pepper slices to banh mi sandwiches, but not being a huge jalapeño fan myself I decided to leave those off. if you like jalapeños though then by all means, go for it!
Looking for more recipe ideas? You can click here to see all the recipes I've done for Smithfield over the past couple years or head over to Smithfield.com/RFRF or Facebook.com/CookingwithSmithfield for a ton more.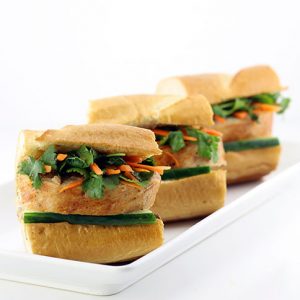 Applewood Smoked Bacon Pork Loin Banh Mi Sandwiches Recipe
Nick @ DudeFoods.com
Looking for a unique take on a pork banh mi sandwich? Just follow this recipe!
Ingredients
leftover Smithfield Pork Loin Filet

1/2

cup

rice vinegar

1/4

cup

white sugar

1

French baguette

1

cucumber

1

carrot

1

daikon (white radish)

1

bunch

fresh cilantro

mayonnaise
Instructions
Add 1/4 cup water, rice vinegar and sugar to a saucepan and bring to a boil over medium heat. Stir until the sugar is dissolved, remove from heat and allow the mixture to cool.

Slice the carrot and radish into thin strips and add them to the rice vinegar and sugar mixture.

Slice your baguette to the same width as your pork loin filet medallions from the night before and spread mayonnaise on the bread.

Slice your cucumber thinly and to the same length as the baguettes and then place them on the bread followed by the pork loin medallions, carrot and daikon and cilantro.