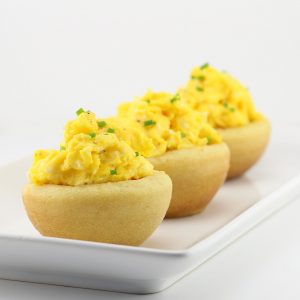 My wife made me stop at Hobby Lobby with her this past weekend while we were out running errands. Normally this would mean a minimum of 30 minutes of pure boredom for me as she perused the fabric section and scoured the shelves for new colors of vinyl for her Cricut machine
.
I decided to check out the baking section of the store while we were there though and do you know what? For once I'm actually glad I joined her because for $14.99 — plus 40% off because she's such an avid shopper and had a bunch of coupons in her purse — I came across a Bake-a-Bowl Pan
that I figured would be perfect for some crazy new recipe ideas!
Since the Bake-a-Bowl didn't come with any instructions or recipes or anything — and because breakfast is my favorite meal of the day — I decided to start with something nice and easy for my first attempt at using it — Scrambled Eggs and Cheese in Edible Pancake Bowls! The recipe is below if you want to make them for yourself!
Now that I've got a nice basic edible bowl done I'll definitely be getting a little crazier with the next one. In fact, my plan for next time is to make edible corn dog bowls and fill them with homemade macaroni and cheese, so be on the lookout for that one soon!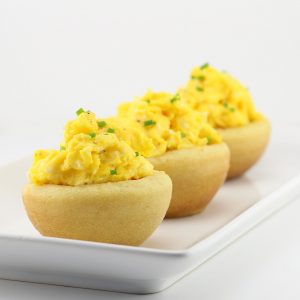 Scrambled Eggs in Edible Pancake Bowls Recipe
Nick @ DudeFoods.com
Looking for a unique breakfast dish? Try this recipe for scrambled eggs served in edible pancake bowls!
Ingredients
2

cups

pancake mix

1 1/2

cups

water

6

eggs

1/2

cup

Cheddar cheese

shredded

Salt and pepper to taste
Instructions
Preheat your oven to 350°.

Combine 2 cups pancake mix and 1 1/2 cups water and mix until smooth.

Pour pancake batter evenly among the 6 cavities in the Bake-a-Bowl and add the top piece.

Bake for 30 minutes or until a toothpick inserted into the bowls comes out clean.

In a pan over medium heat beat the eggs and scramble them until they reach your desired level of doneness.

Add shredded Cheddar cheese to eggs and add salt and pepper to taste.

Remove pancake bowls from Bake-a-Bowl pan and divide the scrambled eggs equally among the 6 pancake bowls.