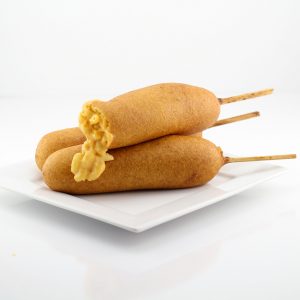 Last month I made Pulled Pork Corn Dogs and after seeing how well those turned out I immediately started brainstorming ideas for other crazy corn dogs I could make in a similar fashion. Plus, I'd already invested $5 of my hard earned money in a sweet silicone popsicle mold
so I couldn't let that go to waste!
The process to make Macaroni and Cheese Corn Dogs was pretty much exactly the same as it was for the Pulled Pork Corn Dogs — Just make some homemade macaroni and cheese, pack it into the silicone mold, throw the mold into the freezer and then batter and deep fry the macaroni popsicles until golden brown! Now I just need to figure out a way to combine hot dogs, macaroni and cheese and corn dogs!
Oh, and you better believe that I dipped my corn dogs in ketchup, because ketchup combined with macaroni and cheese is amazing and you'll never convince me it isn't no matter how many times you tell me otherwise!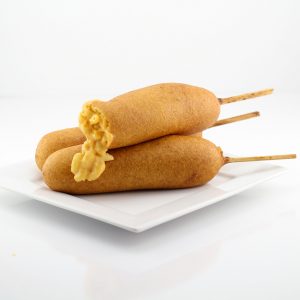 Macaroni and Cheese Corn Dogs Recipe
Nick @ DudeFoods.com
What do you do if you're sick of hot dogs but in the mood for corn dogs? You swap out the hot dogs for macaroni and cheese and make these Macaroni and Cheese Corn Dogs!
Ingredients
2

quarts

oil

for frying

4

corn dog sticks

or chopsticks if you can't find corn dog sticks

8

ounces

pasta

2

tablespoons

butter

1

cup plus 1 1/2 tablespoons

flour

2 1/2

cups

milk

3

cups (12 ounces)

Cheddar cheese

shredded

1

cup

cornmeal

1/4

cup

sugar

4

teaspoons

baking powder

1/4

teaspoon

salt

1/8

teaspoon

pepper

1

egg

Ketchup or your preferred dipping sauce
Instructions
Cook pasta according to the directions on the package.

In a separate pan, melt butter over medium heat and stir in 1 1/2 tablespoons flour. Add 1 1/2 cups milk and reduce heat to low. Stir in cheese slowly until melted and pour over cooked pasta.

Transfer macaroni and cheese to popsicle mold and use a corn dog stick to poke holes in the center of each cavity so the macaroni and cheese can easily be inserted onto the corn dogs sticks once frozen. Freeze for an hour.

Heat oil in deep fryer or heavy skillet to 375°F.

In a bowl, combine 1 cup cornmeal, 1 cup flour, 1/4 cup sugar, 1/4 teaspoon salt, 1/8 teaspoon pepper and 4 teaspoons baking powder. Stir in 1 egg and 1 cup milk.

Remove frozen macaroni and cheese popsicles from freezer and place two of them on each stick.

Transfer corn dog batter to a tall glass and dip the corn dogs one by one into the batter.

Fry corn dogs in batches for 4 minutes or until golden brown

Drain on paper towels and serve with ketchup or your preferred dipping sauce.