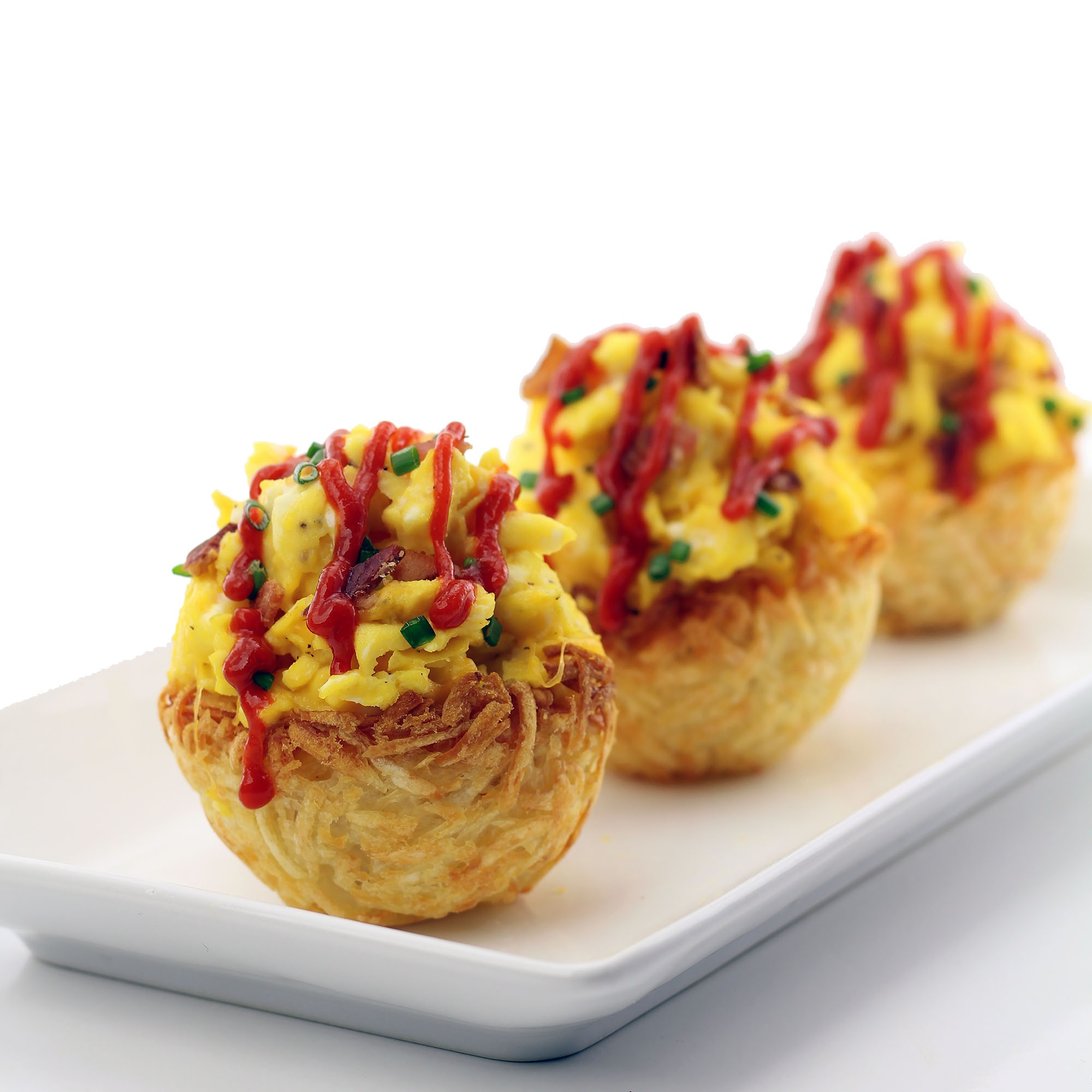 The first time I made these edible hash brown bowls I topped them with Canadian bacon, poached eggs and hollandaise sauce to create what I now refer to as a Bird's Nest Benedict.
Since poached eggs can be kind of a pain in the ass to make sometimes though — seriously, no matter how often I make them I still screw them up one out of every five times — here's a slight variation for you that uses scrambled eggs instead.
In retrospect though, I think this version of hash brown bowls is actually better than my original one. With the Bird's Nest Benedict the hash brown bowls consisted of mostly wasted space since the poached eggs were sitting on top of them above the Canadian bacon. These however were packed with scrambled eggs and cheese that I then topped with diced bacon, chives and a Sriracha drizzle.
Plus, unlike regular scrambled eggs you don't even need to use a fork to eat these! You can just pick them up with your hands and bite them like you would with an apple!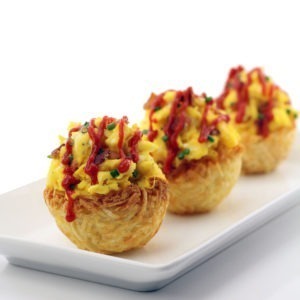 Scrambled Eggs in Edible Hash Brown Bowls
Nick @ DudeFoods.com
Looking for a unique breakfast idea? Try serving your scrambled eggs in edible hash brown bowls!
Ingredients
1

package (20 ounces)

hash browns

thawed

9

eggs

1/2

cup

Cheddar cheese

shredded

3

slices

bacon

Your choice of garnishes

You'll also need this Bake-a-Bowl Pan
Instructions
Pack hash browns into Bake-a-Bowl Pan and bake at 350° for 30 minutes or until hash brown bowls are golden brown.

In a pan over medium heat beat the eggs and scramble them until they reach your desired level of doneness.

Cook bacon in a pan until it reaches your desired level of doneness.

Add shredded Cheddar cheese to eggs and add salt and pepper to taste.

Divide the scrambled eggs equally among the 6 hashbrown bowls bowls and top with diced bacon and your choice of garnishes.