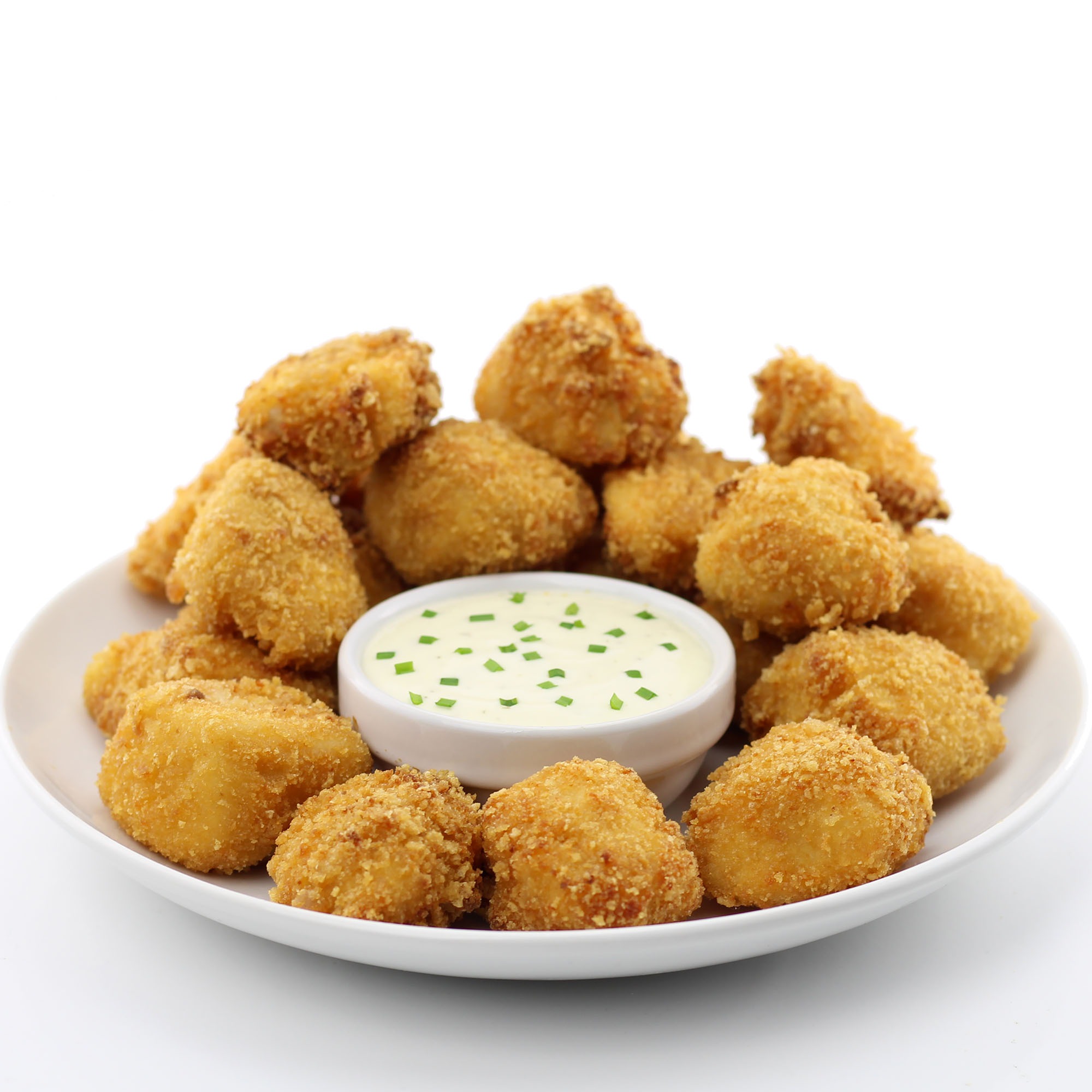 Look mom! I'm eating healthy again! Not only are these chicken nuggets made in an air fryer, but they're also breaded in crushed up pork rinds which mean they don't contain any carbs at all!
So, if you're trying to stick to a low carb or keto diet these chicken nuggets are perfect for you!
Dipping them in all the ranch dressing I use when I eat chicken nuggets probably negates some — or all — of the health benefits just a tad bit, but it's all relative right? It was either this, a Big Mac Extra Value Meal from McDonald's or a meat lover's pizza….
All joking aside though these chicken nuggets turned out really, really good. I think they would have been even better if I deep fried them instead of air frying them, but that's the price you pay for eating healthy I guess….
To get the chicken nuggets extra crispy I sprayed them with cooking spray prior to air frying them, which I first tried when I made my Flamin' Hot Cheetos Breaded Chicken Nuggets. If you want them even crispier you can flip them half way through the air frying process, but it isn't necessary. Just make sure you don't overload the air fryer basket and that all the chicken nuggets are in one single layer and you'll be fine.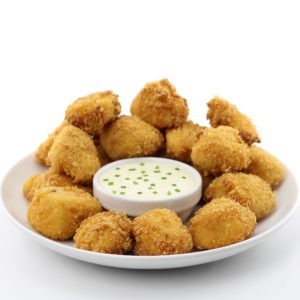 Air Fryer Keto Chicken Nuggets Recipe
Nick @ DudeFoods.com
Trying to stick to a keto or low carb diet and miss eating chicken nuggets? Thanks to this recipe you can still eat them!
Ingredients
1

pound

boneless skinless chicken breast

2

eggs

⅓

cup

milk

1

bag (5 ounces)

pork rinds
Instructions
Preheat your air fryer to 400°F.

Cut chicken breast into 1 inch cubes.

Set up a dredging station with two bowls — crushed pork rinds in one and eggs and milk in the other.

Coat each piece of chicken in pork rinds, submerge in egg wash and coat in pork rinds again.

Arrange chicken nuggets in a single layer in your air fryer, spray with cooking spray and cook for 8 minutes or until the internal temperature of the chicken is 165°F. Depending on the size of your air fryer you might need to fry them in two or more batches.

If you want them as crispy as possible you can flip them half way through the frying process, but as long as you spray them with cooking spray and don't overload the air fryer basket by placing them in a single layer they get pretty crispy even without flipping them.

Let the nuggets cool and serve with ranch or your preferred dipping sauce.