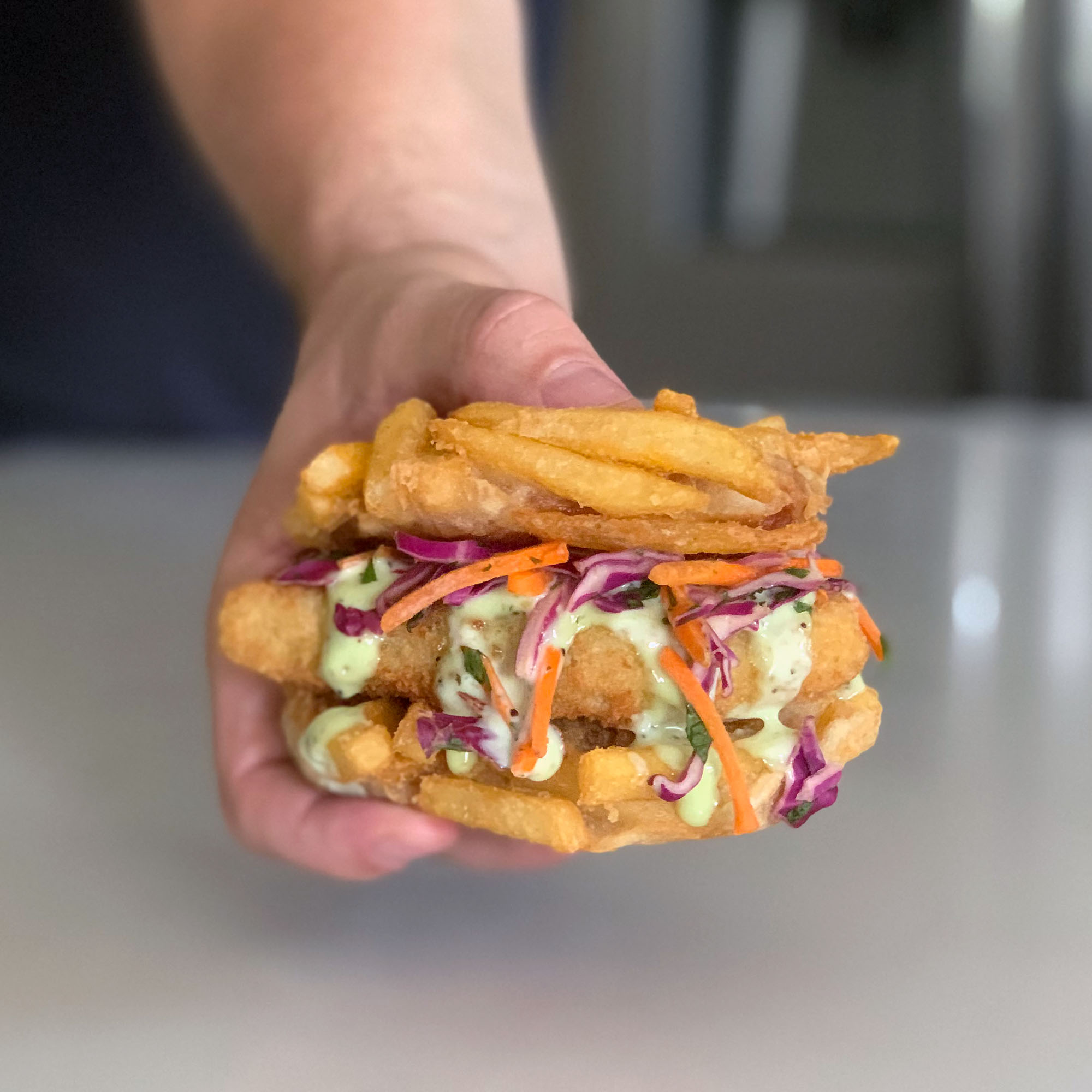 Thanks to Gorton's Seafood for sponsoring this post!
Back in February I created a recipe for Gorton's using their Beer Battered Fish Fillets where I used waffle fries as buns to make bite-sized Fish Fillet Waffle Fry Sliders.
What do you do if your hunger is a little more substantial though? Well… you can either eat five or six of the sliders or you can pick up a box of Gorton's new Premium Cod Fillets and follow the recipe below to make these amazing sandwiches that have full-size French fry buns!
I've used this same French fry bun recipe before when making burgers, but they pair just as well — if not better — with fish. Seriously, I made four of these sandwiches and ended up eating them all in the span of an hour.
To complete the cod fillet sandwiches I whipped up the same homemade cilantro jalapeño sauce and red cabbage coleslaw that I used for my fish fillet sliders. The great thing about the coleslaw and the sauce is that they're both so light that it almost sort of convinces you that you're not eating deep fried French fry buns.
If you have a favorite coleslaw recipe or want to just use store-bought coleslaw and bottled sauce then by all means go for it, but I can guarantee that it won't taste as good or pair as well with the cod fillets as the coleslaw and sauce recipes below.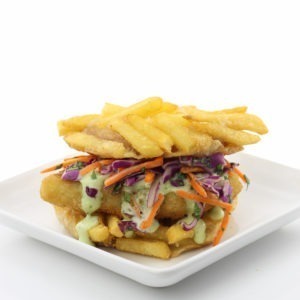 The French Fry Bun Cod Fillet Sandwich Recipe
Nick @ DudeFoods.com
You've never seen fish and chips like this before! This recipe features breaded cod fillets between buns that are made from French fries!
Ingredients
1

box

Gorton's Premium Cod Fillets

2

cups

flour

2

cups

light beer

4

hamburger buns

1

package (approximately 20 ounces)

frozen French fries

2

quarts

oil

for frying

1/4

cup

orange juice

4

tablespoons

lime juice

1

tablespoon

brown sugar

3/4

teaspoon

salt

1/2

teaspoon

pepper

1/2

red cabbage

chopped

1

carrot

grated

1

bunch plus 1/4 cup

chopped cilantro

2

jalapeños

halved and deseeded

1/2

cup

sour cream

1

clove

garlic
Instructions
In a bowl combine flour and beer until smooth.

Take the buns one by one — top and bottom separately — place them over plastic wrap in a bowl and pour beer batter lightly over them until completely coated.

Pack French fries tightly around the buns before wrapping them up in plastic wrap and aluminum foil.

Freeze buns for an hour or until beer batter is completely frozen.

Cook Gorton's Premium Cod Fillets according to the directions on the box.

Heat oil in deep fryer or heavy skillet to 375°F.

Fry buns in batches for 3 minutes and drain on paper towels.

To make the cilantro jalapeño sauce combine 2 halved and deseeded jalapeños, 1 bunch cilantro, 1/2 cup sour cream, 1 clove garlic, 1/4 teaspoon salt and 2 tablespoons lime juice in a food processor and process until smooth.

To make the coleslaw whisk together 1/4 cup orange juice, 2 tablespoons lime juice,1 tablespoon brown sugar, 1/2 teaspoon salt and 1/2 teaspoon pepper in a bowl. Add 1/2 chopped red cabbage, 1 grated carrot and 1/4 cup chopped cilantro and toss to combine.

Assemble your sandwiches by taking one French fry bun and topping it with a Gorton's Premium Cod Fillet, cilantro jalapeño sauce, coleslaw and finally a second French fry bun.