Looking for a way to upgrade homemade corn dogs? Swap out the hot dogs for strips of steak and then top them with Flip Whip's whipped Bleu Cheese dressing like I did!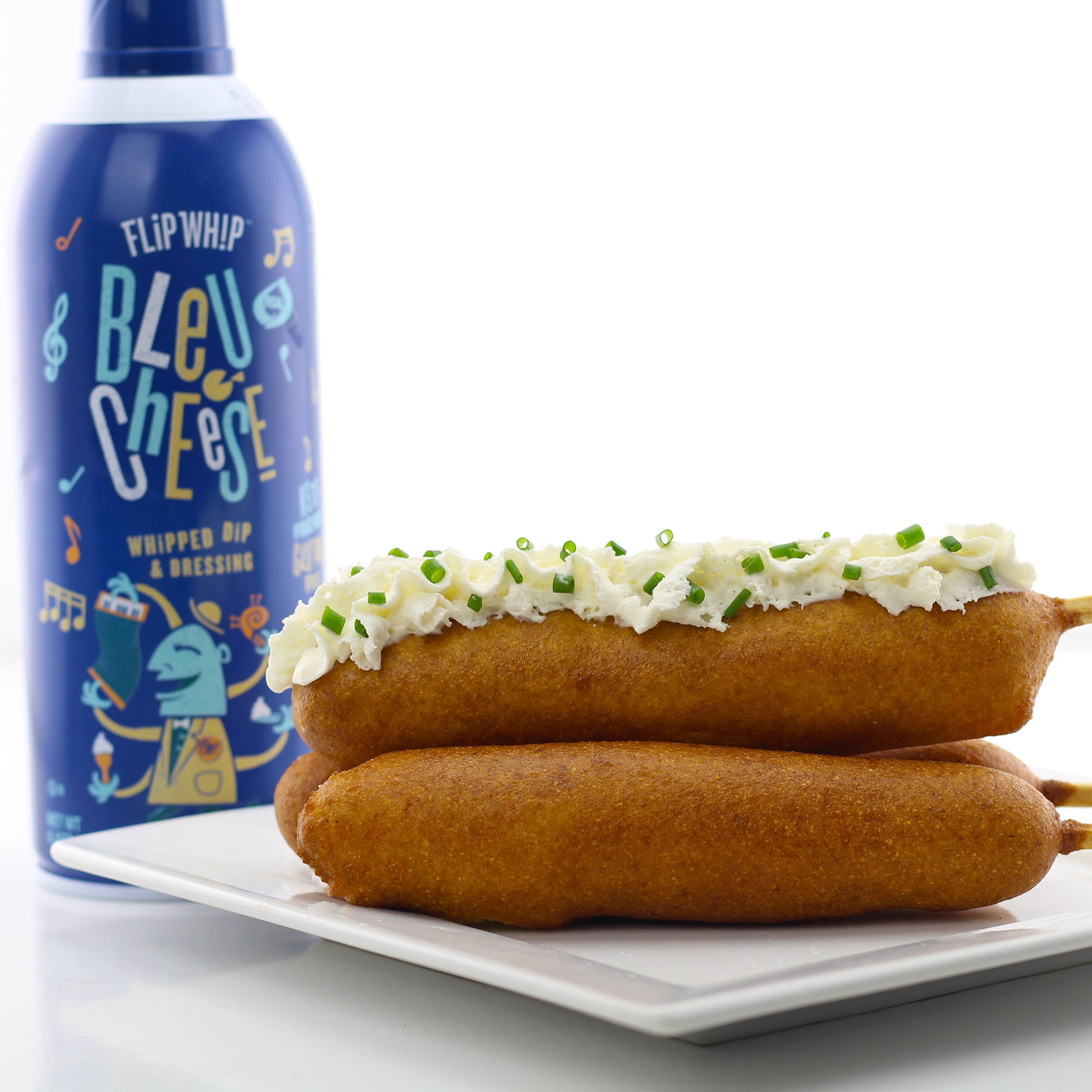 I love ranch dressing and I love Bleu Cheese, so when Flip Whip asked me if I could create a recipe using their new whipped dip & dressing I obviously said yes!
So what exactly is flip whip? Well, they basically combined whip cream with the taste of ranch and Bleu Cheese. It's light, it's fluffy and best of all it's absolutely delicious!
They specifically asked for a recipe that used Bleu Cheese Flip Whip, so I knew that I had to include steak since I always associate steak with Bleu Cheese.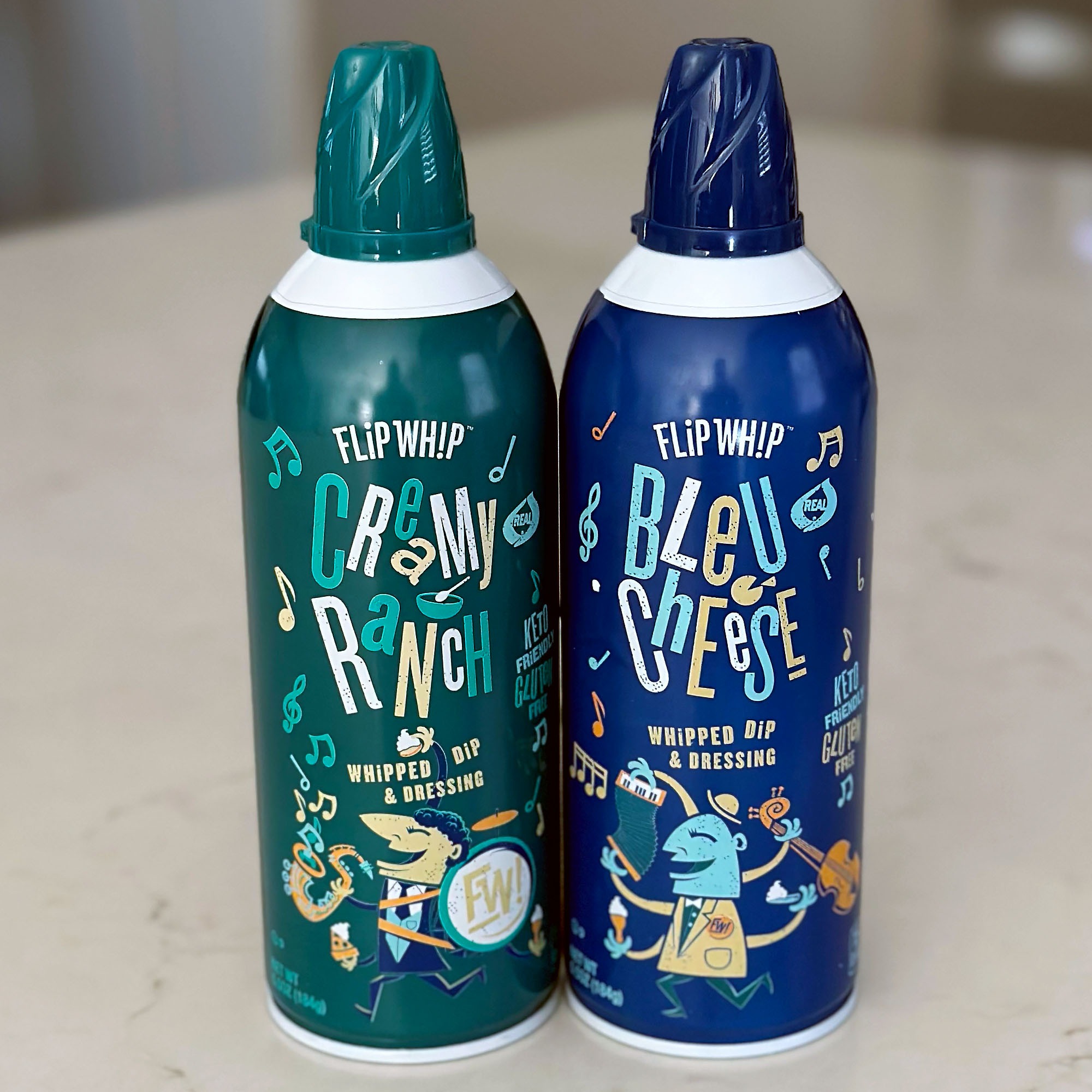 I came up with a few different ideas and finally settled on these corn dogs where I ditched the hot dogs completely and substituted strips of grilled New York strip steak. They're basically a tastier, more upscale version of corn dogs.
I started off by grilling a couple steaks, cutting them into strips and adding them to wooden skewers. There are wooden sticks that are sold specifically to make corn dogs, but sometimes they're a little difficult to find and in that case chopsticks are the perfect alternative. In fact, chopsticks work better anyway since they're generally a little more sturdy than most other wooden skewers.
Then I whipped up some corn dog batter which consists of cornmeal, flour, sugar, baking powder, milk, an egg, salt and pepper and transferred the batter to a tall glass to make dipping the corn dogs as easy as possible. A pint glass works great for this, but a thinner, even taller like like a pilsner glass or even a vase is an even better option. After that all you need to do is fill your deep fryer or heavy skillet to 375°F and fry them for three minutes each or until golden brown!
Once they were done I topped them with Bleu Cheese Flip Whip and diced chives and took a bite and I've gotta tell you that out of all the crazy corn dog recipes I've made over the years these were definitely my favorite!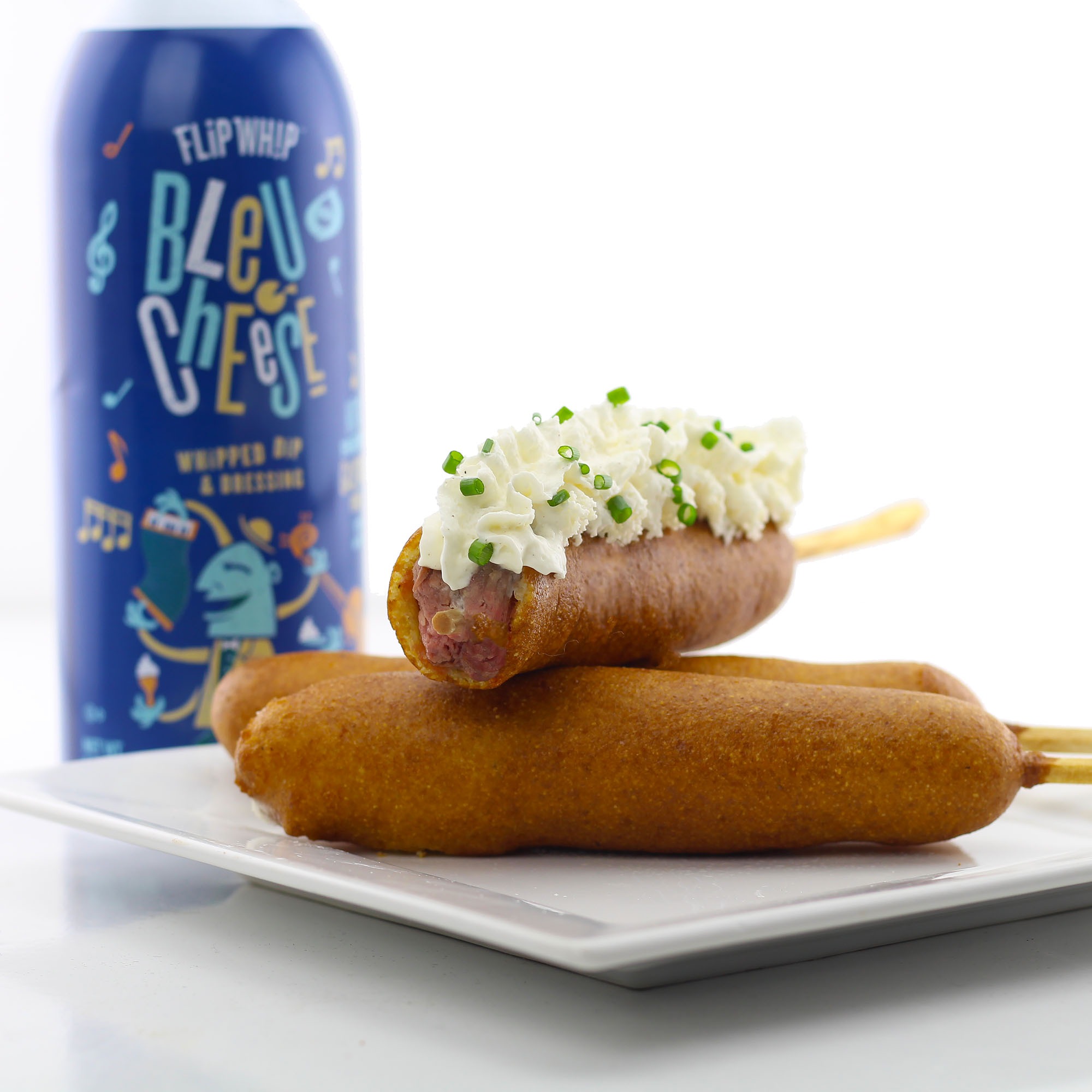 Normally I dip my corn dogs in ketchup or mustard — although I'd obviously never think about dipping these in ketchup because combining ketchup and steak is something that no one should ever do — but the Flip Whip on top of these is really all you need!
The great thing about these corn dogs — aside from how good they were — is that you could also strips of steak in half, use toothpicks and make a mini, appetizer version of the same recipe. I mean come on, how cool would a bunch of mini steak corn dogs topped with whipped Bleu Cheese look at a party?
If you'd like to try Flip Whip for yourself you can find it in the dairy dips section at Woodman's.They hope to be available at more retail locations soon though, so make sure you keep an eye on the Flip Whip website to find out when it's available in your area.
Aside from corn dogs I've also discovered that Flip whip is great on wings, perfect on celery as a snack and being a big fan of ranch dressing on pizza I've even used it on that. Basically it's great paired with any food that you'd normally dip in ranch or Bleu Cheese dressing. After all, why dip when you can Flip Whip?!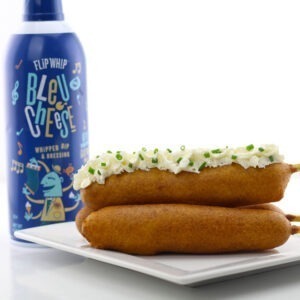 New York Strip Steak Corn Dogs Recipe
Nick @ DudeFoods.com
These corn dogs swap out the hot dogs with New York strip steak and are topped with Flip Whip's Bleu Cheese whipped dip and dressing!
Ingredients
1

can

Bleu Cheese Flip Whip

2

quarts

oil

for frying

2

New York strip steaks

6

corn dog sticks

or chopsticks if you can't find corn dog sticks

1

cup

cornmeal

1

cup

flour

1/4

cup

sugar

4

teaspoons

baking powder

1/4

teaspoon

salt

1/8

teaspoon

ground black pepper

1

egg

1

cup

milk

1

bunch

chives

diced
Instructions
Heat oil in deep fryer or heavy skillet to 375°F.

Grill steaks until they reach your desired level of doneness and slice into strips that are roughly the size of hot dogs.

In a bowl, combine cornmeal, flour, sugar, baking powder, salt and pepper. Stir in egg and milk.

Slide each strip of steak onto a corn dog stick.

Transfer corn dog batter to a tall glass and dip the steak slices one by one into the batter.

Fry corn dogs for 3 minutes or until golden brown.

Drain corn dogs on paper towels and then top with Bleu Cheese Flip Whip and diced chives.