Have you ever wondered what a one pound Snickers bar would look like if you deep fried it? Well, now you don't have to!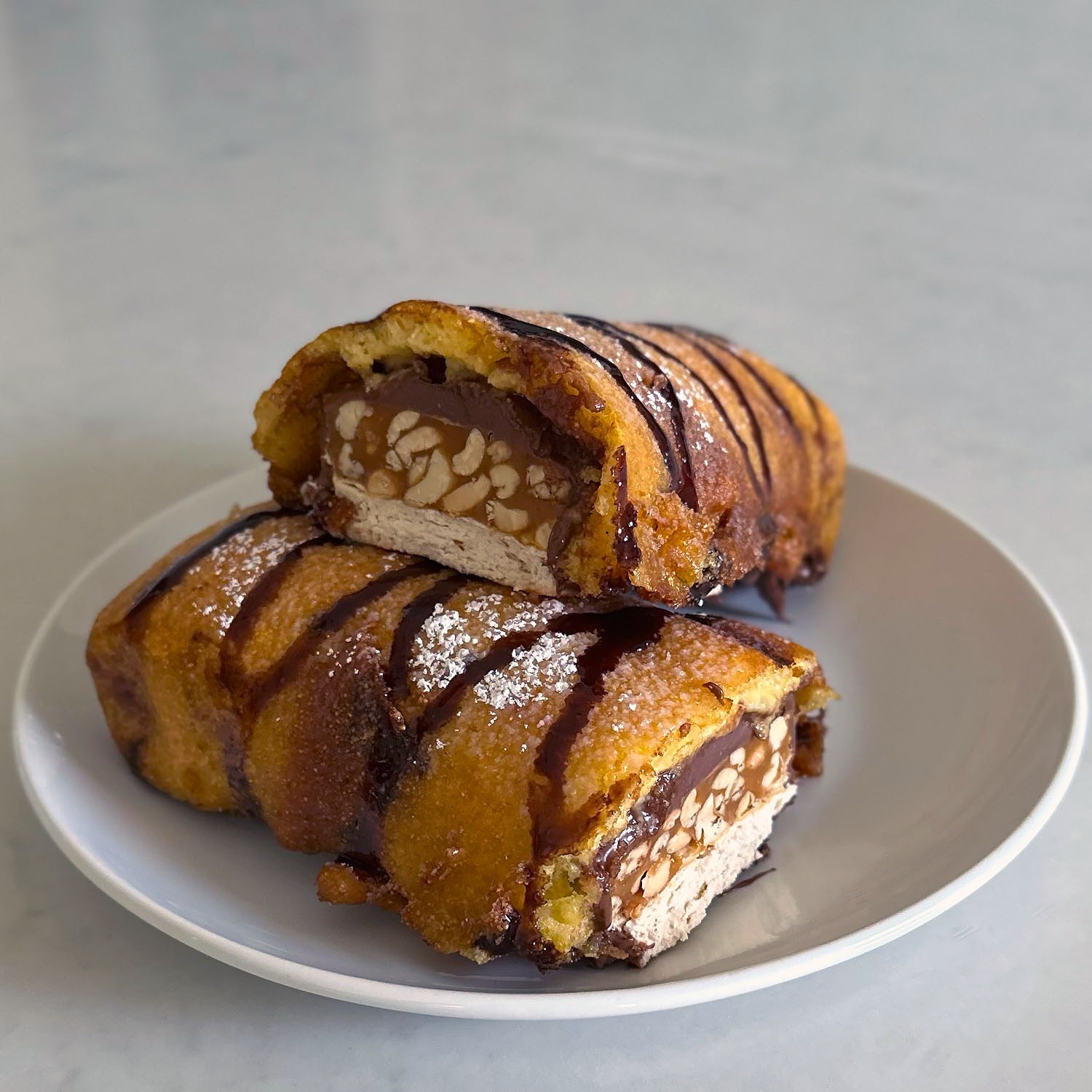 I got a giant one pound Snickers bar as a gift at a late family Christmas celebration and after staring at it as it sat on my kitchen counter for the past weeks weeks I came up with the genius idea of deep frying it.
I've actually made deep fried candy bars before, but back then I used snack size candy bars, which are much easier to fry. Generally when you're frying something like this the best way to get a nice even coating of batter on it is to fill a glass with batter and then put a stick in whatever it is that you want to fry and just dunk it in the glass while twisting it a bit as you remove it from the glass. The stick also makes it possible you drop your food into the deep fryer nice and slowly.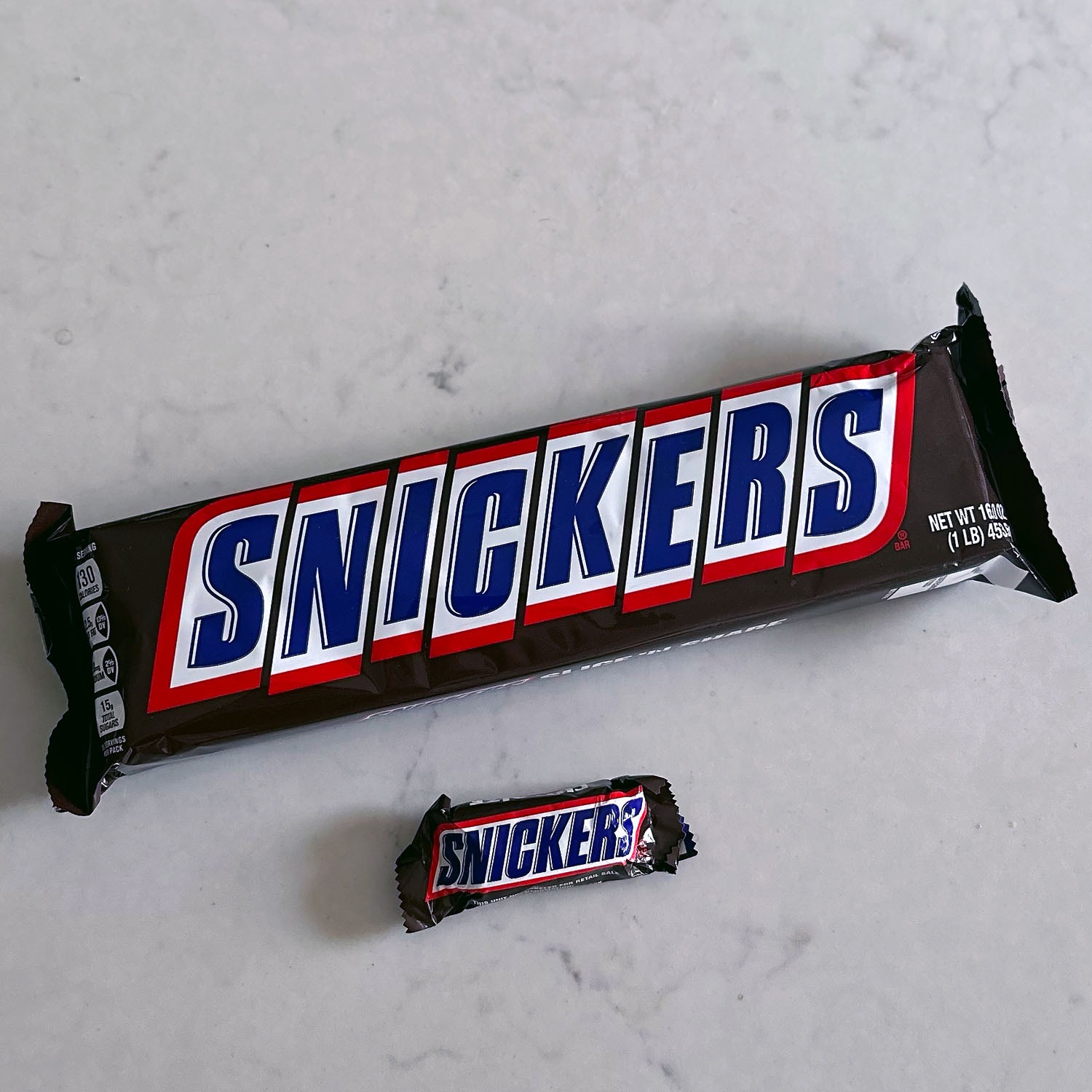 With this giant Snickers bar though I didn't even have a glass big enough to dunk it in — I mean, I guess I could have used a beer pitcher or something like that, but that would have required way too much batter to fill. Plus, I couldn't put a stick in it anyway because then it would have been too wide to drop in my fryer.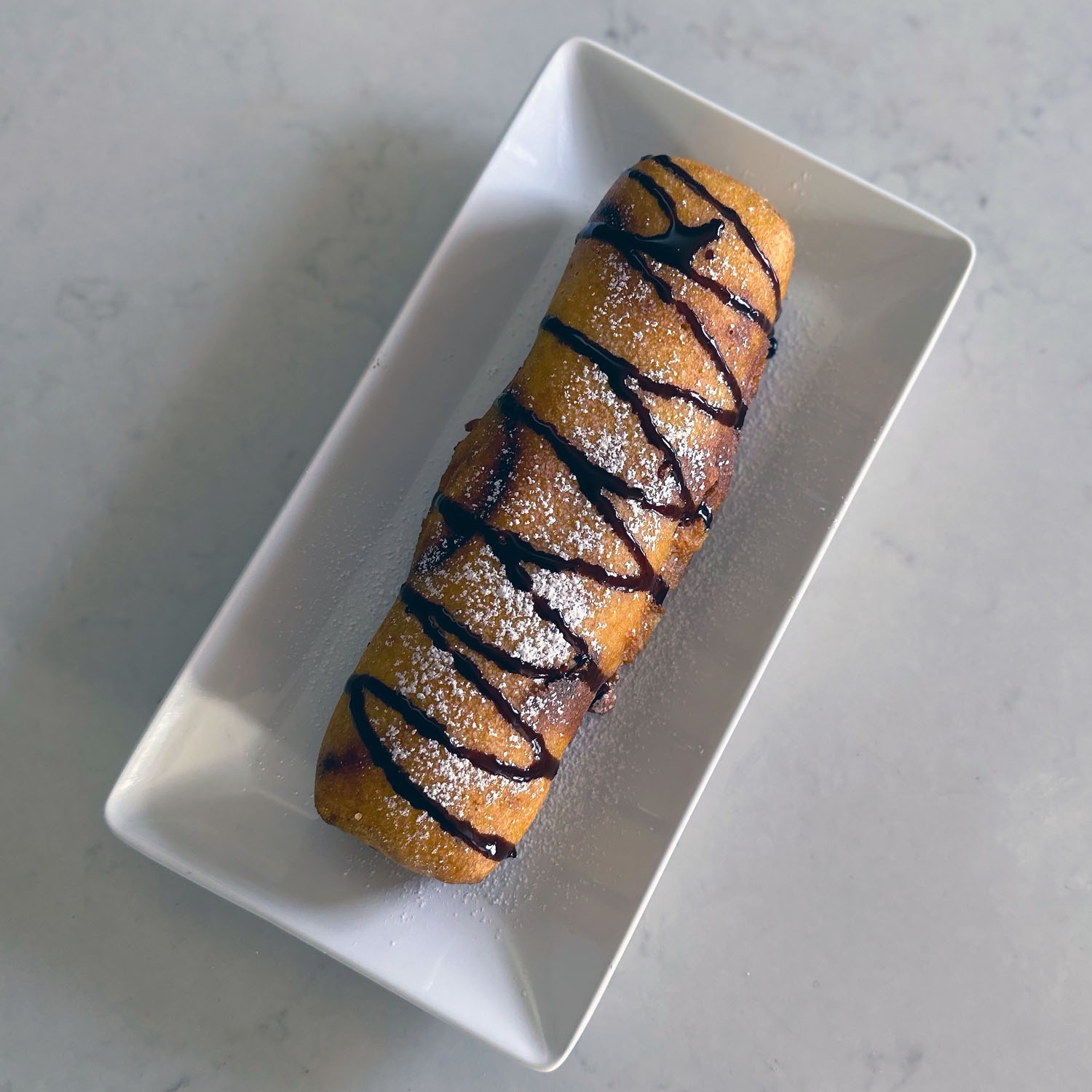 As an alternative I ended up just placing the Snickers bar on top of a stainless steel round skimmer — which is basically just a big spoon with a bunch of little holes in it — and then pouring the bater over it into a rectangular-shaped glass storage container. On the plus side, I was then able to use the skimmer to lift the Snickers bar right into the deep fryer.
After a couple minutes in the deep fryer I pulled my deep fried Snickers bar out, sprinkled powdered sugar on it, drizzled it with chocolate syrup and sliced it up like George Costanza sitting in a company meeting. I also have zero idea how many of you will actually get that Seinfeld reference, but for those of you that do just know that I appreciate you!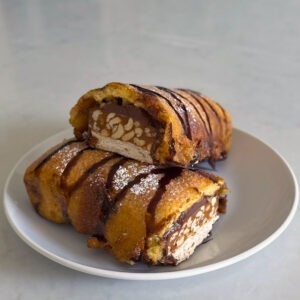 Deep Fried One Pound Snickers Bar Recipe
Nick @ DudeFoods.com
Have you ever wondered what a giant one pound Snickers bar would look like if you deep fried it? Well, now you don't have to!
Ingredients
2

quarts

oil

for frying

1

giant Snickers bar

1

cup

cornmeal

1

cup

flour

1/4

cup

sugar

4

teaspoons

baking powder

1/4

teaspoon

salt

1/8

teaspoon

ground black pepper

1

egg

1

cup

milk
Instructions
Freeze giant Snickers bar for at least an hour.

Heat oil in deep fryer or heavy skillet to 375°F.

In a bowl, combine cornmeal, flour, sugar, baking powder, salt and pepper. Stir in egg and milk.

Place the giant Snickers bar in a baking dish and pour batter over it covering it completely.

Using a spatula or spoon transfer the giant Snickers bar to your deep fryer or heavy skillet and fry for 2 minutes or until golden brown.

Drain Snickers on paper towels and top with powdered sugar and chocolate sauce or your preferred topping choice.