Mashed potatoes are the perfect holiday side dish, and they're even better when you add bacon and cheese and deep fry them!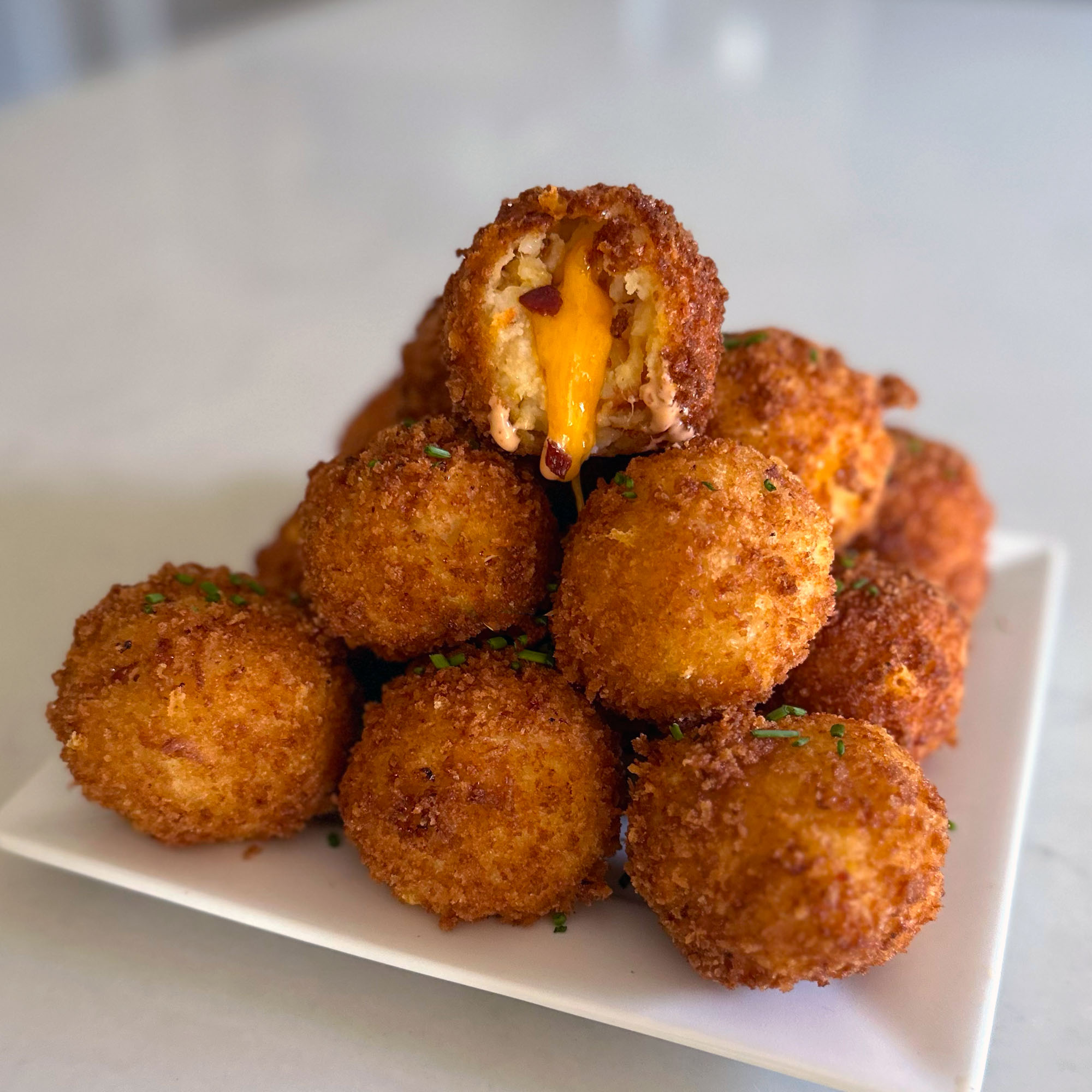 Prairie Farms Dairy kicked off their Cheer Starts Here holiday campaign recently where they're giving away weekly dairy prize packages, and to help promote it they asked me to create a fun, holiday recipe.
When I think of holiday dinners the first thing that comes to mind is mashed potatoes. If you know me though you should know that sharing a basic recipe for mashed potatoes isn't really my thing. I always have to take it one step further, which is why I made my mashed potatoes, added Cheddar cheese and diced bacon to them, and then rolled them into balls and deep fried them!
When it comes to mashed potatoes I've found that a lot of them just end up way too dry, which is why along with Prairie Farms milk I also added Prairie Farms sour cream to them. Why sour cream? Because not only does it add a richness to the mashed potatoes, but it also thickens them a bit which is perfect if you're planning to deep fry them!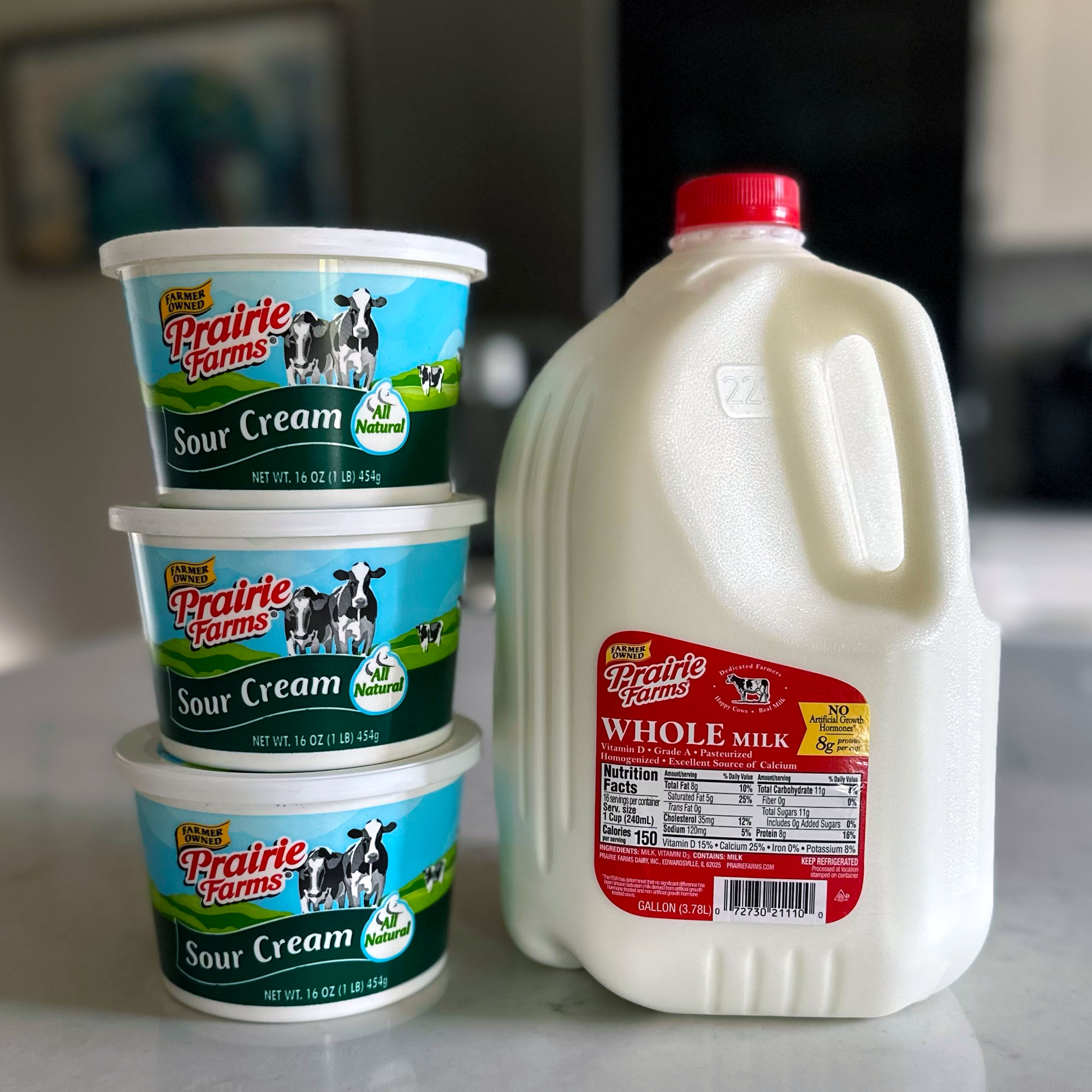 The great thing about this recipe is that you can make the mashed potatoes and then deep fry them right away, or you can make a nice big batch, eat some on their own and then deep fry the leftovers. These mashed potatoes are so good on their own though that I'd highly recommend going with option two….
I used Russet potatoes for this recipe since they're starchier and produce fluffier mashed potatoes, but using Idaho potatoes will leave you with a similar style of mashed potatoes as well. If you'd like your mashed potatoes to be a little less fluffy than Yukon Gold potatoes are a good choice due to their lower starch content. Or, you could even go with a mix of Russet or Idaho with Yukon Gold potatoes if you'd like something in between.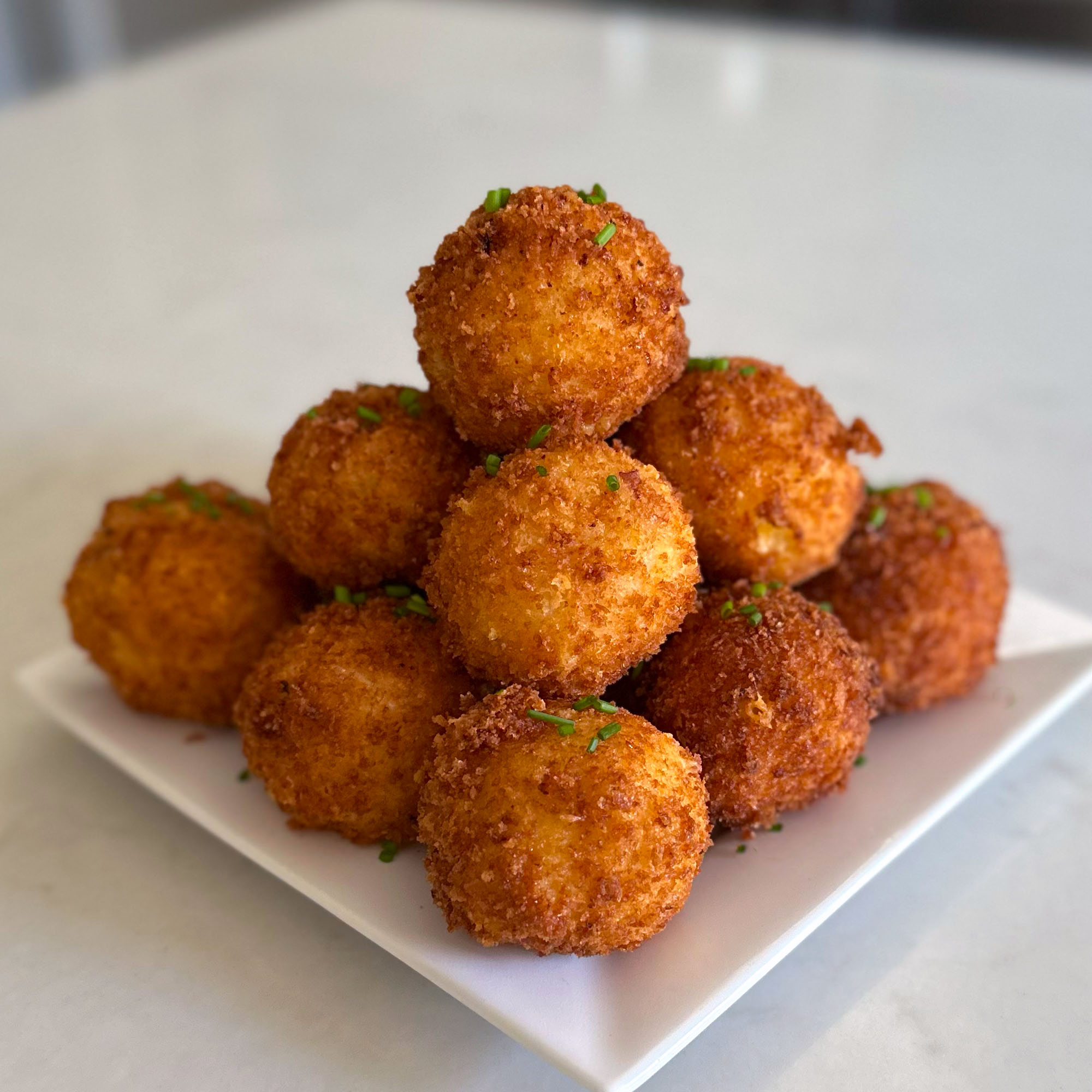 When it comes down to whether or not to peel the potatoes that's a personal preference, and I know that a lot of people actually prefer the peel in their mashed potatoes, but I'm not one of those people. If you do want to peel your potatoes though just make sure that you do so after boiling them. Starchy potatoes soak up water more easily, so peeling your potatoes prior to boiling them will cause them to soak up more water, which in turn will make your mashed potatoes watery and will prevent them from soaking up the milk and sour cream as well as they should. Plus, if you wait until after boiling your potatoes to peel them the peels will pretty much just rub right off, saving you a ton of time and energy.
So, whether you're just looking to take your mashed potatoes to the next level or making them for the sole purpose of deep frying them you're going to want to give this recipe a try. And while you're at it, make sure you check out the Prairie Farms Cheer Starts Here page for more holiday recipes and the chance to win some great prizes!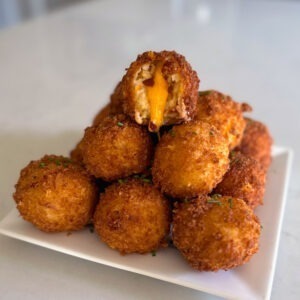 Deep Fried Mashed Potatoes Recipe
Nick @ DudeFoods.com
Mashed potatoes are the perfect holiday side dish, and they're even better when you add bacon and cheese and deep fry them!
Ingredients
Mashed Potatoes
2

pounds

potatoes

1/2

cup

unsalted butter

1/2

cup

whole milk

1/2

cup

sour cream

8

ounces

Cheddar cheese

shredded

8

ounces

bacon

cooked and diced

salt
Deep Fried Mashed Potatoes
Mashed potatoes from the previous step

2

quarts

oil

for frying

4

eggs

2

cups

milk

4

cups

panko breadcrumbs
Instructions
Mashed Potatoes
Cover potatoes with water in a large pot and add a pinch of salt. Bring to a boil and cook for 15 minutes or until potatoes are soft.

Drain the water from the pot, let the potatoes cool, peel and mash them.

Melt butter in a small sauce pan and stir in milk.

Pour milk and butter mixture over mashed potatoes and stir until combined.

Add sour cream, shredded Cheddar and diced bacon and stir until combined.
Deep Fried Mashed Potatoes
Heat oil in deep fryer or heavy skillet to 375°F.

Roll mashed potatoes into balls that are approximately the size of golf balls. You can use an ice cream scoop to form them if necessary.

Set up a dredging station with two bowls — beaten eggs and milk in the first one and panko breadcrumbs in the second one.

Submerge each mashed potato ball in egg wash and cover in panko breadcrumbs. Repeat this step a second time if necessary.

Fry mashed potato balls in batches for 3 minutes or until golden brown and drain on paper towels.