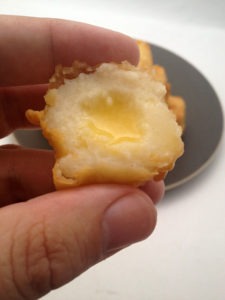 I've owned my deep fryer for almost a year now and in that span I've deep fried everything from deviled eggs to beer cheese soup to chocolate covered Triple Double Oreos and a whole lot more.
This past weekend while trying to figure out what to do with the pile of potatoes I had leftover from a recent cookout I came up with another idea — deep fried mashed potatoes!
I started by whipping up some mashed potatoes (obviously) and then filled an ice cube tray with them and put it in my freezer. A few hours later I popped the frozen cubes out of the tray and grabbed the ingredients that I needed to batter them.
For my batter I used a mixture of egg and milk and then rolled the cubes in flour, so once they were deep fried they ended up with a nice light, flaky crust. In fact, the coating tasted almost exactly like the same type of biscuit that I'd normally eat right alongside regular mashed potatoes.
Now, what you can't see down below in the couple photos that I snapped of the frozen mashed potatoes, but what you should be able to see in the photo in the upper left-hand corner of this blog post, is that I also added a square of butter right in the middle of each of the cubes.
As the heat of the deep fryer returned the mashed potatoes to their original, unfrozen form it also melted the squares of butter, so once I took a bite I got a taste of creamy mashed potatoes, biscuits and warm butter all at once.
I'm not a huge fan of gravy, but if you wanted to you could always mix some gravy into the mashed potatoes as well before freezing them. Either that, or just dip your deep fried mashed potatoes in some gravy before you eat them. Even without the addition of gravy though the mashed potatoes were absolutely perfect. In fact, I think I might need to make these again in November for my family's Thanksgiving get-together!