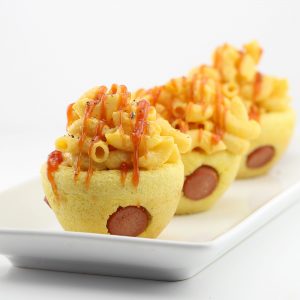 I don't wanna flat out call myself a revolutionary, but who else do you know out there making edible corn dog bowls filled with homemade macaroni and cheese?
Yep, I started off nice and simple with my Bake-a-Bowl Pan
by making Scrambled Eggs in Edible Pancake Bowls so I definitely had to kick it up a notch for recipe number two!
I've been on a bit of a corn dog kick lately making everything from Macaroni and Cheese Corn Dogs to Pulled Pork Corn Dogs, but what I learned when I made Corn Dog Doughnuts is that corn dogs can be just as delicious when they're not on a stick. Plus, these corn dog bowls are about the size of an apple so screw the silverware, because you can just pick them up with your hands and bite right into them!
Oh, and before you give me crap for drizzling ketchup on top of these I've said it before and I'll say it a million times more, ketchup is amazing on both macaroni and cheese and corn dogs!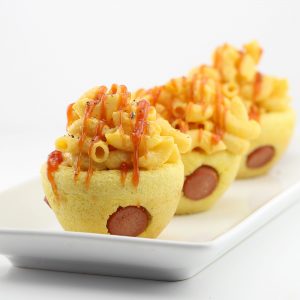 Macaroni and Cheese in Edible Corn Dog Bowls Recipe
Nick @ DudeFoods.com
Macaroni and cheese and corn dogs are both great and this recipes combines them both into one delicious dish!
Ingredients
8

ounces

pasta

2

tablespoons

butter

1

cup plus 1 1/2 tablespoons

flour

2 1/2

cups

milk

3

cups (12 ounces)

Cheddar cheese

shredded

1

cup

cornmeal

1/4

cup

sugar

1/4

teaspoon

salt

1/8

teaspoon

pepper

4

teaspoons

baking powder

1

egg

2

hot dogs
Instructions
In a bowl, combine 1 cup cornmeal, 1 cup flour, 1/4 cup sugar, 1/4 teaspoon salt, 1/8 teaspoon pepper and 4 teaspoons baking powder. Stir in 1 egg and 1 cup milk.

Pour batter into the Bake-a-Bowl pan.

Dice hot dogs into 1/4″ thick pieces and push them into the corn dog batter.

Bake at 375° for 20 minutes or until a toothpick inserted into the corn dog bowls comes out smooth.

While the bowls are in the oven cook the pasta according to the directions on the package.

In a separate pan, melt butter over medium heat and stir in 1½ tablespoons flour. Add 1½ cups milk and reduce heat to low. Stir in cheese slowly until melted and pour over cooked pasta.

Scoop macaroni and cheese into bowls and top with ketchup and fresh ground pepper if you're like me and love ketchup on your mac & cheese and your corn dogs. If you're like nearly everyone else in the world who thinks that's disgusting though I'm happy to report that the corn dog bowls also taste pretty damn good even without the ketchup!