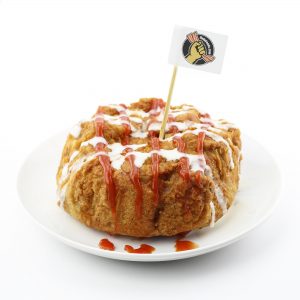 I'm not trying to brag, but just recently I successfully breaded a Burger King Whopper in chicken nuggets and deep fried it….
I did something similar recently when I breaded a McDonald's Big Mac in French fries, but in that instance I just poured batter over the Big Mac, stuck a bunch of fries to it and dropped it straight into my deep fryer.
Due to the weight of the chicken nuggets however, that clearly wasn't going to work in this case, so this time I poured batter over the Whopper, stuck the chicken nuggets into the batter, wrapped everything in plastic wrap and froze it before deep frying it, which I'm happy to report worked like a charm!
Also, going back to the chicken nuggets from Burger King for a second, is there a better fast food deal out there than the $1.69 they charge for 10 nuggets? Hell no! Wendy's still has the best tasting chicken nuggets in the game, but you can't go wrong with the price of Burger King's.
For as amazing as my Chicken Nugget Breaded Whopper tasted though I've gotta admit that I felt a little disgusted with myself after eating it. I talked about this briefly on episode 23 of the Dude Foods Podcast, but it sort of reminded me of the time I ate deep fried butter at the Wisconsin State Fair — it was good, but I was still ashamed to admit that I actually liked it.
Eating a Whopper and 20 chicken nuggets on their own is nothing out of the norm for me, but combined into a single entity — plus the addition of all the extra breading from the batter I used to make sure the nuggets stuck to the Whopper — this one was just a bit over the top, even for me….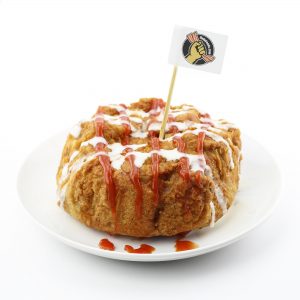 The Chicken Nugget Breaded Burger King Whopper Recipe
Nick @ DudeFoods.com
When Burger King sells you 10 chicken nuggets for only $1.50 the only logical thing to do is to bread a Whopper in them and deep fry it right?!
Ingredients
2

quarts

oil

for frying

1/2

cup

flour

3/4

cup

beer

1

Whopper

20

Burger King Chicken Nuggets

ketchup, ranch dressing or your preferred dipping sauce
Instructions
Combine flour and beer and mix until smooth.

Line the bottom of a bowl with plastic wrap and place the Whopper on top of it.

Pour batter over the Whopper, press the chicken nuggets into the batter and wrap the whole thing up in plastic wrap.

Wrap aluminum foil around the entire thing and place in your freezer for 2 hours or until completely frozen.

Heat oil in deep fryer or heavy skillet to 375°F.

Unwrap the Chicken Nugget Breaded Whopper and deep fry for 6 minutes or until golden brown.

Serve with ketchup, ranch dressing, or your preferred dipping sauce.