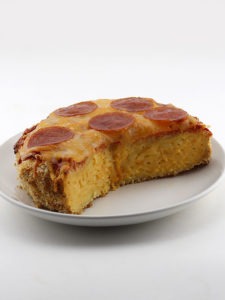 Although I'm referring to this as a Macaroni and Cheese Crust Pizza, I guess it's really more of a mac and cheese pie that's topped with sauce, cheese and pepperoni. I guess it could be considered a deep dish mac and cheese pizza, but I can guarantee that if I called it that the first person from Chicago that saw it would freak out about how it really isn't a true deep dish pizza.
It would be like the time I got all drunk at a Lawrence Arms show down at the Metro in Chicago, stumbled across the street and tried to order a hot dog with only ketchup on it. They stared at me like I'd just confessed to a murder or something and I eventually ended up just getting a gyro instead. Those are the two food-related things in Chicago that people take way too seriously — their pizza and the no ketchup on hot dogs thing. Whatever though, this Macaroni and Cheese Crust Pizza was delicious and that's all that matters.
This idea spawned from when I made a Sweet and Sour Chicken Pizza that had a crust made out of a disc of deep fried white rice. Once that one was a hit it basically opened up the floodgates in terms of me packing random foods in my springform pan to create crazy pizza crusts.
The directions to make this are pretty similar to the last one. I started off by scooping homemade macaroni and cheese into my pan and then put it into my freezer, which left me with a solid mac and cheese disc.
This time though instead of deep frying the crust  and adding my toppings after the fact I covered it in sauce, cheese and pepperoni and baked it in my oven for 25 minutes at 375°, which apparently makes it healthy according to all the people on Facebook who constantly comment that I should use my oven more and my deep fryer less. Well, I'll tell you what, if this is considered healthy eating then I'm all about it, because this pizza was great!