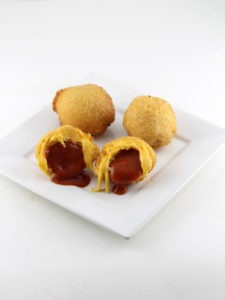 My wife and I were on our way home from my brother's house one afternoon when she told me that she needed to stop at the arts and crafts store. Normally this means that I'd be waiting in the car bored out of my gourd for about 30 minutes while she browses their sweet selection of beads, storage essentials and floral decor, but on this instance I decided to stop in with her.
As I walked around trying my best not to bump into any of the 80 year old ladies that seemed to be the only other customers in the store I came across a cake pop mold and immediately knew that I had to have it to experiment with in my kitchen.
What would I make it with it though? Some sort of crazy DudeFoods inspired cake pops seemed way too easy — I mean seriously, who wants to use a cake pop mold for actual cake pops right? It was at that moment that an idea came to me — what if I used it to freeze cubes of tomato soup, breaded them with bread and slices of cheese and then fried them to essentially create Tomato Soup Stuffed Grilled Cheese Balls?
When we arrived home I grabbed a plastic syringe and filled it to the brim with tomato soup. Then, one by one, I injected the soup into all the holes in the top of the cake pop mold and popped it in my freezer. A few hours later I pulled it out, opened it up and was left with 20 frozen tomato soup balls.
The only problem I really ran across is that since the mold was rubber the two halves didn't stay together perfectly as I was injecting my tomato soup into them, so some of the balls turned out a little wonky, but aside from that it really couldn't have gone much better!
I then took the tomato soup balls one by one and wrapped them in a cheese sandwich (two slices of white bread with a piece of American cheese between them) and then brushed them with melted butter. To finish things off I just dropped the balls in my deep fryer for about a minute until they were golden brown.
Now, I'm not really sure if I can actually refer to these as Grilled Cheese Balls since I used my deep fryer to make them, but I did make a pan fried version as well, and although they turned out great it was a total pain in the ass trying to constantly turn the balls so they cooked evenly. Plus, when you're making something like this you want the process to be as simple as possible because what's the whole point of this in the end? To have something awesome to stuff your face with right? And in this instance — as often is the case with the stuff I make — the deep fryer was the easiest way to go to from concept to completed dish. I contemplated using the oven as well, but I didn't feel like sitting around for ten or fifteen minutes to see how well that whole process would work. I wanted instant results and when you want instant results you make a beeline for the nearest deep fryer!
As I've already proven numerous times when I've made things like Deep Fried Bacon Wrapped Peanut Butter Balls, Nacho Cheese and Jalapeño Stuffed Soft Pretzel Balls, Deep Fried Bacon Wrapped Pizza Balls and Macaroni and Cheese Stuffed Soft Pretzel Balls, any type of food is infinitely better when it's converted into ball form, and these Tomato Soup Stuffed Grilled Cheese Balls were no different. What's even better is that if I ever decide to open up some sort of food ball themed food truck I've basically already got a full menu ready!