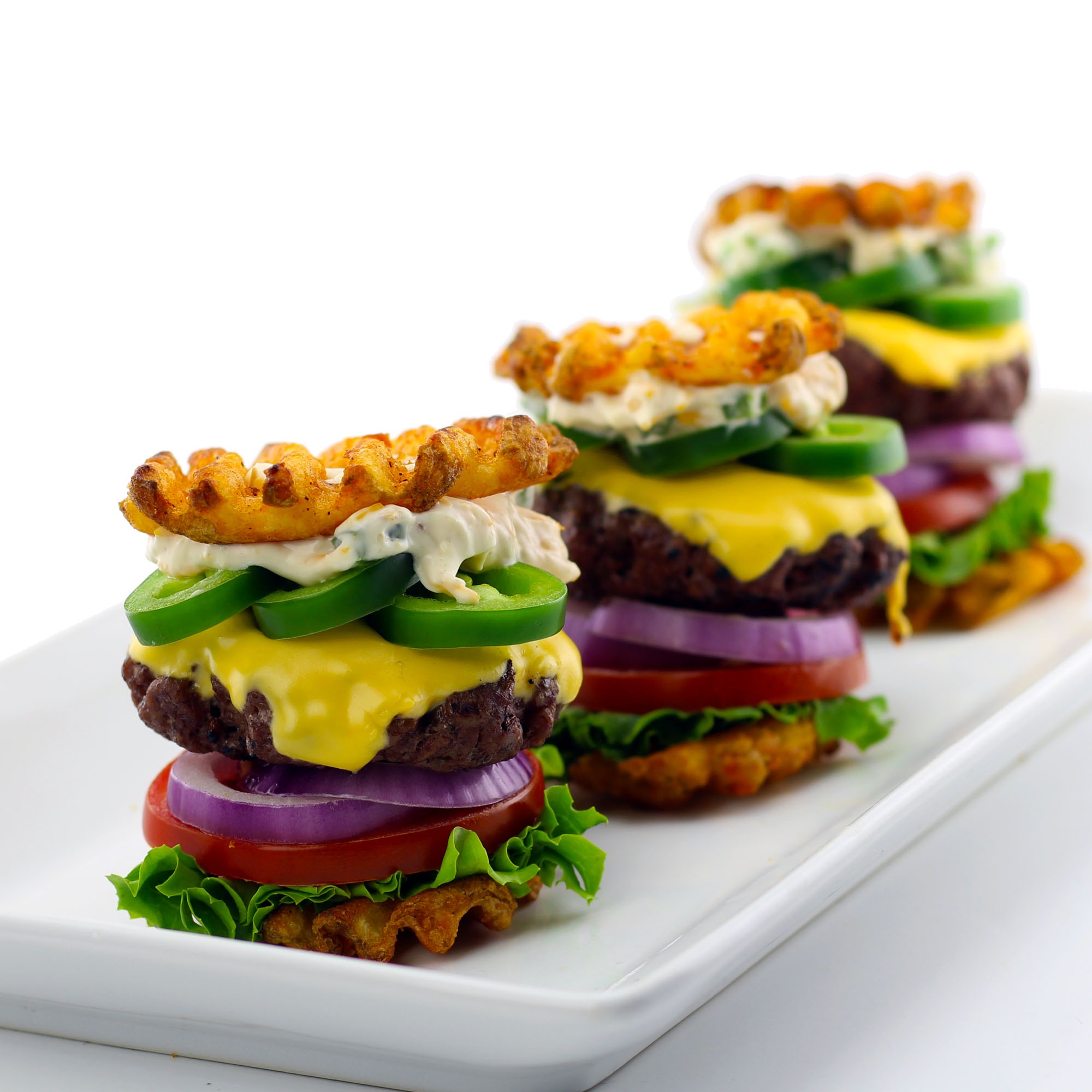 Prairie Farms recently launched a new line of Small Batch Cream Cheese Spreads, so to help get the word out they asked me to create a recipe featuring them.
When I think of cream cheese the first thing that always comes to mind is jalapeño poppers, but after already making things like Flamin' Hot Cheetos Breaded Jalapeño Poppers, Jalapeño Popper Bites and Jalapeño Popper Corn Dogs it's becoming increasingly difficult to come up with new takes on this classic appetizer. After some brainstorming and tinkering in my kitchen though I created the perfect variation! Jalapeño Popper Cheeseburger Sliders!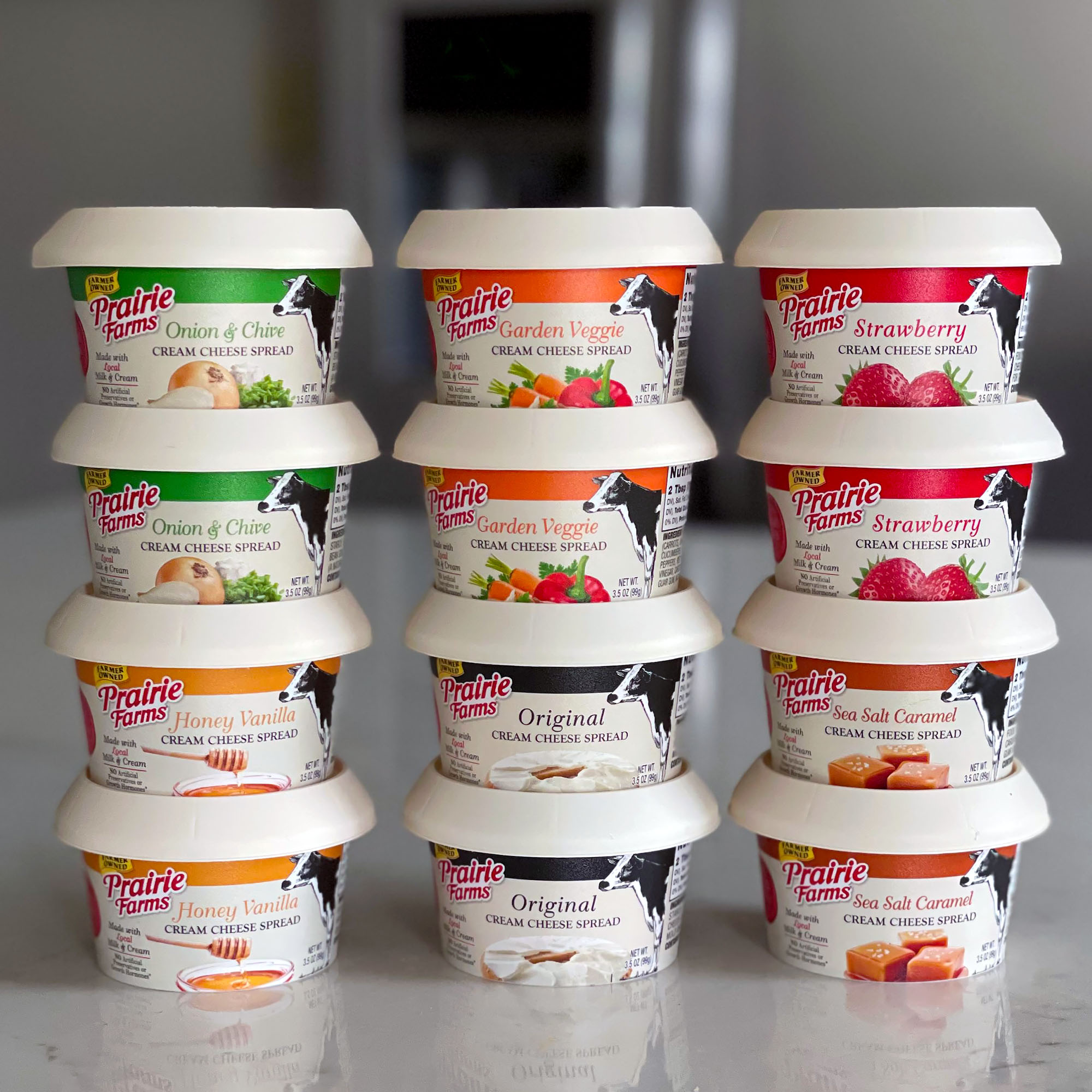 The Small Batch Cream Cheese Spreads are available in six different flavors — Original, Honey Vanilla, Garden Veggie, Onion & Chive, Strawberry and Sea Salt Caramel — and come in 3.5 ounce cups for personal snacking. They're the perfect size if you're looking to try something new. Plus, the cream cheese starts off with 100% real milk and cream from local farm families and is made with award-winning Prairie Farms Neufchâtel cheese without artificial flavors, colors, preservatives or growth hormones.
I started off by making a jalapeño popper spread using cream cheese, mayonnaise, shredded Cheddar and diced jalapeños. Then I grilled some burger patties, topped them with cheese and assembled my sliders by adding lettuce, tomato, red onion, jalapeño slices — for a little extra kick — and the jalapeño popper spread. Then, rather than burger buns I used waffle fries, because if you're already planning to eat fries with your burger why not just make the fries part of your burger?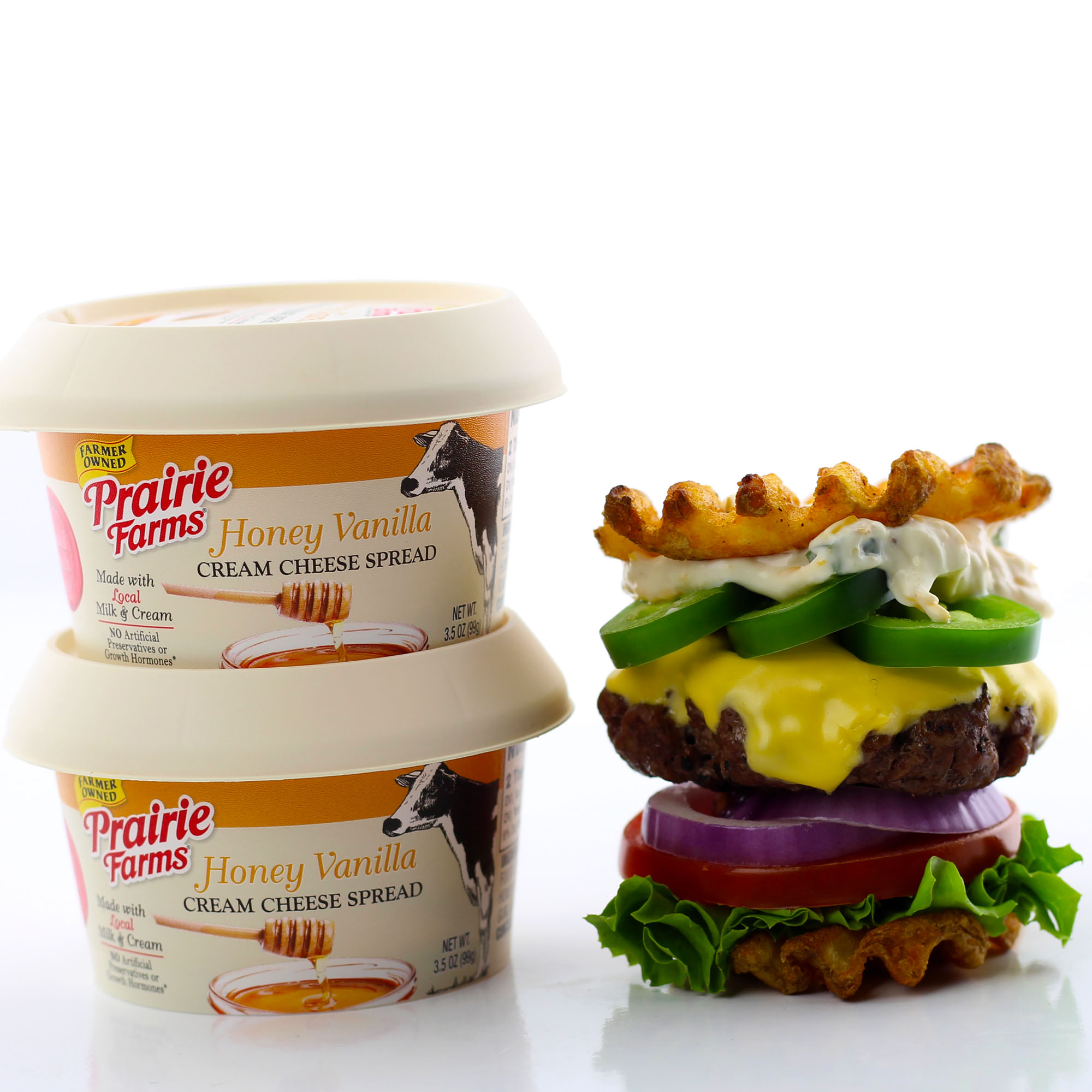 Since the six Small Batch Cream Cheese Spread varieties run the gamut from sweet to savory the first decision I had to make was which one to use for this recipe. In the end I went with the Honey Vanilla Cream Cheese Spread to give them a nice sweet/spicy contrast. The Sea Salt Caramel and Strawberry flavors would have worked in a similar fashion, but if you aren't a fan of sweet and spicy combos these sliders would have tasted amazing using any of the other spreads as well.
Even if you don't end up making these sliders the jalapeño popper spread is great on its own. I ended up making it again for a family get-together a few days after I made these sliders and it was gone almost immediately. Plus, with all the different cream cheese flavor options that Prairie Farms offers you can keep the recipe nice and simple with only four ingredients yet still tailor the recipe to your specific tastes.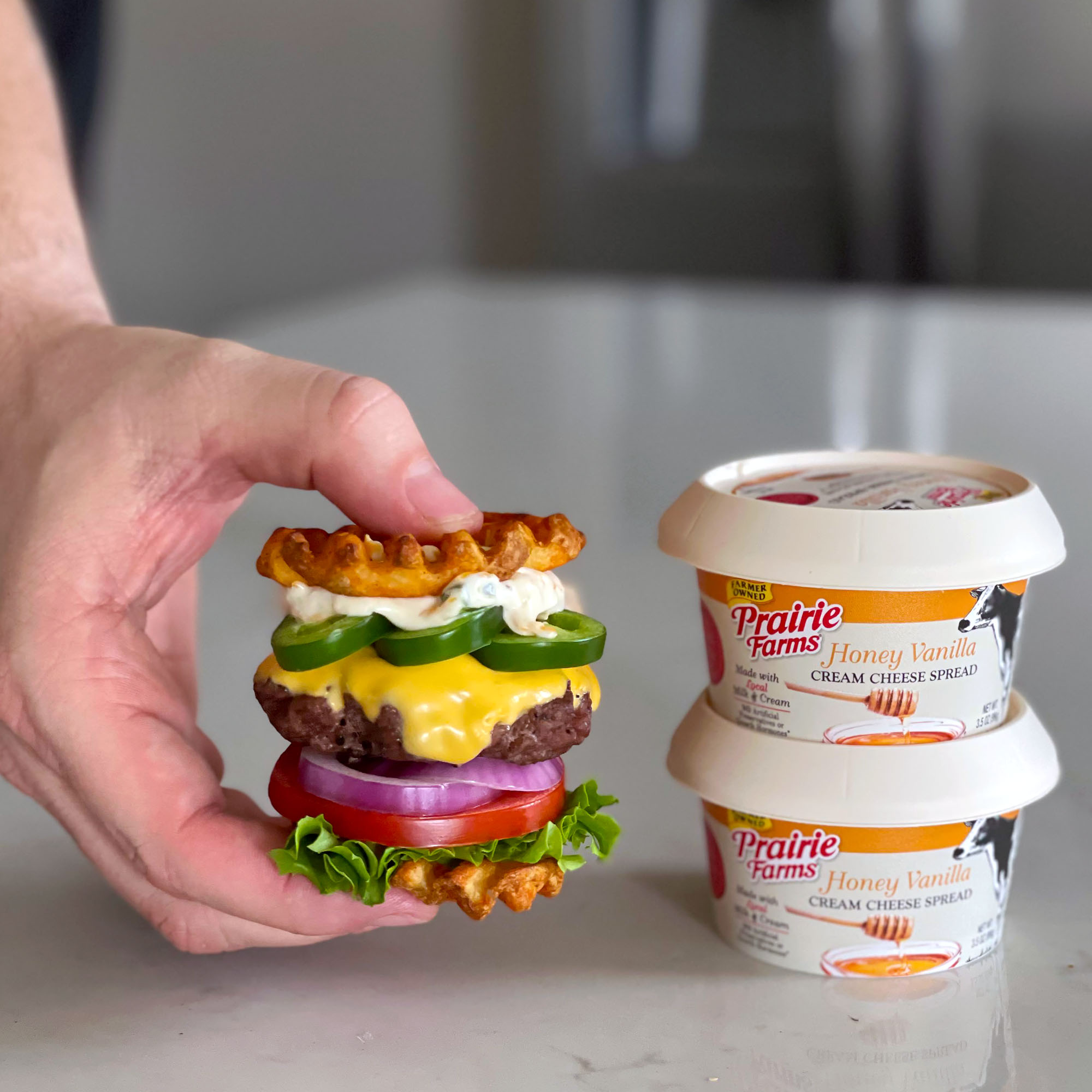 Look for Prairie Farms' new Small Batch Cream Cheese Spreads at your favorite retailer. If you'd like to try them you're in luck because they're currently running a contest over at PrairieFarms.com/cream-cheese-spreads where you can enter daily to win one of the ten prize packages that they're giving away each week, with each prize package featuring ten free cream cheese spread coupons.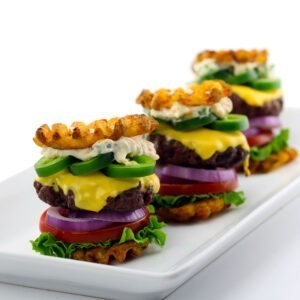 Jalapeno Popper Cheeseburger Sliders Recipe
Nick @ DudeFoods.com
These Jalapeño Popper Cheeseburger Sliders feature slider patties topped with a jalapeño popper spread.
Ingredients
Jalapeño Popper Spread
2

tubs (7 ounces)

Prairie Farms Small Batch Cream Cheese Spread

2

jalapeños

diced

1/4

cup

mayonnaise

1/2

cup

Cheddar cheese

shredded
Sliders
16

waffle fries

1

pound

ground beef

4

slices

cheese

your choice of toppings

I went with lettuce, tomato, red onion, and jalapeño slices
Instructions
Jalapeño Popper Spread
Combine Prairie Farms Small Batch Cream Cheese Spread, mayonnaise, diced jalapeños and shredded Cheddar cheese in a bowl and stir until combined.
Sliders
Cook waffle fries according to the directions on the package.

Separate ground beef into 8 equal-sized portions, season with salt and pepper and grill for 3 minutes per side or until they reach your desired level of doneness.

Cut each slice of cheese into 4 squares and top the burger patties with cheese for the final minute on the grill.

Assemble your sliders by taking a waffle fry and topping it with a burger patty, your choice of toppings, jalapeño popper spread and finally a second waffle fry.