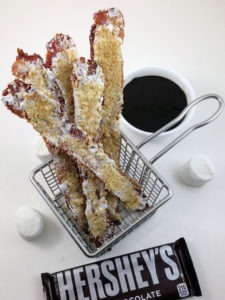 I have no idea why since I'm not normally a huge fan of sweets, but I've been on a bit of a s'mores kick lately. First it was S'mores Chicken Wings, then it was Rice Krispies Treats S'mores and most recently I decided to make some S'mores Bacon.
So what exactly is S'mores Bacon you ask? Basically I just did the exact same thing I did with the S'mores Chicken Wings, but with bacon strips instead of wings.
I started off by frying up some bacon and then using a knife to spread melted marshmallows over each of the bacon strips. After that I sprinkled crushed up graham crackers onto the marshmallows. Then, just to get the marshmallow nice and gooey again and to warm up the graham cracker crumbles I put them in my oven for two minutes at 400°.
Once the S'mores Bacon was done I melted some Hershey's chocolate to use for dipping purposes and my creation was complete and well worth the effort! Seriously, it was delicious!