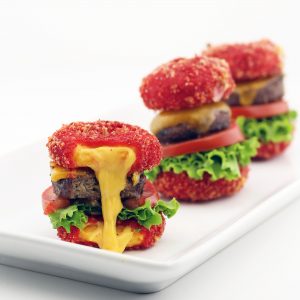 Roth Cheese recently launched a new line of circular 3/4 ounce cheeses that are absolutely perfect for snacking. Do you know what else they're perfect for though? Getting breaded in Flamin' Hot Cheetos, so they can be deep fried and used as slider buns!
I've done something similar before with full-size burgers and much larger wheels of cheese, and although I thought that the larger version was absolutely amazing I can also understand how that might be too much cheese for some people.
If you want a similar experience though — or if you're just looking for a really cool appetizer idea — these Flamin' Hot Cheetos Breaded Cheese Bun Sliders are great! Plus, if you want more cheese all you have to do is eat six of them like I did!
Roth's Snack Cheeses come in three different varieties — Cheddar, Gouda and mozzarella. I used Cheddar and Gouda for my sliders, but all three would work perfectly since all three cheeses have pretty low melting points. I actually think that it would be really cool to use the mozzarella ones for pizza burger sliders. In fact, I think I'll make those later this week!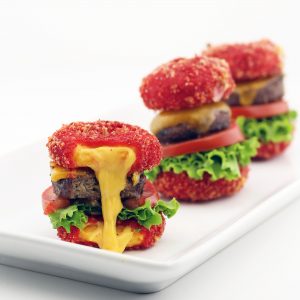 Flamin' Hot Cheetos Breaded Cheese Bun Sliders Recipe
Nick @ DudeFoods.com
Sliders are already pretty great on their own, but sliders that have cheese stuffed Flamin' Hot Cheetos breaded buns are even better!
Ingredients
2

quarts

oil

for frying

12

Roth Snack Cheeses

6

ounces

ground beef

1/2

bag (4 1/2 ounces)

Flamin' Hot Cheetos

crushed

2

cups

flour

3

eggs

1/2

cup

milk

3

slices

Cheddar cheese

Lettuce

1

tomato
Instructions
Heat oil in deep fryer or heavy skillet to 375°F.

Set up a dredging station with three bowls — flour in the first one, beaten eggs and milk in the second one and crushed Flamin' Hot Cheetos in the third one.

Coat each Roth Snack Cheese in flour, submerge in egg wash and cover in crushed Flamin' Hot Cheetos. Repeat this step a second time if necessary.

Form ground beef into 6 equal sized patties, season with salt and pepper and grill until they reach your desired level of doneness.

Slice each slice of Cheddar cheese into 4 equal sized squares and top each patty with cheese.

Fry Flamin' Hot Cheetos breaded Snack Cheeses in batches for 2 minutes each and dry on paper towels.

Assemble your sliders by taking one deep fried cheese bun and topping with lettuce, sliced tomato, a burger patty and finally a second deep fried cheese bun.