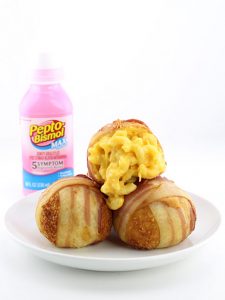 The big game is this weekend and while I'm still a little heartbroken over the fact that my beloved Wisconsin-based team got absolutely destroyed in the last round of the playoffs I'm comforted at least a little bit by the fact that I recently put together this amazing new game day recipe!
Anyone who has ever had deep friend macaroni and cheese can tell you that it's amazing, but do you know what makes it even better? Wrapping it in bacon!
Then again, pretty much anything can be improved upon by adding a little — or in this case a lot — of bacon to it….
When I came up with the idea for these I imagined that they'd be about the size of a golf ball, but since I used an ice cream scoop to form them they actually ended up closer to the size of a baseball once they were breaded and wrapped in bacon.
Since I wanted full bacon coverage I used two slices of bacon per macaroni and cheese ball, but if that's too much for you then you could also cut each slice of bacon in half and only use one total slice per ball. When has too much bacon ever been a problem though?
Now I know you're probably thinking "But Nick, you've got tons of cheese, you've got tons of bacon, you're probably going to have at least a few beers while you're watching the game. Aren't you going to feel like absolutely garbage afterwards?" Nope! Because I've always got Pepto-Bismol on hand, which helps with a plethora of symptoms like nausea, heartburn, indigestion, upset stomach and diarrhea.
So, if like me you plan on overindulging this weekend just make sure you're got some Pepto-Bismol handy! If you don't have any then you should probably click here for a $1 off printable coupon, head to the store sometime before Sunday and make sure you're prepared!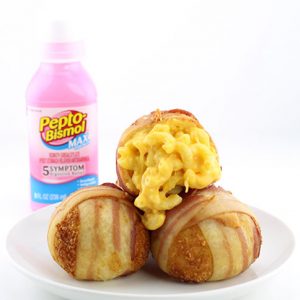 Deep Fried Bacon Wrapped Macaroni and Cheese Balls Recipe
Nick @ DudeFoods.com
Does it get much better than macaroni and cheese balls that are wrapped in bacon and deep fried? Nope, it sure doesn't!
Ingredients
2

quarts

oil

for frying

16

ounces

pasta

4

tablespoons

butter

1

cup plus 3 tablespoons

flour

3 1/2

cups

milk

4

cups (16 ounces)

Cheddar cheese

shredded

4

eggs

2

cups

panko breadcrumbs

24

slices

bacon
Instructions
Cook pasta according to the directions on the package.

In a saucepan, melt butter over medium heat and stir in 3 tablespoons flour.

Add 3 cups milk and reduce heat to low.

Stir in cheese slowly until melted and pour over cooked pasta.

Transfer the macaroni and cheese to a baking dish and refrigerate for 1 hour or until cold.

Heat oil in deep fryer or heavy skillet to 375°F.

Using a cookie scoop, scoop the macaroni and cheese into equal-sized balls.

Create a dredging station with three different bowls, one with 1 cup flour, one with a mixture of 4 beaten eggs and 1/2 cup milk and the final one with 2 cups panko breadcrumbs.

Coat each macaroni and cheese ball in flour, dip in egg wash and cover in panko breadcrumbs. Repeat this process again if necessary.

Wrap each macaroni and cheese ball in two slices of bacon — one slice going in each direction — and secure bacon with toothpicks.

Fry Bacon Wrapped Macaroni and Cheese Balls in batches for 2 minutes or until the breading is golden brown and the bacon is cooked.

Drain on paper towels and serve with ranch or your preferred dipping sauce.
Disclosure: Pepto-Bismol partnered with bloggers, such as me, to get the word out about its great product benefits. As part of this program, I received compensation for my time. Pepto-Bismol believes that consumers and bloggers are free to form their own opinions and share them in their own words. Pepto-Bismol's policies align with WOMMA Ethics Code, Federal Trade Commission (FTC) guidelines and social media engagement recommendations.