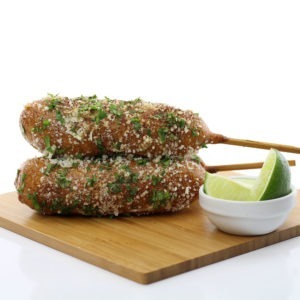 My buddy Jeff came up with the idea for these Elote Corn Dogs as we were discussing how bummed we were about the new food choices at Miler Park during Milwaukee Brewers games this year.
I mean, I've come to terms with the fact that for some reason the Brewers don't want to offer the Racing Sausages Corn Dog I created a few years back — although I have no idea why, because it would be a guaranteed best seller — but when you make a big deal about how your new foods for 2019 are a BBQ chicken sandwich, cheese fries and a waffle with chocolate sauce on it you're seriously doing something wrong. I have no idea who they have in charge of creating the menu items at Miller Park each year, but whoever it is should be fired immediately.
One of the other new items the Brewers started selling this year is elote, which for those of you who have never had the pleasure of trying it is corn that's coated in mayonnaise, chili powder, cotijta cheese, lime juice and cilantro. Don't get me wrong, elote is delicious and I absolutely love it, but it isn't exactly anything new.
Jeff's idea was to make corn dogs using chorizo sausages instead of hot dogs and then brush them with mayonnaise and top them with everything that goes into elote. That way you get corn dogs — which everybody loves — combined with the awesomeness of elote in a totally new food that's perfect for game day.
Alright Brewers, it's up to you now. You can keep promoting the same boring old foods or you can start selling awesome original new stuff like these Chorizo Elote Corn Dogs or Racing Sausages Corn Dogs or any of the other amazing ideas you can find right here at DudeFoods.com. Let's get the fans here in Milwaukee excited about ballpark food again! Let's make it happen!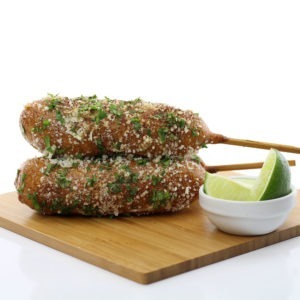 Chorizo Elote Corn Dogs Recipe
Nick @ DudeFoods.com
Corn dogs brushed with mayonnaise and topped with cotija cheese, chili powder, cilantro and lime to create elote inspired corn dogs!
Ingredients
2

quarts

oil

for frying

4

chorizo sausages

4

corn dog sticks (or chopsticks if you can't find corn dog sticks)

1

cup

cornmeal

1

cup

flour

1/4

cup

sugar

4

teaspoons

baking powder

1/4

teaspoon

salt

1/8

teaspoon

pepper

1

egg

1

cup

milk

1/4

cup

mayonnaise

1/3

cup

cotija cheese

1

tablespoon

chili powder

1/4

cup

cilantro

chopped

2

lime wedges
Instructions
Heat oil in deep fryer or heavy skillet to 375°F.

Grill chorizo sausages according to the directions on the package.

In a bowl, combine cornmeal, flour, sugar, baking powder, salt and pepper. Stir in egg and milk.

Slide each chorizo sausage onto a corn dog stick.

Transfer corn dog batter to a tall glass and dip the sausages one by one into the batter.

Fry corn dogs for 3 minutes or until golden brown.

Drain corn dogs on paper towels, brush with mayonnaise, sprinkle with cotija cheese and top with chili powder and cilantro. Squeeze lime over corn dogs and serve immediately.