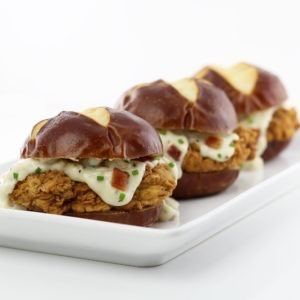 I'm grateful anytime companies ask me to develop recipes for them, but it's always a little extra special to work with anyone from my home state of Wisconsin. That's why I'm super excited to be collaborating with the Wisconsin Pork Producers Association on a series of pork-based recipes this summer.
Growing up I was never a big fan of pork. It always tasted dry and just never had much flavor. As I got older I finally realized that all the pork I was eating as a child was just cooked for way too long. Now, I'm not going to flat out blame my mom and dad for overcooking all the pork chops, ribs and pork tenderloin I ate as a kid but yeah… it's pretty much all their fault….
So how do you know how long to cook your pork for? You're going to want to cook fresh cuts of pork to 145° using a digital thermometer to measure the temperature at the thickest part of the cut without touching any bone. Once you hit that magic 145° number remove your pork from the heat and let it rest for three minutes. Seriously, don't be afraid of a little pink in the middle….
For my first recipe I took a pork tenderloin, sliced it into medallions, coated them in flour and spices and fried them until they hit 145° to create Chicken Fried Pork Tenderloin Sliders. Then, because the best thing to pair with pork is even more pork I whipped up some bacon country gravy to top the sliders with. Seriously though, this gravy is amazing. Even if you don't make these sliders I'd highly recommend whipping up a batch of this gravy and pouring it on every singe thing you eat from here on out.
If you want to make full size sandwiches instead of sliders you could easily swap out the tenderloin for a pork sirloin and keep the rest of the recipe the same, but when it comes to sliders pork tenderloin medallions are the absolute perfect size.
And of course delicious pork starts with the farmers themselves, which is why it's important for them to produce safe, nutritious food in a responsible manor. If you'd like to learn more about pig farming you can head over to PorkCares.org for the answers to any questions you might have.
If you're looking for something a little different than these Chicken Fried Pork Tenderloin Sliders another blogger from here in Wisconsin named Dairy Carrie recently posted a recipe for some pretty amazing looking Chipotle Garlic Instant Pot Country Style Pork Ribs. You can also check out the recipe section of the Wisconsin Pork Producers Association website, which has what almost seems like an infinite amount of pork recipes that you can search by cooking style or cut.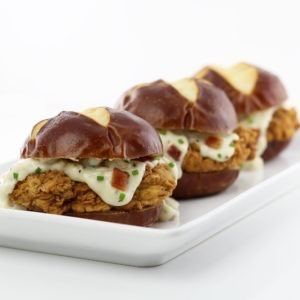 Chicken Fried Pork Tenderloin Sliders With Bacon Country Gravy Recipe
Nick @ DudeFoods.com
These chicken fried pork tenderloin sliders are pretty great on their own, but when you top them with bacon country gravy? Game over! Delicious!
Ingredients
4

slices

bacon

1

pork tenderloin

2

quarts

oil

for frying

1 3/4

cups

flour

2

teaspoons

ground black pepper

1

teaspoon

salt

1/2

teaspoon

garlic powder

1/2

teaspoon

onion powder

1/2

teaspoon

paprika

2

eggs

4 1/2

cups

milk

8

slider buns
Instructions
Cook bacon according to the directions on the package and save the grease to use for the gravy.

Heat oil in deep fryer or heavy skillet to 375°F.

Slice pork tenderloin into 8 equal sized pieces.

Place plastic wrap over each pork tenderloin medallion and pound it with a meat tenderizer until it's 1/4" thick.

Set up a dredging station with two bowls — 1 cup flour, 1 teaspoon ground black pepper, 1/2 teaspoon onion powder, 1/2 teaspoon garlic powder and 1/2 teaspoon paprika in the first one and 2 beaten eggs and 1/2 cup milk in the second one.

Coat each pork tenderloin medallion in the flour and spice mix, submerge in egg wash and then coat in the flour and spice mix once again.

Fry in batches for 3 minutes per side or until a meat thermometer inserted into the pork tenderloin reads 145°.

For the gravy heat the pan with remaining bacon grease on low and whisk in 3/4 cup flour, 1 teaspoon salt and 1 teaspoon ground black pepper.

Slowly stir in 4 cups milk and continue cooking and whisking until thick. If you want a thinner gravy add more milk. Alternatively, if you'd like a thicker gravy add more flour.

Dice the four slices of bacon, add to the gravy and remove the pan from heat.

Top each chicken fried pork tenderloin medallion with bacon country gravy and place between a top and bottom bun.