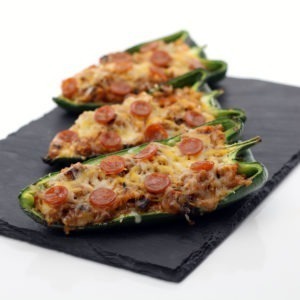 It's always a really great feeling when a company that you're already a huge fan of reaches out to work with you, and that's exactly what happened recently with Weber Grills.
You see, back when I had my first house and bought my first grill I took the cheap way out and for the low price of $199.99 I picked up a 5-burner no-name gas grill. Well, like they say, you get what you pay for…. Even though I kept a grill cover on it whenever it wasn't in use and stored it in my garage all winter long everything from the burners to the grill grates to the side shelves to the cover was covered in rust in less than a year.
A few years ago my wife and I bought a new home and when we moved we didn't even bother bringing the old grill with us. We just left it out on the curb. A couple days after we moved I went out and bought a Weber Summit Series grill. I've been using it multiple times a week ever since and still haven't had a single issue!
Last month Weber shipped me one of their Q 1200 Gas Grills to check out and for as much as I love my Summit it's really great to have a smaller, more portable grilling option as well. On, and did I mention how amazing the Q 1200 is for tailgating now that baseball season is here? In fact, I'll actually have a tailgating recipe coming up later this month!
In the meantime though I'm sharing a recipe that has been my go-to when I just want a quick snack or when I'm looking for something to eat late at night — Pizza Stuffed Poblano Peppers!
I know that people love stuffing bell peppers and putting those on the grill, but unless you want to pick them up and bite into them like an apple you just end up grilling them and then cutting them up with a knife and fork anyway. What I love about using poblanos instead is that you can ditch the silverware, pick them up and get a little bit of pepper and a little bit of filling in each bite.
Plus, since stuffed bell peppers are larger they're generally served as a meal, whereas stuffed poblanos can be served as an appetizer or a meal — depending on how many you feel like eating. You can also deseed poblano peppers much more quickly than bell peppers, so not only do you end up with a far superior product in the end, but you're also saving time along the way as well!
So, I'll see you at the end of this month with another recipe and video, and In the meantime you can find me hanging out on my patio enjoying the Spring weather with my Weber Grill fired up!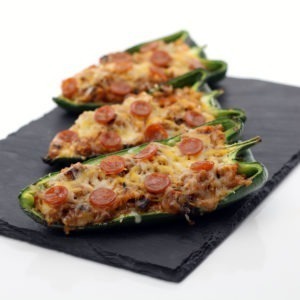 Pizza Stuffed Poblano Peppers Recipe
Nick @ DudeFoods.com
Do you enjoy making stuffed peppers on the grill? Then you need to try these stuffed poblano peppers that are filled with ground Italian sausage, cheese, pizza sauce and mini pepperoni!
Ingredients
3

poblano peppers

1

pound

ground Italian sausage

1 1/2

cups

cheese

shredded

1

cup

pizza sauce

1

package

mini pepperoni
Instructions
Set grill to medium heat. Slice the peppers in half lengthwise and remove the seeds.

Form ground Italian sausage into 3 equal-sized patties.

Add the poblano peppers and Italian sausage patties to the grill and grill the patties for 5 minutes per side or until the internal temperature reaches 160°F.

Remove Italian sausage patties and poblano peppers from the grill. Chop up the Italian sausage patties and combine with the pizza sauce and 1 cup shredded cheese.

Spoon the Italian sausage, cheese and pizza sauce mixture into the peppers and top with remaining cheese and mini pepperoni.

Return the peppers to the grill for 3 more minutes or until the cheese on top of them is melted.