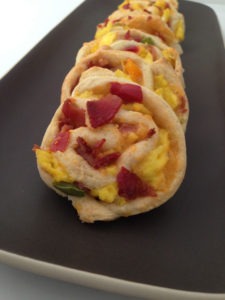 I love breakfast and I'm always looking for new and creative ways to enjoy it, so whether it's using a bacon weave as a bun for a breakfast burger or making a Seven Layer Breakfast Sandwich I'm always trying to switch it up a little.
When I was a kid my grandma would use crescent roll dough to make pinwheels with ham, turkey and cheese and it recently got me thinking about how great a breakfast version would taste. So, I decided to make some!
I found a recipe on the Pillsbury website that was close to what I was looking for, but it didn't include scrambled eggs, and in my opinion didn't really call for enough bacon or cheese either, so I modified it a little bit and here's what I came up with!
Overall I loved how these turned out.I used a maple flavored bacon when I made mine, but if you're just using regular bacon then spreading a little bit of maple syrup, cream cheese or even the ranch dressing that the Pillsbury recipe calls for over your dough before you add all the toppings might not be a bad idea. I also packed my pinwheels a little too full, and they didn't exactly all end up shaped like perfect circles, but man were they good!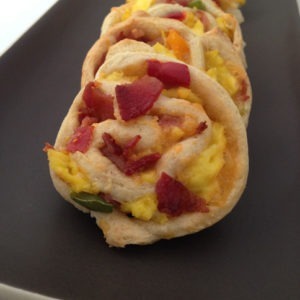 Breakfast Pinwheels Recipe
Nick @ DudeFoods.com
These breakfast pinwheels are super easy to make and they taste great combining scrambled eggs, bacon, cheese and peppers!
Ingredients
1

can

crescent roll dough

4

eggs

scrambled

6

slices

bacon

cooked and crumbled

1

cup

Cheddar cheese

shredded

1/4

cup

onions and peppers

diced
Instructions
Preheat oven to 350°. Unroll crescent roll dough and split it up into two rectangles that are each 12″ x 4″.

Spread your toppings evenly over the dough and roll up each rectangle. Slice each roll of dough into six pinwheels. If the dough is a little too hard to cut at this point put the rolls in your freezer for about 15 minutes and try again.

Place the pinwheels on a cookie sheet and cook for 15 minutes or until the crescent roll dough is a golden brown.