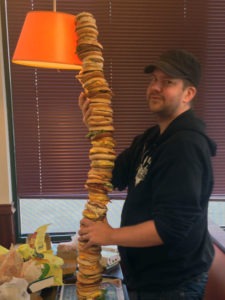 Well, it's been another amazing year for DudeFoods. Over two million of you read my blog, I competed on a reality cooking show, ended up in Maxim Magazine and created a $141 McDonald's sandwich that got mentioned pretty much everywhere from the front page of Yahoo, to CNN to Fox News. It even made Anderson Cooper's RidicuList.
As the year winds down though I figured that it was time for a recap of the ten most popular DudeFoods posts from the past 12 months.
Number one should come as no surprise. In fact, it would probably be easier for me to list the all websites and TV and radio stations that didn't mention the McEverything than it would be to list the ones that did. As far as blog post popularity goes though it was actually a pretty close race aside from that.
So, without further ado I present you with the top ten DudeFoods posts of 2013! I've got tons more planned for 2014, so keep checking back, and make sure you follow me on Twitter and Facebook for all the latest DudeFoods updates!
The top ten DudeFoods posts of 2013:
#1 – The McEverything
#2 – The Bacon Weave Taco
#3 – The 100% Cheese Grilled Cheese Sandwich
#4 – The Bacon Weave Quesadilla
#5 – The Bread Cheese Bacon Double Cheeseburger
#6 – The Bacon Weave Choco Taco
#7 – Maple Bacon Chicken and Waffle Wings
#8 – The Chocolate Chip Cookie Cone
#9 – Homeless Person Vodka Reviews