It's been said that breakfast is the most important meal of the day, so you should probably make it a point to start your morning with these breakfast flatbreads!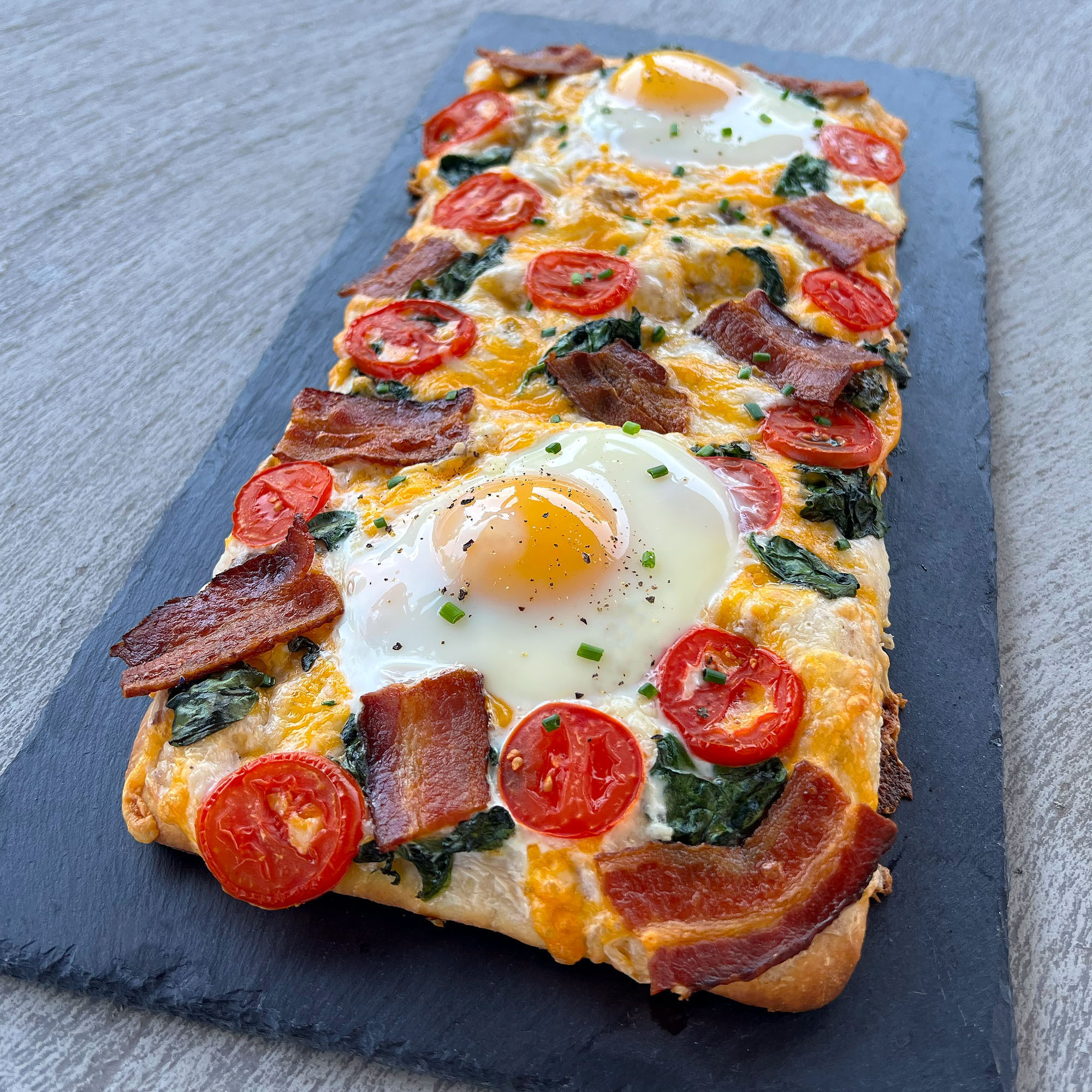 For the fourth year in a row now I'm working with the Wisconsin Pork Producers Association to create unique pork-based recipes. In case you've missed any of my previous posts you can click here to check out the different dishes I've come up with so far.
To me the worst part about most flatbreads is how dry they usually are. Everyone adds sauce to their pizza, but it's like they suddenly forget all about the sauce when it comes to most flatbreads. A traditional pizza sauce clearly wouldn't be the right choice to pair with egg and bacon though so I used something even better — homemade pork sausage gravy!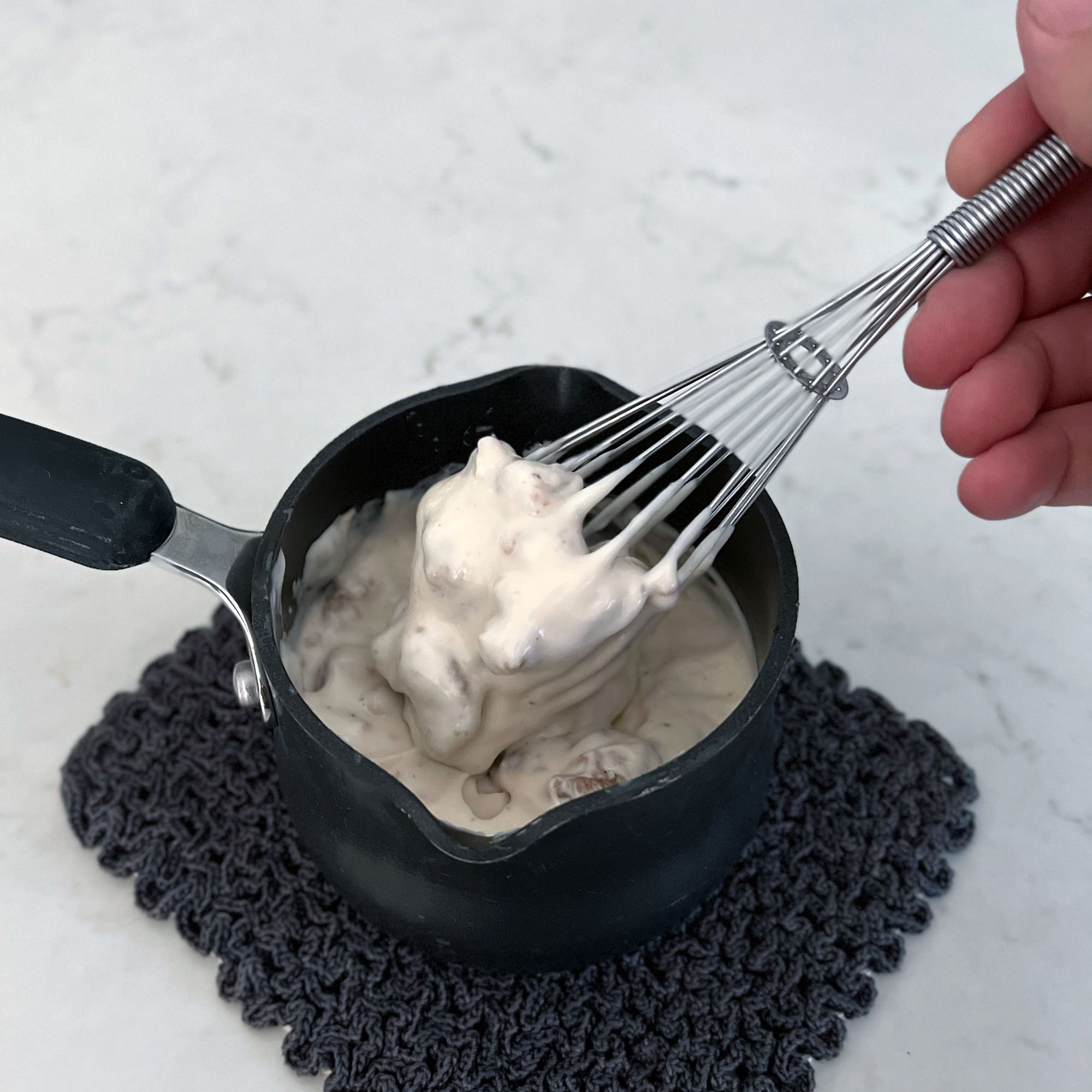 If you want to save a little bit of time you can just buy canned sausage gravy, but it's honestly so easy to make your own and you really can't beat the taste of freshly browned pork sausage crumbles combined with a nice, thick country gravy. It really was the perfect base for these breakfast flatbreads because like pork itself it's simple yet delicious.
Plus, pork is both a good source of protein and also provides several important vitamins and minerals. A 3-ounce serving of pork is an "excellent" source of thiamin, selenium, protein, niacin, vitamin B6 and phosphorus, and a "good" source of riboflavin, zinc and potassium. In addition to that, pork also has plenty of lean options. In fact, today's pork has about 16% less fat and 27% less saturated fat as compared to 30 years ago.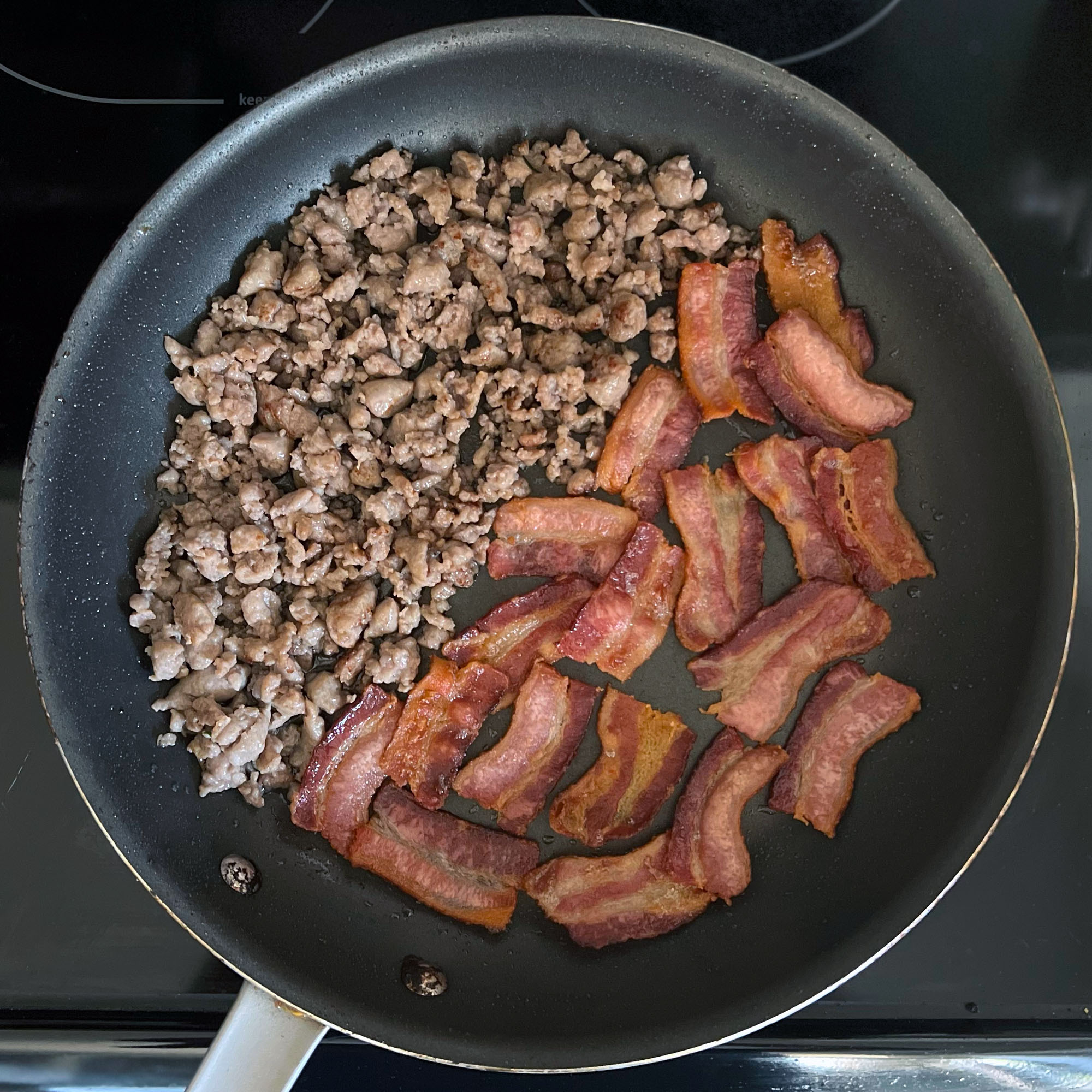 As my sausage gravy was thickening I took some strips of bacon, cut each one into four pieces and cooked them in a skillet until they were nice and crispy. Then, to add a little bit of extra flavor to the flatbreads I tossed some spinach in the leftover bacon grease and cooked it for a couple minutes until it was wilted.
I assembled my flatbreads by spreading sausage gravy on each one and adding shredded cheese, sliced cherry tomatoes and the bacon strips. Then I baked them in the oven for 10 minutes at 425°F. Since the bacon is already cooked all you're really doing at this point is melting the cheese and cooking the eggs until they reach your desired level of doneness.
I used Cheddar Jack cheese on my flatbreads, which is a combination of Cheddar and Monterey Jack, but any cheese with a low melting point like Cheddar, mozzarella, Gruyere, provolone or Fontina would work just as well.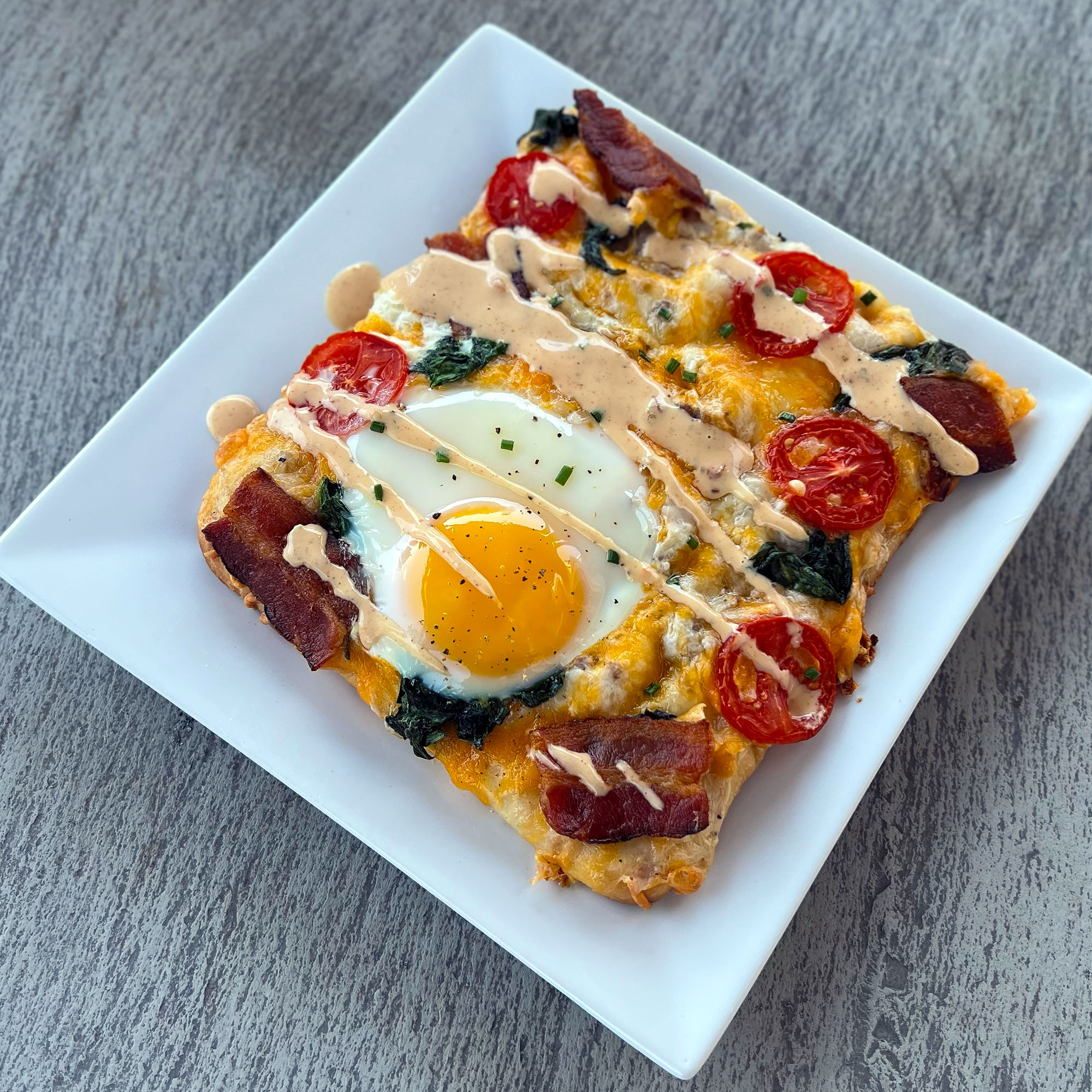 I also like a nice runny yolk with my eggs, but you could always bake your flatbreads a little longer than I did if you want less runny yolks or even substitute scrambled eggs as well.
I finished off my flatbreads by topping them with diced chives, slicing them in half and then drizzling them with a homemade chipotle ranch dressing. The chipotle ranch was a perfect addition to the flatbreads, but between the sausage gravy and runny egg yolks it definitely wasn't necessary.
If you'd like to learn more about pig farming or find the answers to much any pork-related question you could ever possibly have head on over to PorkCares.org.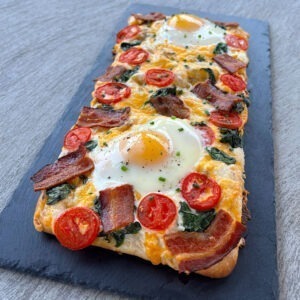 Breakfast Flatbreads Recipe
Nick @ DudeFoods.com
Start your day the right way with this delicious recipe for breakfast flatbreads that combines a pork sausage country gravy base with bacon, cheese, tomato, spinach and eggs!
Ingredients
Sausage Gravy
1/2

pound

ground pork sausage

4

cups

milk

3/4

cup

flour

1

teaspoon

salt

1

teaspoon

ground black pepper
Flatbreads
5

strips

bacon

2

flatbreads

1/2

cup

spinach

lightly packed

1

cup

Cheddar Jack cheese

shredded

4

cherry tomatoes

sliced

4

eggs
Instructions
Sausage Gravy
Heat a skillet over medium heat and add ground pork. Break the ground pork up with a wooden spoon or spatula and cook until fully browned and no longer pink. Drain any grease and set aside.

Heat a saucepan over medium heat and add milk. Stir in flour and add salt and pepper and continue cooking until thick. If you want a thinner gravy add more milk. Alternatively, if you'd like a thicker gravy add more flour.

Stir the pork sausage into the gravy and remove the saucepan from the heat and set aside.
Flatbreads
Cut each bacon strip into four slices and cook in a large skillet over medium heat until it reaches your desired level of doneness.

Remove the bacon from the skillet, but leave the bacon grease and add the spinach. Toss the spinach in the bacon grease and cook for 2 minutes or until wilted.

Take a flatbread and spread sausage gravy evenly over it. Add shredded cheese, spinach, sliced tomatoes and bacon.

One by one, take two eggs, crack them into a small bowl and slide them onto the flatbread.

Repeat for the second flatbread and bake for 10 minutes until the cheese is melted and eggs reach your desired level of doneness.