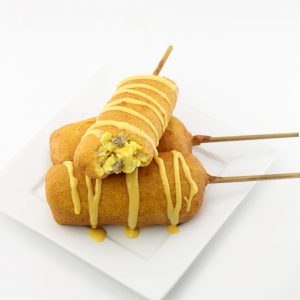 The grocery store near my house recently had microwavable breakfast burritos on sale for 50 cents each, and seeing as how I'm physically unable to pass up a killer deal like that I decided that it was in my best interest to buy 20 of them.
Do you know what gets really boring really fast though? Eating the same burrito for breakfast every single morning, so by day 12 I decided that I needed to try something a little different.
Since everything that I've ever dipped in corn dog batter and deep fried has always been amazing I determined that the same would be the case for these breakfast burritos, and guess what? I was right!
Once I had my Breakfast Burrito Corn Dogs — although I'm not even sure if I can technically refer to these as corn dogs since there's no hot dog in the middle — the next thing I had to figure out was what to dip them in. Normally with traditional corn dogs I'll go with ketchup, but in sticking with the breakfast theme of these I opted for salsa instead.
Prior to the salsa dip I also drizzled nacho cheese on them because as everyone knows, nacho cheese makes everything better…. Next up I think I'm going to try dipping a Big Mac in corn dog batter and deep frying it!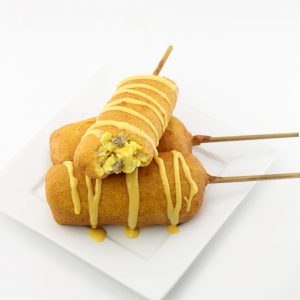 Breakfast Burrito Corn Dogs Recipe
Nick @ DudeFoods.com
This recipe combines breakfast burritos and corn dogs into a unique breakfast concoction that you'll absolutely love!
Ingredients
2

quarts

oil

for frying

3

microwave breakfast burritos

3

corn dog sticks

or chopsticks if you can't find corn dog sticks

1

cup

cornmeal

1

cup

flour

1/4

cup

sugar

1/4

teaspoon

salt

1/8

teaspoon

pepper

4

teaspoons

baking powder

1

egg

1

cup

milk

Salsa, nacho cheese or your preferred dipping sauce
Instructions
Heat oil in deep fryer or heavy skillet to 375°F.

Heat up microwave breakfast burritos according to the directions on the package.

In a bowl, combine cornmeal, flour, sugar, salt, pepper and baking powder. Stir in egg and milk.

Slide a breakfast burrito onto each corn dog stick.

Transfer corn dog batter to a tall glass and dip the breakfast burritos one by one into the batter.

Fry corn dogs for 4 minutes or until golden brown.

Drain on paper towels and serve with salsa or your preferred dipping sauce.