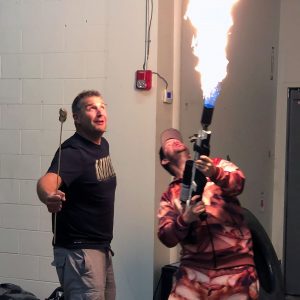 Back in January I pre-ordered a flamethrower — or Not-a-Flamethrower as they later changed the name to so they could ship them more easily — from The Boring Company. Ever since then I've been trying to convince my co-host Wes of the Dude Foods Podcast that when I get it he should put a marshmallow on a stick, hold the stick in his mouth and let me roast the marshmallow with the flamethrower so we can make s'mores.
Well, apparently the name change didn't help as I patiently waited and waited and waited for my flamethrower for months…. As time went by The Boring Company updated the estimated ship date from "spring" to "summer" and after not receiving it for over seven months they finally announced that they were doing a pick up party in Chicago! So, this past weekend my wife and I hopped in the car and drove two hours each way so I could finally pick it up!
Three days later Wes and I were set to record episode 54 of the podcast and I showed up to the studio prepared with my flamethrower, a bag of marshmallows, a box of graham crackers and a few Hershey's Chocolate Bars and much to my surprise, he actually let me do it! Granted, he made our co-worker Gunner try it first and only agreed to do it after he could make sure that "Gunner's face doesn't melt" but still….
Also, since it was pretty windy outside that day we came up with the genius idea of shooting the entire video inside the building, which when we thought about it after the fact was a terrible idea since it easily could have set off the sprinkler system throughout the entire building. Then again, my flamethrower didn't even include any sort of instruction manual at all, so how the hell was I supposed to know that it shouldn't be used indoors? At least that's the excuse I'm going to use when I inevitably end up burning my house down with this thing…. In the meantime, our s'more video is below! Enjoy!