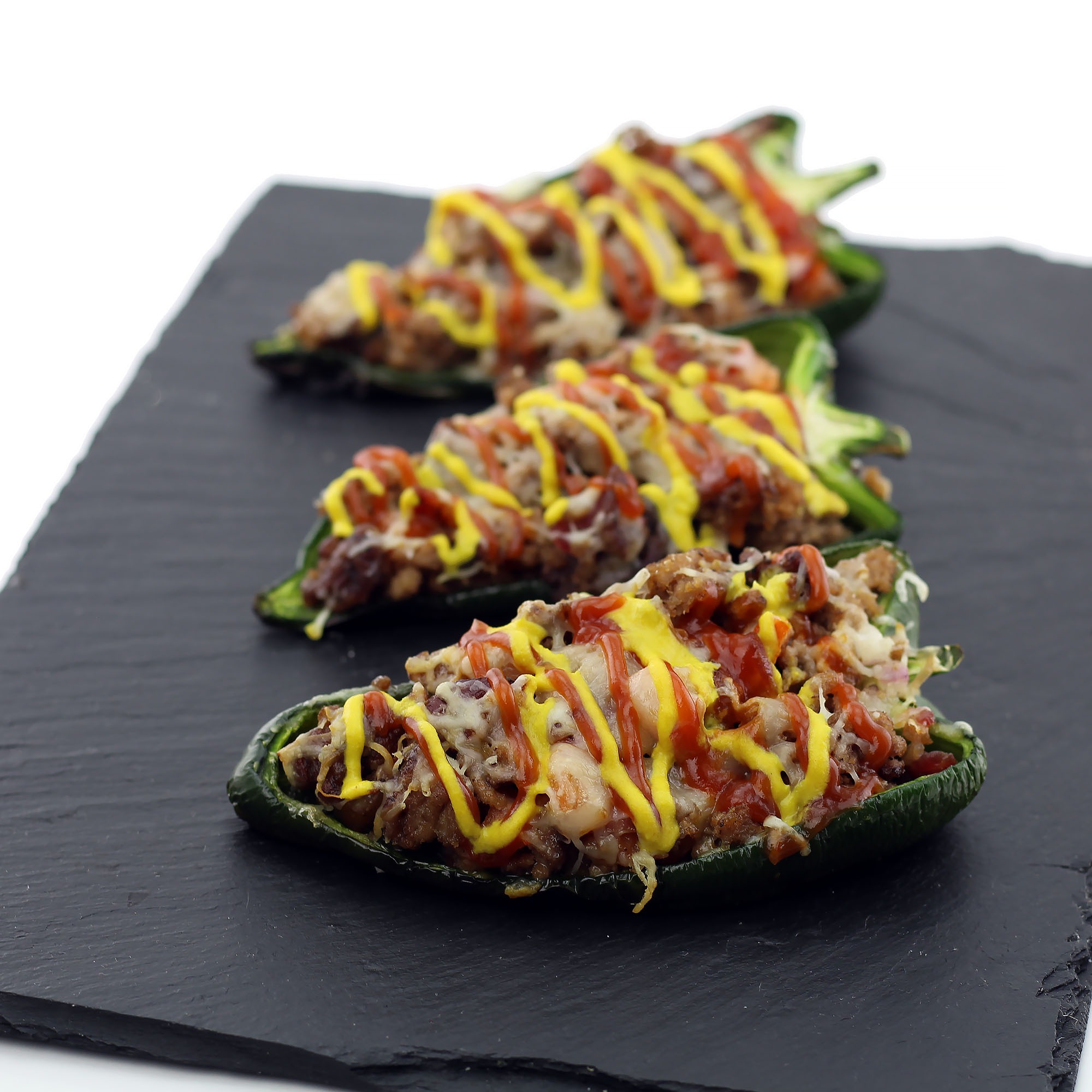 This is the sixth in a series of recipes I'm working on for Black Creek Cheese. In case you've missed any of my previous posts you can click here to check out all the cheesy dishes I've come up with so far.
Labor Day is coming up in a couple weeks, which means that summer is almost over, so I figured that another grilling recipe was in order. We've gotta take advantage of this great weather before it's gone right?
If you think that a cheeseburger that's wrapped entirely in bacon or a Cheddar cheese bowl filled with ground beef and diced up burger toppings is a little extreme then these Bacon Cheeseburger Stuffed Poblano Peppers should be perfect for you!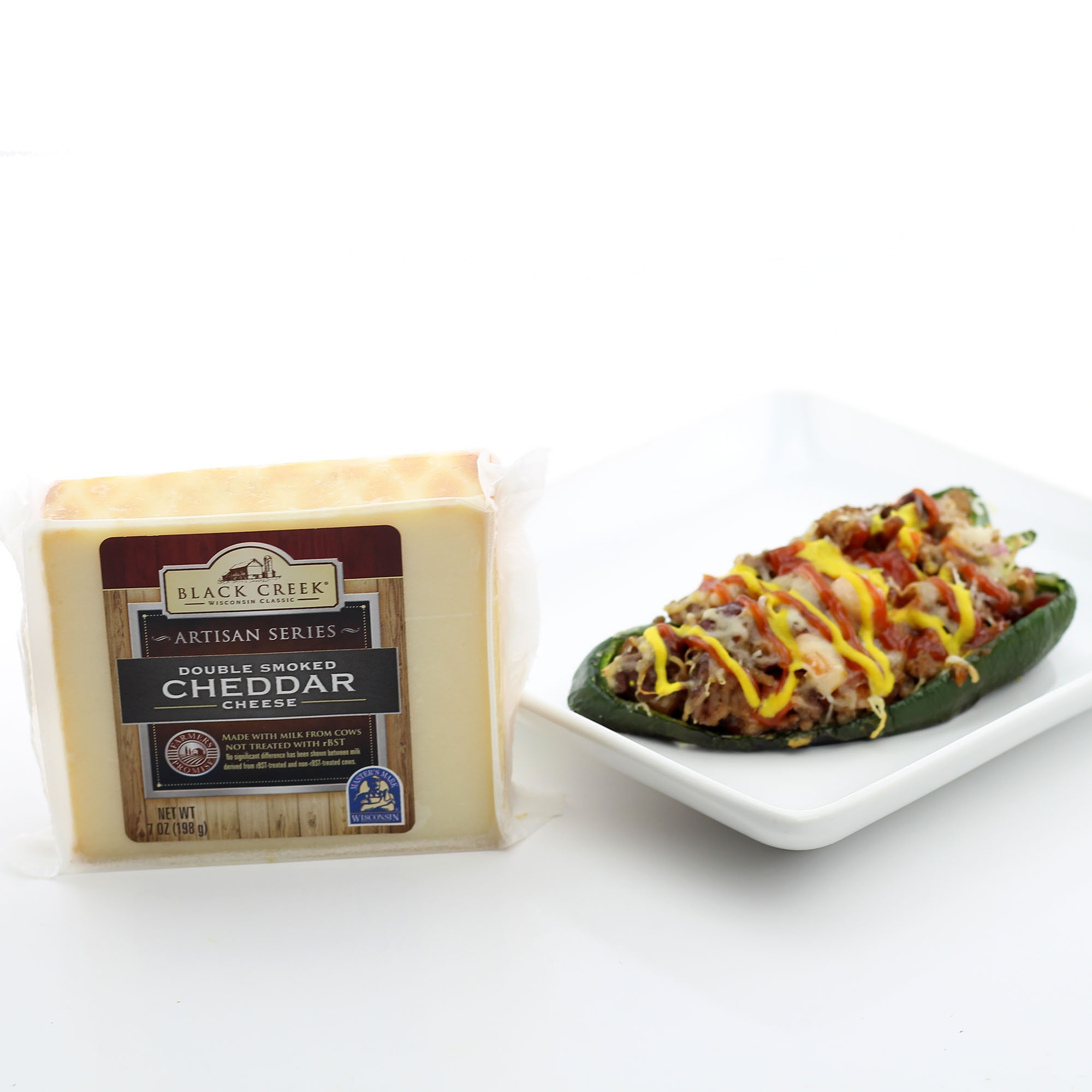 I know that bell peppers have traditionally been the most popular pepper to stuff and grill, but I've never been a fan of them. They're so large that you always just end up cutting them with a knife and fork prior to eating them anyway, which makes stuffing them seem sort of pointless. Jalapeños on the other hand? Way too small. Poblano peppers though? Just right!
Plus, since stuffed bell peppers are so large, they're generally served as an entire meal, whereas stuffed poblanos can be served as either an appetizer or a meal depending on how many you feel like eating. You can also deseed poblano peppers much more quickly than bell peppers as well, so not only will you end up with a far superior product in the end, but you're also saving time along the way!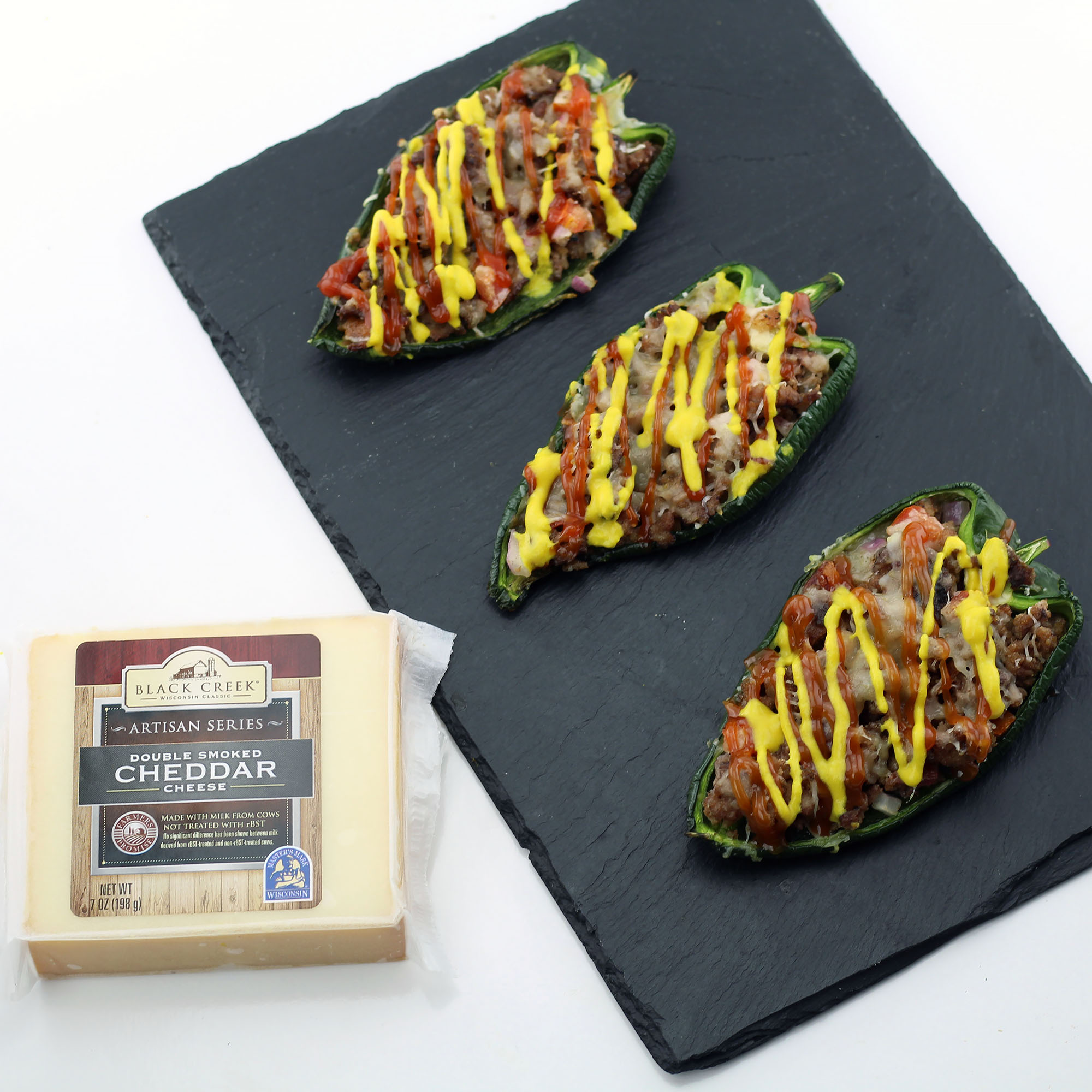 To make these stuffed poblanos, I sliced the peppers in half, deseeded them and then grilled them along with some burger patties for about ten minutes. I then chopped up the burger patties and combined them with diced bacon, red onion and tomato and Black Creek Double Smoked Cheddar Cheese before spooning the mixture into the poblanos.
Then, because you can never have too much cheese, I sprinkled even more Double Smoked Cheddar right over the top of the peppers before throwing them back on the grill for three more minutes to let it melt. After that, all it took was a ketchup and mustard drizzle and the Bacon Cheeseburger Stuffed Poblano Peppers were ready to eat!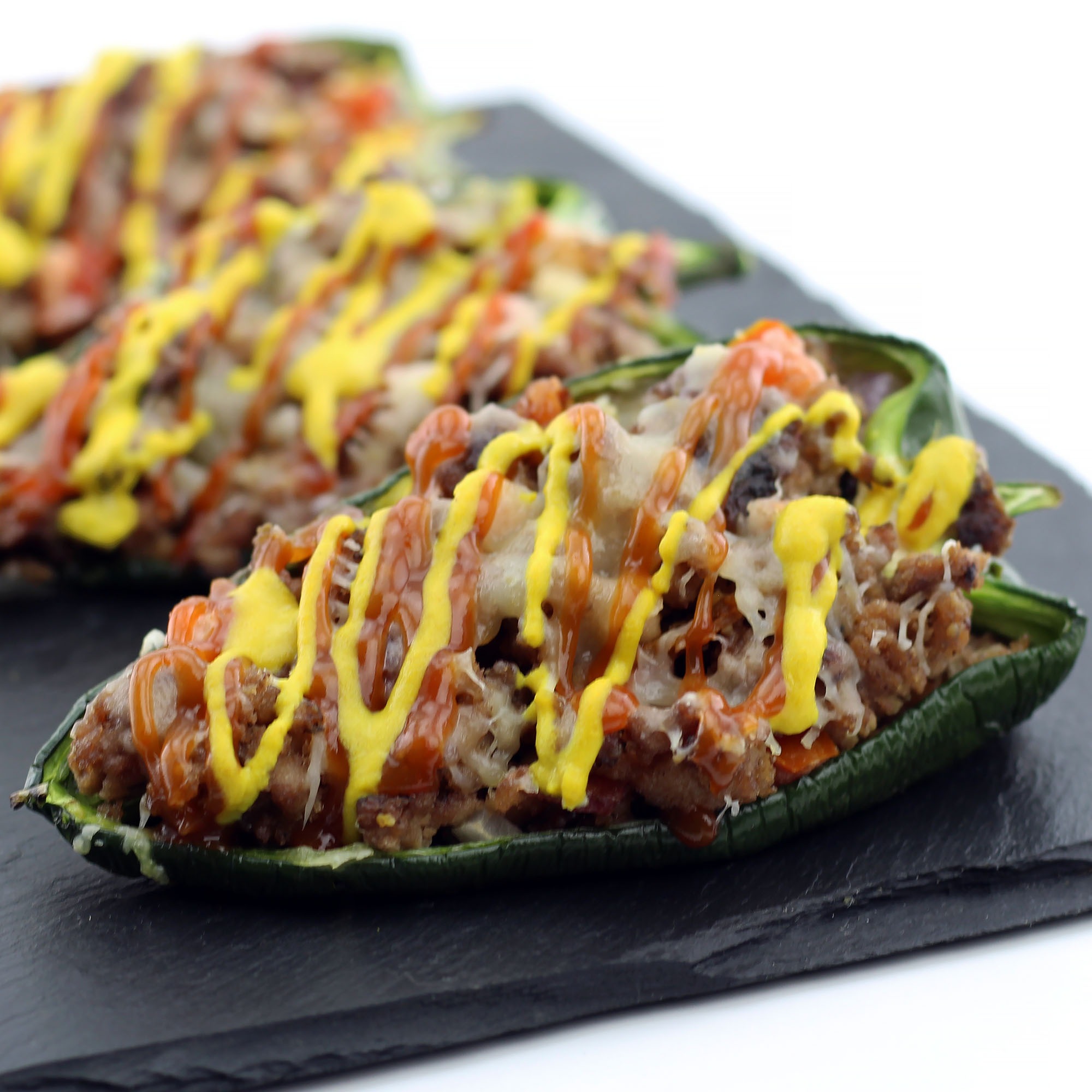 If you'd prefer to brown the ground beef in a pan rather than forming burger patties, grilling them and then chopping them up, go for it, but it takes the same amount of time to grill the burgers as it does to get a nice char on the peppers so you might as well just grill everything all at once in the same place.
Even though the cheese is only added towards the end of the recipe using Black Creek Double Smoked Cheddar Cheese still gives the stuffed poblanos that perfect smoky flavor, while still remaining rich and creamy. The robust flavor comes from the fact that after careful aging, the cheese is naturally smoked twice with wood chips. I'm gonna go out on a limb here and call it my new favorite grilling cheese!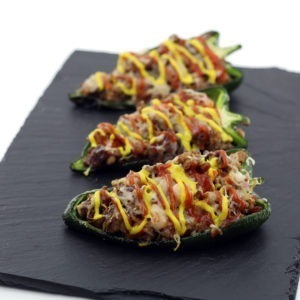 Bacon Cheeseburger Stuffed Poblano Peppers Recipe
If you like stuffed peppers on the grill then you have to try these poblanos that are packed with ground beef, bacon, cheese, onion and tomato!
Ingredients
7

ounces

Black Creek Double Smoked Cheddar Cheese

shredded

4

poblano peppers

1 1/2

pounds

ground beef

1/2

cup

tomato

diced

1/2

cup

red onion

diced

5

slices

bacon

fried and diced

ketchup

mustard
Instructions
Set grill to medium heat. Slice the peppers in half lengthwise and remove the seeds.

Form ground beef into 5 equal-sized patties.

Add the poblano peppers and burgers to the grill and grill the burgers for 5 minutes per side or until the internal temperature reaches 160°F.

Remove burgers and poblano peppers from the grill. Chop up the burgers and combine with the diced tomato, red onion and bacon and 1/2 of your shredded Black Creek Double Smoked Cheddar Cheese.

Spoon the bacon cheeseburger mixture into the peppers and top with remaining cheese.

Return the peppers to the grill for 3 more minutes or until the cheese on top of them is melted.

Drizzle with ketchup and mustard and serve.