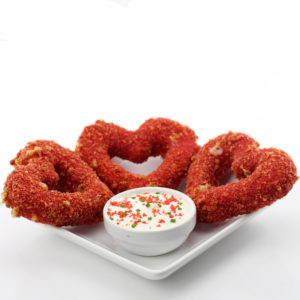 Sure, flowers and boxes of chocolates are cool, but if you really wanna impress your loved one this Valentine's Day you'll make them some Flamin' Hot Cheetos Breaded Mozzarella Stick Hearts!
This idea came about after Wes, the guy I do the Dude Foods Podcast with complained once again that I never plan out my blog posts far enough in advance to include any holiday specific recipes or videos and honestly, he isn't wrong….
It's funny, any time I talk with other food bloggers it seems like they're planning out their recipes months and months in advance. Me on the other hand? Pretty much any time I'm working on something new it's something that I just decided that same morning to make. I guess that's just how I roll….
I don't know though, maybe Valentine'a Day just inspires me more than other holidays for some reason. Last year I made Flamin' Hot Cheetos Breaded Macaroni and Cheese Hearts, which I honestly didn't think I'd be able to top as far as holiday-themed recipes go, but then I came up with the idea of taking chunks of mozzarella cheese and cutting them into hearts using two different-sized cookie cutters. Obviously I had to go with Flamin' Hot Cheetos as a breading again though because of the whole red for Valentine's Day thing.
I used the two silver cookie cutters from this cookie cutter set
to cut out the mozzarella hearts, but any two cookie cutters will work fine as long as the larger one is still smaller than your chunks of cheese. If you've got decent freehand cheese cutting skills you probably wouldn't even need the cookie cutters, but unfortunately that isn't one of my specialties.
Once you've got your mozzarella cheese hearts cut out all you need to do is coat them in flour, dunk them in egg wash, cover them in crushed Flamin' Hot Cheetos, freeze them for about an hour, drop them in the deep fryer and then serve your significant other the best Valentine's Day-themed food of all time!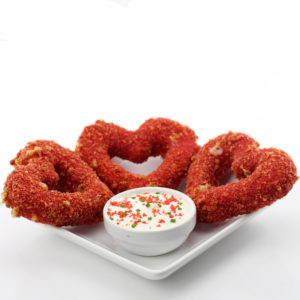 Valentine's Day Mozzarella Cheese Stick Hearts Recipe
Nick @ DudeFoods.com
Show the love of your life how much you care by making them some Flamin' Hot Cheetos breaded mozzarella stick hearts!
Ingredients
2

quarts

oil

for frying

1

bag (8 1/2 ounces)

Flamin' Hot Cheetos

4

chunks

mozzarella cheese

that are larger than your largest cookie cutter

3

eggs

2

cups

flour

1/2

cup

milk

ranch or your preferred dipping sauce
Instructions
Use your larger heart cookie cutter to cut a heart shape out of all your chunks of mozzarella cheese and then use your smaller cookie cutter to cut smaller heart shapes out of the middle of each one.

Set up a dredging station with three bowls — flour in the first one, eggs and milk in the second one and crushed Flamin' Hot Cheetos in the third one.

Coat each mozzarella cheese heart in flour, submerge in egg wash and cover in crushed Flamin' Hot Cheetos. Repeat this step a second time if necessary and freeze for at least an hour.

Heat oil in deep fryer or heavy skillet to 375°F and fry Flamin' Hot Cheetos Breaded Mozzarella Cheese Sticks for 4 minutes.

Drain on paper towels and serve with ranch or your preferred dipping sauce.