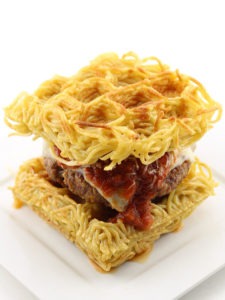 Let's be honest with each other here, throwing noodles or anything else in a waffle iron and using what comes out as a bun is nothing new or original, but I finally bought a new waffle maker after the crappy one I picked up for $10 on Black Friday bit the dust a few months back and I've been looking for any excuse to use it.
On the plus side — in addition to having a decent waffle maker that can finally cook things evenly (seriously, my last one was terrible) — the Waffled Spaghetti Bun Burger that I made turned out pretty great!
I started off by cooking some spaghetti, mixing in a couple eggs and then packing the noodles into my waffle iron to create two spaghetti buns. I then grilled up a half pound Italian sausage patty that I topped with mozzarella, marinara sauce and fresh Parmesan cheese. Thanks to Sartori for the cheese by the way. I might be a little biased seeing as how they're from Wisconsin like I am, but man, I've never tasted a better Parmesan in my life.
Anyway, check out the video below to watch me make it and to see my dogs Finn and Holden wearing their sweet new chef hats that I bought them. I tried to get them to rock fake Italian mustaches as well, but they weren't having any of it….