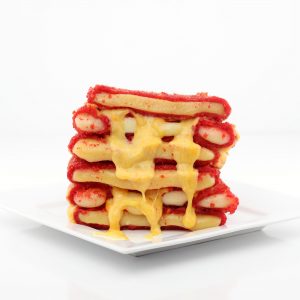 A few weeks back Jessica Tighe from CBS 58 here in Milwaukee stopped by my house to do a story about DudeFoods — which you can check out here — and specifically requested that she and I make something new and ridiculous, so here's what I came up with — a sandwich that has deep fried Flamin' Hot Cheetos breaded squares of cheese for the bread with Flamin' Hot Cheetos mozzarella sticks and melted Cheddar in the middle.
I originally wrote an entire blog post about this sandwich referring to it as a grilled cheese before I realized that since it was actually deep fried and nothing about it was grilled that it can't technically be called a grilled cheese. So, I'm now referring to it as the Ultimate Flamin' Hot Cheese Sandwich!
When I originally made the sandwich with Jessica we used Gruyère for the two squares that became the bread, but when I re-made it for this blog post I used apple smoked mozzarella just because I was out of Gruyère the second time around. They both turned out equally as awesome and I'm sure that any cheese with a low melt point like Gouda, Fontina or Colby would work just as well.
The same goes for the middle of the sandwich, any melty cheese will work, I just went with mozzarella and Cheddar to get a bit of variety with the sandwich. Yes, the guy who breads almost every single thing he makes in Flamin' Hot Cheetos needed a little variety… I understand how ridiculous that sounds….
So Jessica, thanks for stopping by, thanks for hopping in the kitchen with me and most importantly, thanks for actually eating this ridiculous sandwich. And for eating the Bacon Weave Taco that we made. Oh, and the spaghetti noodle bowl that we made as well….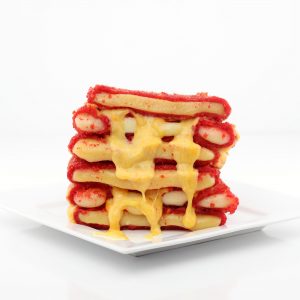 The Ultimate Flamin' Hot Cheese Sandwich Recipe
Nick @ DudeFoods.com
If you're a fan of grilled cheese sandwiches then you NEED to try this sandwich! It's guaranteed to be the cheesiest sandwich you've ever tried!
Ingredients
2

quarts

oil

for frying

1

bag (8 1/2 ounces)

Flamin' Hot Cheetos

crushed into crumbs

2

cups plus 1/2 tablespoon

flour

5

eggs

3/4

cup

milk

1

tablespoon

butter

2

squares of cheese with a low melt point like Cheddar, Fontina, Gruyère or mozzarella

4

mozzarella cheese sticks

1/2

cup

Cheddar cheese

shredded
Instructions
Heat oil in deep fryer or heavy skillet to 375°F.

Set up a dredging station with three bowls — 2 cups flour in the first one, beaten eggs and 1/2 cup milk in the second one and crushed Flamin' Hot Cheetos in the third one.

Coat each cheese square and mozzarella stick in flour, submerge in egg wash and cover in Flamin' Hot Cheetos. Repeat this step a second time if necessary.

Deep fry for 45 seconds and drain on paper towels.

In a sauce pan, melt butter over medium heat and stir in 1/2 tablespoon flour. Add 1/4 cup milk and reduce heat to low. Stir in shredded cheese slowly until melted.

Assemble sandwiches by placing one of your deep fried cheese squares on a plate and topping it with mozzarella sticks, meted Cheddar and finally the second deep fried cheese square.